Being a mother and managing work simultaneously is not an easy task. Both these tasks are incredibly demanding, and doing justice to both jobs without neglecting either one of them is tricky. Women who work and also look after their families may look like super-moms but in reality, they work essentially non-stop and tend to forget about their own health. They also prioritize self-care last on their list. According to a study, 75% of working women are facing health issues like stress, anxiety, heart diseases, obesity, asthma, arthritis, psychological issues, high blood pressure, and fatigue.
Some common health issues
Balancing professional life while taking care of a child at home is a daunting task that is mentally as well as physically challenging. Both nonnegligible duties put working moms under extreme pressure and stress, which could lead to several health issues. The main contributing factors to the majority of health problems among working moms include constant stress, poor diet, lack of rest, skipping meals, prolonged sitting, and almost no work-life balance. Listed below are some common health issues faced by working moms.
1. Stress and Anxiety – Most working moms end up working non-stop, which leaves them exhausted and stressed. Young mothers who care for a child and feed a baby at night suffer from sleep deprivation and they typically receive less than 8 hours of sleep, which increases their risk of developing heart disease, high blood pressure, and other conditions. This affects their work-life balance and they suffer emotionally as well as mentally.
2. Cardiovascular diseases – Women who experience constant stress and worry are more likely to develop cardiovascular diseases. Working mothers, even those as young as 35 years old are at the risk of developing cardiovascular diseases due to their sedentary lifestyles. High cholesterol and hypertension are caused by poor eating habits, frequently skipping meals, a stressful lifestyle, and a lack of sufficient physical activity.
3. Thyroid – Thyroid is the most common health condition that affects working women. Women are twice as likely to have hypothyroidism than men. Due to hormonal changes during and after pregnancy, they most likely face thyroid issues. It lowers metabolism, causes weight gain, and causes irregular menstruation. It also causes irritation. Both dehydration and chronic constipation are quite common.
4. Chronic Backache – Working women mostly have to sit in front of the screen for a long period of time. Sitting glued to the chair without body movements leads to several issues. Whereas, at home, they end up working and looking after their families without taking rest. As a result, they face constant lower back pain, which gets severe if not taken care of properly on time.
5. Nutritional Deficiency – Due to lack of time and self-care women usually tend to ignore their diet and they consume food that may be high in calories but low in nutrients. This leads to deficiency in iron, vitamin B12, and vitamin D.
6. Mental Health – Most working women deal with the idea that it is impossible for a working mother to juggle motherhood and work effectively. According to research, women feel more exhausted and mentally depressed than men as they are bound by family responsibilities as well. This results in both mental and physical symptoms, such as exhaustion, cynicism, a lack of desire, headaches, tightness in the chest, nausea, stomach aches, and excessive sobbing.
Conclusion
Being a working mom is not simple and easy. Working women usually spend a major chunk of their time taking care of their kids, family, and work obligations. In the middle of it all, they fail to realize that they must take care of themselves in order to continue taking care of everyone else. Every working mother must pay close attention to their health and should notice the signs that the body needs rest and act upon it. Most of these health issues can be avoided with regular checkups, a nutritious diet, regular exercise, frequent physical activity, timely pauses, and enough sleep.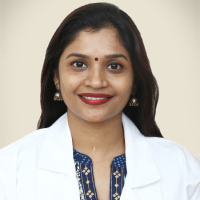 Dr Karthiga Devi – Consultant Obstetrician and Gynaecologist, MBBS, MS(OG), Apollo Cradle and Children's Hospital, Chennai.