Rita Jhunjhunwala presents a beautiful confluence of poetry and paintings in her solo exhibition 'Bheegi Lakeerein'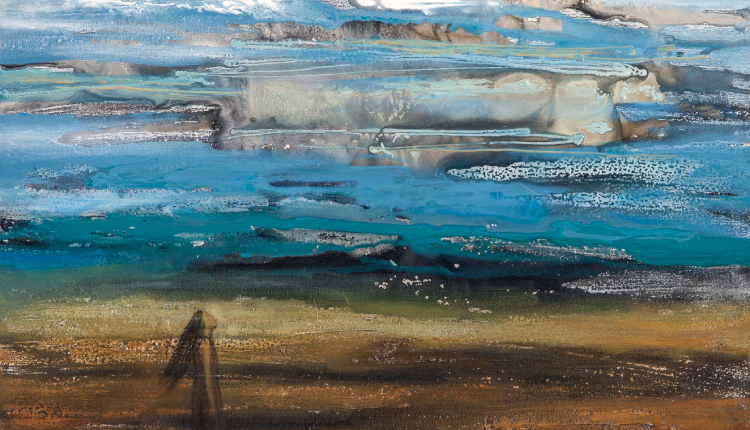 It gives me immense pleasure to welcome you to celebrated artist Rita Jhunjhunwala's forthcoming solo show BHEEGI LAKEEREIN at Living Traditions Centre (LTC), Bikaner House which will be inaugurated on the 23rd of September'22 at 6.30 pm and continue till 28th September'22.
Abstract in nature, the paintings for this series are mixed media on canvas. Choosing to be honest with every piece of corresponding poetry, Rita has not restricted herself to a particular medium or technique. This has resulted in varying styles, media, and textures like sand, gold foil, gauze, fabric, stamped handmade paper, charcoal dust, and many others.
The coffee table book of 'Bheegi Lakeerein' is being published by Om Books International. Bilingual in nature, with Hindi verses and also their transcreation in English, the book also features a curatorial note by Dr. Alka Pande and an in-depth essay by art critic and writer Prayag Shukla.
This show is a confluence of Rita's paintings and poems. The show is curated by the art historian, author, and curator, Dr. Alka Pande.
The 40 poems chosen for 'Bheegi Lakeerein' span four decades of Rita's life. As she reflected upon them, the artist in her felt the urge to give them form on canvas, and hence 40 corresponding paintings were created by her for this exhibition.
Rita's earlier works have been exhibited through 21 solo and numerous group shows in various metros of India apart from countries like China, France, Italy, the U.K, and Switzerland. They have won her credit including the Soviet Land Nehru Award, medals in 35th Grand Prix International de Peinture de Deauville, France, 8th Gran Premio International Di-Pittura at Rome, and back home awarded by Rotary Club, Bhikuram Jain foundation, Sangeet Shymala, and Aparajita.
Please find attached a photograph of Rita Jhunjhunwala, press release and a PDF that has her poems which correspond to her paintings.
Feel free to reach out to me at 9873458474 or my colleague, Vaidehi Shah Raval at 9712970063 and we will be thrilled to line up an interaction with the artist.
Also do keep your evening of 23rd September free and grace the inaugural with your presence.