Smriti Mandhana, the inimitable breakout star of the game, discusses passion, purpose and pure play in Vogue India's December 2022 cover story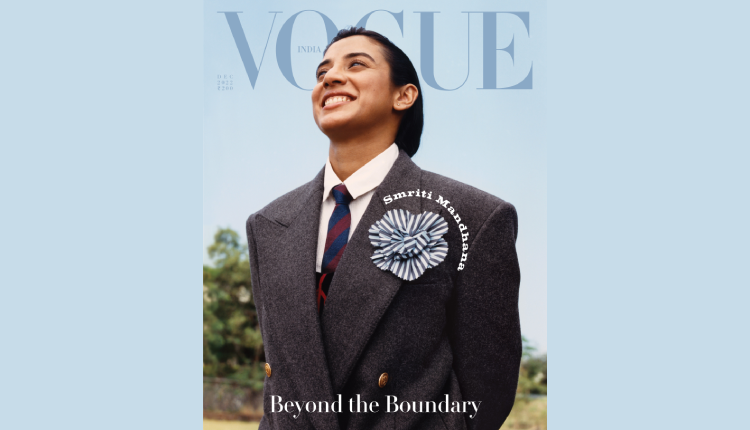 Mandhana began playing cricket at the age of four. She received second-hand instruction from her brother, Shravan, who was training as a professional player. "I followed him everywhere. I even picked up left-hand batting even though I am right-handed myself," she laughs. Barring the ponytail on her head, she quips, no one could tell the difference between Shravan and her. "My dad always wanted to be a cricketer. But we were a large Marwari joint family and playing cricket was not an option. There were the usual slurs: "Itne saare businesses hai, why are you playing cricket?" It was not easy for him to convince Dadaji and Dadiji to allow him to play cricket. So, it's always been a dream for him: "Mujhe nahi mila toh I will make sure my kids get to play," she says, impersonating him.
"I never felt like I was being 'allowed' to play. It was just a normal thing to do and anybody could do it, whether girl or boy." With the choices made, therein began the balancing act of education and sport. She studied through her summer vacations, attended training camps in Pune and played eight-hour days back home in Sangli, all while observing her idols: "Serena Williams and Alex Morgan for how they changed the way people look at their sport. I find that really inspiring."
Whispers of names like Mithali Raj and Jhulan Goswami grew louder to include all-rounder Deepti Sharma and batters Jemimah Rodrigues and Mandhana. Dinner party conversations were now hinged around the girls in blue—their back foots and bouncers discussed between bites of biryani. Mandhana's dream, however, still remains to be able to address a room full of girls engaging in unabashed cricket speak. "Even now, in stadiums, we have a crowd which is 80 percent men. I'm not saying that men should not come to our games, but I am urging our women to participate in sports. Even if you don't understand it or like it, just watch it. That's how things will really change."
The England VS India ICC Women's World Cup Final was a defining moment for the girls returning to home turf. "The kind of reception we got when we came back was amazing. We couldn't step out of the Mumbai airport. Before this moment, the attitude was 'Ha jaa rahi hain ladkiyan…' But this was the moment when people really cared to know more about our game. Now there's an opinion— good, bad, or worse. Sometimes in cricket, you leave yourself vulnerable to the worst of opinions. But that's fine, it means people care."
In October, the Board of Control for Cricket in India (BCCI) announced that male and female cricketers in India will now be paid an equal match fee. With the much-talked-about move, India became the second country in the world after New Zealand to subscribe to pay parity among its cricketers—a bold development for a sport that comes layered in gendered semantics and archaic pay models. For Mandhana, this was an incremental and important move, but with a long gap still left to be closed. The contractual salaries of women players still remain dissonantly lower than that of its male counterparts. "The efforts of those who played before us, and all of us put together as a community, have now made this possible. Imagine those ex-women cricketers, who even without getting much 30 or 40 years ago, continued to play. They made our present reality possible," she answers.
Her final appeal to her fans to change the headwinds: "I don't like the comparison between men's cricket and women's cricket," she catches me out as I liken her to 'Lady Virat'. "It's just a different game. You don't have to put us in the same category."