This Akshaya Tritiya, #AddTheKalyanSparkle with exquisite jewellery from Kalyan Jewellers
The jewellery brand brings to you 5 easy and convenient ways of investing in the yellow metal to mark the occasion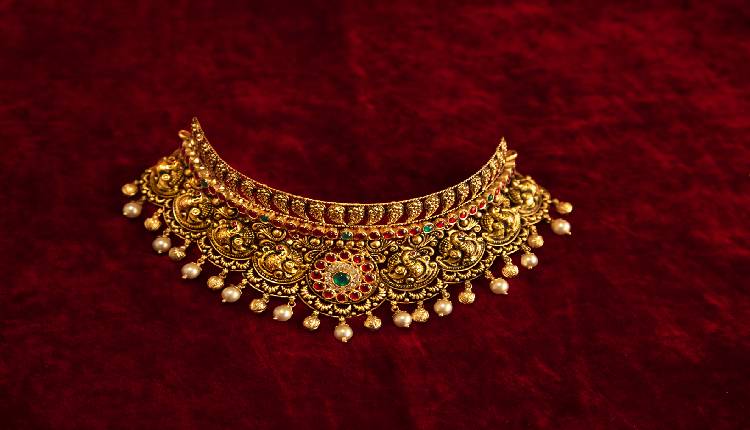 Kalyan Jewellers, one of India's leading and most trusted jewellery brand, has announced that it will be celebrating the auspicious occasion of Akshaya Tritiya by introducing 5 unique ways of investing in gold jewellery to patrons in India and the Middle East.
Basis the robust understanding of consumer preferences and distinctive jewellery-buying patterns in regions across India, Kalyan Jewellers has at display an extensive range of popular house brands such as Tejasvi (Polki jewellery), Mudhra (handcrafted antique jewellery), Nimah (Temple jewellery), Rang (precious stones jewellery), Glo (dancing diamonds) and many more across its 150+ showrooms globally.
Akshaya Tritiya offers exclusively on showroom purchases:
Explore the latest collection at Kalyan Jewellers & benefit from the incredible offers now available. Flat 25% off on wastage on gold and studded jewellery and up to 20% off on stone value on diamond jewellery. In addition to this avail up to 10% off on wastage of silver jewellery and artifacts. Offer valid till May 31st, 2022. Hurry now!!
Kalyan Jewellers Digital Gold powered by Augmont
Among one of the latest offering by the jewellery brand is the Kalyan Jewellers Digital Gold powered by Augmont, which allows customers to purchase 24-karat pure gold, digitally. Customers looking to make systematic purchases in gold, can start buying gold for as low as Rs.100 on the platform through this safe, easy and reliable method. For more information on this and to avail the facility, please log on to the below link:
LINK: https://kalyan.augmont.com/buy
Gold Ownership Certificate Initiative
The pioneering initiative, which has received widespread popularity over the past couple of years has been relaunched by the jewellery brand as a convenient option to invest in gold on the occasion of Akshaya Tritiya. With the Gold Ownership Certificate Initiative, customers can purchase gold virtually with the facility of Rate Protection Plan at zero convenience charges. The additional facility allows customers to lock-in the price of gold, thereby providing supplementary protection from any further fluctuations. Customers can further redeem their certificates against physical gold, in the form of coins or jewellery basis their convenience at any Kalyan Jewellers' showroom in India. For more information on this and to avail the facility, please log on to the below link:
LINK: shorturl.at/luQS3
Kalyan Jewellers eGift Cards and Vouchers
Kalyan Jewellers' patrons can further opt to send eGift cards to family and friends with personalized greetings on the auspicious occasion of Akshaya Tritiya. The quick and convenient gifting option can be availed on the Kalyan Jewellers website. Click on the below link for more information:
LINK: https://kalyanjewellers.yougotagift.com/
Gold Coins
Symbolic of good luck and prosperity, gold coins are one of the most-preferred gifting and investment option among customers. Kalyan Jewellers offers gold coins in a variety of weights that can fit in any budget. With no additional making charges and high resale value, patrons can opt to purchase gold coins either from Kalyan Jewellers' showrooms across the country or online at www.candere.com
At Kalyan Jewellers, the varied collections offer jewellery designs that are a perfect blend of India's artisanal heritage and craftsmanship as well as a celebration of the varied traditions followed across the country. The jewellery pieces encompass region specific, hyper-local design choices. Let's take a look at some of the most popular festive jewellery styles that are trendy this season.
Product Picture
Description
Adorn this magnificent pair of peacock inspired gold jhumkas, with dangling gold beads, embedded with red precious stones. These unique jhumkas have been crafted especially to complete your traditional ensemble.

This intricately carved gold bangles with floral designs, and encrusted with red precious stones gives an elegant yet classy feel. These beautiful pair of bangles can be paired with an indo-western outfit for almost any occasion!
Traditional jewellery has never looked better; this gorgeous peacock motif engraved choker is the definition of flambuoyance. The beguiling neckpiece features a bold combination of red rubes, green emerald and dangling pearls. The crux of the necklace has a blooming flower studded with precious red and green stones that enhances the choker's entire look. Its timeless sensibility and natural charm is sure to elevate your look this festive season.

Adorn the most royal and regal gold kundan earrings from the house of Kalyan Jewellers. Designed to elevate your beauty, these pair of earrings with goddess Lakshmi in the center are ideal for any and every festive occasion.

This elegant and exclusive intricately designed gold necklace with studded diamonds is an magnificent representation of timeless beauty, adding a royal and classy vibe.

This choker is an evergreen adornment and will compliment any look!