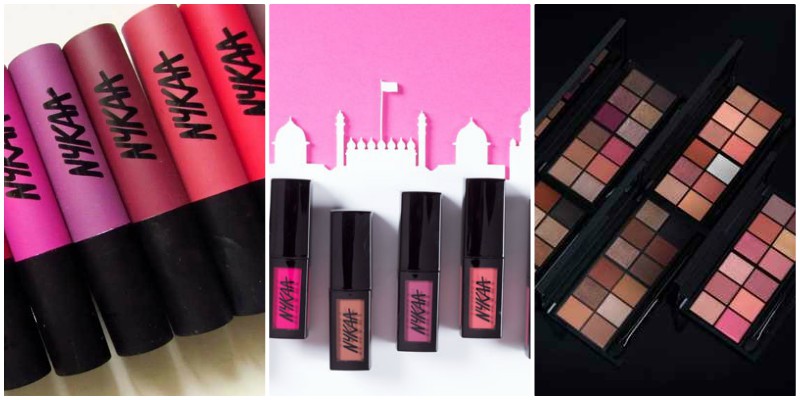 "Beauty Bonanza: Your Daily Dose of Amazing Offers."
Purely designed for Indian tones of skin! Nykaa is recently getting popular amidst women. One of the top shopping sites in India and it packed with Makeup Products that would make your day stunning and shinning in the midst of the crowd. Nykaa app has already found its permanent place in Indian women's mobiles. Turely meant for Indian skin tone. Provides top offers for all the cosmetic products.
Nykaa lipsticks paved the way for its fame and it is widely used by women of different skin tones. It has best shades for dry lips as it has own 18 different shades. The reason why it gets popularized!  To mention specifically, nude shades of lipsticks covers every women. Peculiarly good for dry lips and looks stunning in people with pout lips! The perfect blend gives perfect look on lips. It is worth purchasing Nykaa products.
The chaos of Nail Enamels:
Nykaa's varying colors of nail enamels would make you fall for confusion. It is due to the eye-catchy colors of the enamels which would literally make you as prey for it. You must try these enamels that would look good on your nails, which would make others to stare. 'Nykaa cookie crumble nail enamel' is most popular among all the other enamels. It is truly made for the souls craving for nail arts and it is trending now.
Nykaa's Just Wing It Eyeshadow Palettes:
The mesmerizing eye-shadow palettes which would make you feel like Goddess. The five new palettes include caramel crunch, crushed berries, double chocolate chip, peach sorbet and sweet sundae. Doubtless, these colours will be flawless once it is applied. Something interestingly up for eye-shadow dreamers! One could choose palettes according to their skin tone and wishes. It is best if you blend it comfortably and makes it to look good on you.
 Why Nykaa, the best shopping site for cosmetics?
Bunch of cosmetics under the label, Nykaa! All types of cosmetics are available at this site and easy to purchase online. As I mentioned before, Nykaa app has been the permanent refugee in all young women's mobiles. It is good to choose the products carefully unless it is harmful to your skin. Nykaa also includes paraben free cosmetics products which would be safe for the skin. To highlight one thing about this product, it provides many different shades in lipsticks, nail enamels, eye-shadow palettes and in other products too. Nykaa lipsticks have been the talk from South to North. People have been giving related advertisements for Nykaa lipstick shades which would catch the eyes of other women. Liquid lipstick is another trending product of Nykaa. This really the flawless products you recommend to use for others. Lip liner is yet another fascinating thing that is as attractive as the lipsticks. Some liners may be used as the lipstick itself and it gives the shade of lipsticks. It is cent percent true that "Nykaa lips don't lie!"
Make use of the amazing offers and Have colorful shades of life!