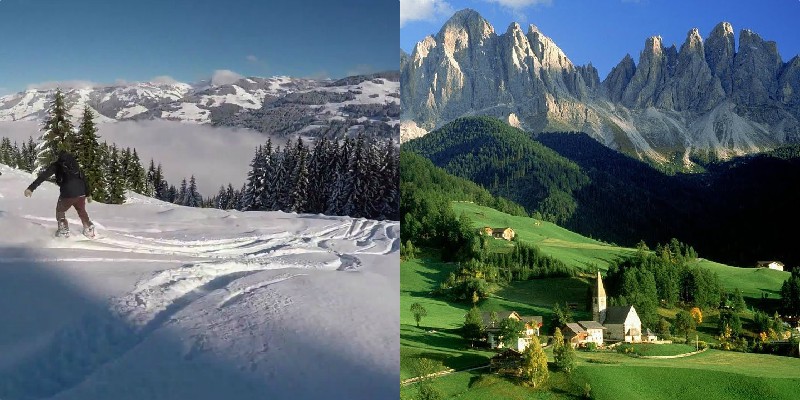 No matter wherever we travel, the experience we gain is something more than a treasure!
Nature covered Tyrol is situated in Austria. It is known as well as a historical place with an awesome view. The visitors of Tyrol will experience the majestic and enchanting landscape of mountains and valleys. Tyrol welcomes the most number of visitors and Tyrol will make you shed your worries and depressions at the foot of the hills. It heals your pain with its charming environment. The flow of water in this place will enrich your soul with all merriment and provides tranquility in your mind. The mesmerizing part of this place is that it is inhabited with more than 500 peaks over 3000 meters, more than 600 glaciers along with alpine ridge, lush green meadows and with appealing huts. This is completely eccentric in the landscape of the world.
Mountain Hut in Tyrol: Think of nature filled the place with forest, high mountains, clear breeze, jaw-dropping views, clear bluish sky and amidst this stands the beautiful vigorous huts. Stay at this stunning natural hut and experience the life at the foot of the hills and valleys. A cozy wooden hut which has a delightful atmosphere with clouds being too low at the top of the hut provides mouthwatering local foods and the meadows for the cows to graze on. You can enjoy the mountain farm by having delicious food along with with the view the natural views at the place.
Swimming Lakes and Pools in Tyrol: Swimming is one of the water-based activities which is available right here. Tyrol has been spreading with any numbers of lakes and rivers where you can dip your head or dangle your feet. The place also provides a viewpoint where you can view the rushing of water and listen to the rhythms of water in the lakes. Dip your soul and come out of the water with an enthusiastic one. Swimming right here is obviously a soul dipping one.
Special Zillertal Alps: Though Tyrol has been inviting you to have many tremendous views of its nature, Zillertal Alps is something more wonderful for its best view. Think of you were sitting in a roped bridge, dangling your legs, watching the water flowing with sounds of different tones and right in front of you is the view of high mountains both sides and blue water has been glowing in the middle. How about this soul soothing view? Would you really wanna be at this place? Summer is the best season for you to travel into West Austria's Tyrol.
The tremendous place will make you experience the adventurous winter with Skiing and Snowboarding, cross country skiing, winter walking, snowshoeing and sledding and tobogganing and also provides other things like walking and hiking in the valleys, Mountain biking, road biking, climbing, cycling, golf, thrilling rafting, and canyoning.
You must add this place in your visit list and instill the adventurous feel within you!