Puri Jagannath Rath yatra 2019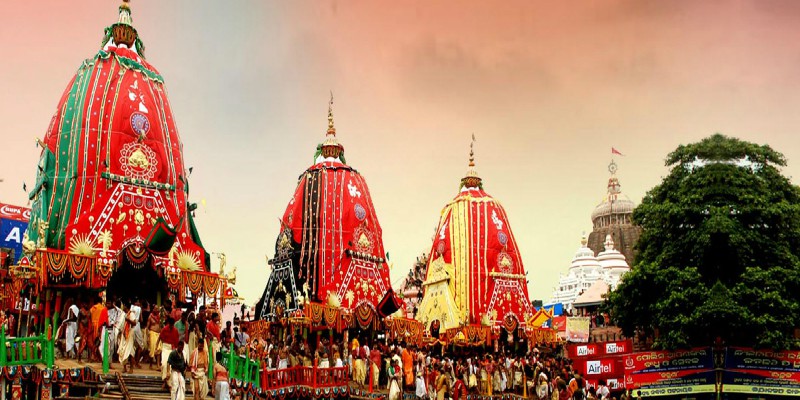 Millions of devotees have come together to Odisha, Puri as the annual Rath Yatra festival began amid the religious feelings of people on the morning of July 4, today.
Lord Jagannath, Lord Balabhadra and Devi Subhadra were ready in front of the famous 12th- Century Shree Jagannath Temple, and rituals/Pooja began on the chariots from early morning. Every year three chariots for the deities – Lord Jagannath, Lord Balabhadra and Devi Subhadra are built by traditional artists. Idols were installed at three chariots named as Taladhwaja, Debadalan, and Nandighosha.
Craftsmen from different locations work for several months and get the chariots ready from scratch. Arranging for wood, wood cutting work, painting work and decoration work of the entire chariot is done end to end by these people with utmost interest and religious faith. These chariots are the key attraction of the Jagannath Puri Rath Yatra and these are pulled by the devotees by chanting and with devotional music all around filling the environment.
Once it's all set, on the day of the yatra, these three deities are taken around for a Chariot procession, which is famously known as Rath Yatra. They cover a distance of 3kms along Grand Road connecting Shree Jagannath Temple and Mausima Temple every year. Post this, on the 9th day these deities return to Shree Jagannath Temple.
This is done as a practice every year, the gods to give darshan and blessings to all devotees, irrespective of caste, creed, and religion.
On this auspicious occasion of Rath Yatra, Chief Minister of Odisha Naveen Patnaik, Prime Minister Narendra Modi and President Ram Nath Kovind,  wished the people.