BLACK ORCHID Presents 'The Last Minute' an eclectic group of musicians on the 24th of September at RA Puram, Chennai.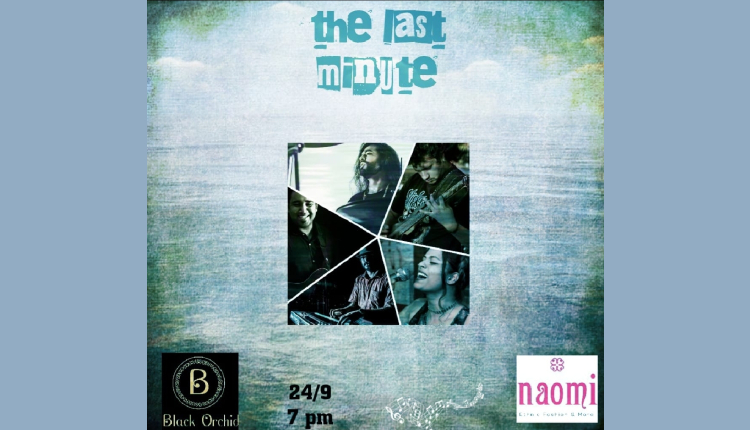 The Last Minute is a cover band formed at the last minute in order to rein in the return of live music in Chennai. The band currently consists of Harini Iyer on vocals, Vikram Vivekanand on guitar, Siddharth Kumar on the keyboard, Siddhartha Ramanathan on bass and Vishnu Reddy on drums; all stalwart musicians in their own right and staples in the Chennai music scene. Each member of the Last Minute brings their own influences together in a melting pot of stylistic identity.
The Last Minute plays a wide variety of covers spanning multiple generations and genres. So come down to Black Orchid on the 24th of September to witness an eclectic group of musicians pay tribute to the classics and contemporaries alike!
MUSICIANS PROFILE
SIDDHARTHA
Siddhartha comes from a family of the arts. Being exposed to a host of visual art forms from an early age, he decided to add some music to it. After completing a Diploma in Music Performance from Swarnabhoomi Academy of Music and learning from some of the biggest artists in the New York scene, he is constantly trying to express himself through different forms of music. His influences include Frederik Thordrendal, Allan Holdsworth, Ed DeGenaro, Ofer Ganor, Juancho Herrera, Guthrie Govan, Steve Vai, Davd Fiuczynski and so many others. He plays with Trojan Horse, Escher's Knot, 83 Miles Per Hour, Kavita Thomas Project and Blind Image.
Siddhartha is also a reputed guitar tutor and teaches various subjects and topics that he has studied at SAM. He is also in the process of writing a book on 'The study of Harmony for a Me(n)talHead'
SID KUMAR
An accomplished pianist, keyboard player, singer, and music arranger/composer, Siddharth has had extensive formal training in classical piano via The Royal Schools of Music (London). He has also been a professional musician for over a decade with ensembles based in and around Chennai, (RJD, Vic and the Big Fish, Udaan, Blues Conscience, Jack, Johnnie, and the Ol' Monk). Siddharth is also a constant part of ensembles heralded by the likes of Karthick Iyer, Sanjeev T, Suchith Suresan, Kavita Thomas, Nikhita Gandhi, Mali Manoj, Grey Shack, Ed Degenaro, and Matt Bacon, to name a few. A highly talented musician with extensive experience in entertaining live audiences in nightclubs and concert halls, Siddharth brings to the table a deep background in playing for live audiences as well as experience having recorded and produced in various studios for both film and independent projects; in addition to teaching music theory.
VIKRAM VIVEKANAND
Vikram Vivekanand is a well-known session guitarist in the Chennai professional circuit, having been around the block for over 10 years. He has performed with a lot of bands and artists such as La Pongal, Yodhakaa, Off The Record, Kavita Thomas, Ranjani Shanker, RJD, Junkyard Groove and currently, performs with his bands Indo Soul, Wascally Wabbit and Grey Shack. He has also started his own solo project titled Vic and the Big Fish
VISHNU REDDY
A graduate of Berklee College of Music with a degree in Music Performance, Vishnu Reddy is a professional drummer, percussionist and educator with over ten years of gigging experience in both Indian and North American music circuits. His versatility as a drummer is one of his biggest strengths as he is fluent in a wide variety of genres including metal, jazz, R&B, Carnatic, fusion and many more. In the past 5 years, Vishnu has toured across the United States multiple times with stellar east coast bands such as The Summoned, Cognitive, Today Is The Day, Pathogenic, Circuitry, Merithius, Begat The Nephilim and Graveborn as well as conducted clinics in reputed universities such as Berklee, MIT and IIT. Vishnu currently resides in Chennai where he works as the drum faculty in Swarnabhoomi Academy of Music while continuing to write and record music with his bands Dapper Duck, The Summoned, Today Is The Day, Trojan Horse and Southern Slaughterhouse.
HARINI IYER
Harini Iyer is a classically trained Indian singer, songwriter and producer; with influences from Soul, RnB and Jazz. Carnatic Vocals (12 years): trained under Smt. Akhila Siva (5 years); Jazz Vocals (1.5 years) under Lisa Thorson. Folk Festival (Kazakh, Indian, Greek ensemble), Mediterranean Music Institute ft Suarez El "Pirana", Middle Eastern Festival (Pletenesia Choir), World Strings Concert, Berklee Indian Ensemble ft Shreya Ghoshal, Project Session/ Music Video (backing vocals) are some of the highlights during her stint at Berklee College of Music.
BLACK ORCHID – Presents 'The Last Minute' an eclectic group of musicians
Date: Friday, 24th September 2021
Time: 7 PM Onwards
Entry Fees: Rs. 1500/-
Address: 105, Pasumpon Muthuramalinga Thevar Rd, Austin Nagar, Raja Annamalai Puram, Chennai, Tamil Nadu 600028
Phone number: +91 91764 77647