Celebrate the festive cheer with Doggie Christmas Party at antiSOCIAL on Saturday, December 11th, 2021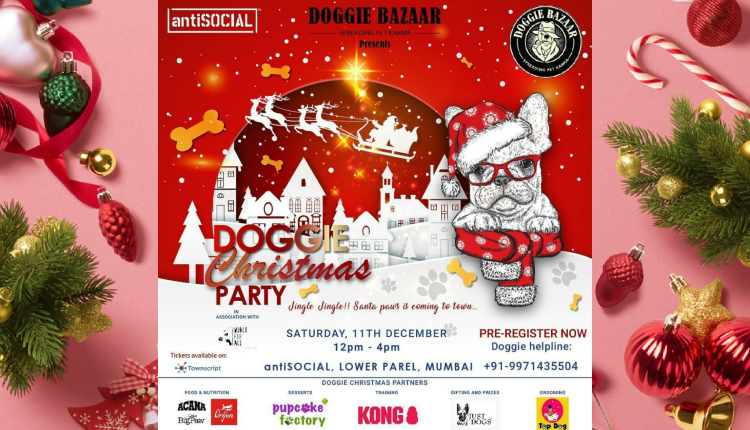 This Saturday, antiSOCIAL in association with Doggie Bazaar and World For All Animal Care waggingly invites all pet parents for the biggest party of the year – the Doggie Christmas Party! With December kickstarting the holiday season, what better way to spend Christmas than with your furry friends. antiSOCIAL gives you a chance to show your furry friends a dose of extra love on this special occasion with an unforgettable Doggie Christmas Party this Saturday, 11th December at antiSOCIAL, Mumbai from 12 pm onwards.
The party will commence with a series of enjoyable games and grab worthy prizes. Treat your dogs with a curation of delectable treats from the yummy doggy buffet live counter setup by Doggie Nutrition & Food Partner ORIJEN, ACANA & LITTLE BIG PAW. Groom your pups with the most relaxing free doggie massage sessions brought to you specially by Cookkie and her team at Top Dog Pet Salon.
End the fulfilling day by treating your pups with complimentary Christmas pupcakes with the most fluffy frosting satisfying your dog's sweet dreams. Take home a range of exciting return gifts to keep your pups' spirits high.
Celebrate Christmas unlike ever before by marking your pets calendars for the most pawsome event at Mumbai's coolest venue, antiSOCIAL!
Venue: antiSOCIAL
Address: Mathuradas Mill Compound, 242, Lower Parel, Mumbai, Maharashtra 400013
When: Saturday, December 11th, 2021
Time: 12:00 to 4:00 PM onwards
Entry: Free
Pre-registration Link: Linktr.ee