Starmark presents the launch of The Bridge Home by popular kid's books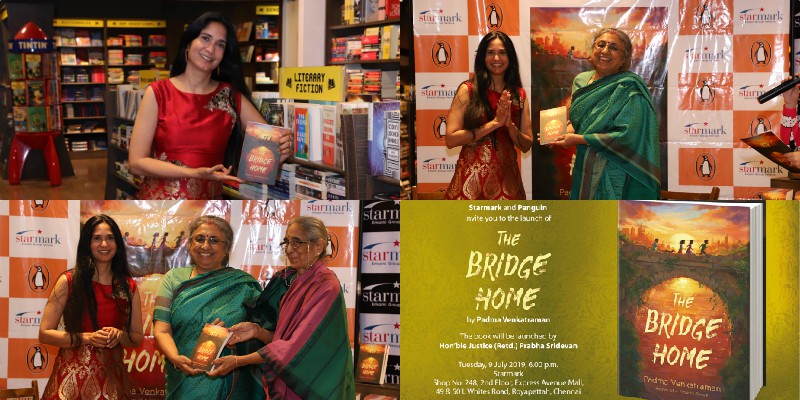 Starmark presents the launch of The Bridge Home by popular kid's books author Dr.Padma Venkatraman at the Express Avenue Mall on Tuesday 9th July 2019 from 6.00 pm in the presence of hon'ble Justice ( Retd.) Prabha Sridevan
Popular Kid's Books Author Dr. Padma Venkatraman launches her latest book, The Bridge Home at the Starmark store at Express Avenue Mall at Whites Road, Chennai. The Bridge Home unveiled in the presence of Hon'ble Justice (retd.) Prabha Sridevan, author will later address the audience at the launch event about her journey as a scientist and an author.
For further information please contact +91 7395927656
Date: 9th July 2019
Time: 6.00 pm
Venue: Starmark Store, Express Avenue Mall, Whites Road
About The Bridge Home
"Readers will be captivated by this beautifully written novel about young people who must use their instincts and grit to survive. Padma shares with us an unflinching peek into the reality millions of homeless children live every day but also infuses her story with hope and bravery that will inspire readers and stay with them long after turning the final page."–Aisha Saeed, author of the New York Times Bestselling Amal Unbound. Four determined homeless children make a life for themselves in Padma Venkatraman's stirring middle-grade debut.
Life is harsh in Chennai's teeming streets, so when runaway sisters Viji and Rukku arrive, their prospects look grim. Very quickly, eleven-year-old Viji discovers how vulnerable they are in this uncaring, dangerous world. Fortunately, the girls find shelter–and friendship–on an abandoned bridge. With two homeless boys, Muthi and Arul, the group forms a family of sorts. And while making a living scavenging the city's trash heaps is the pits, the kids find plenty to laugh about and take pride in too. After all, they are now the bosses of themselves and no longer dependent on untrustworthy adults. But when illness strikes, Viji must decide whether to risk seeking help from strangers or to keep holding on to their fragile, hard-fought freedom.
About Dr.Padma Venkatraman
Padma Venkatraman was born in Chennai, India, the setting of her latest novel THE BRIDGE HOME. She worked as chief scientist on oceanographic ships, explored rainforests, directed a school, and lived in 5 countries before becoming a full-time writer. The New York Times described THE BRIDGE HOME as "gorgeous storytelling." It is a 2019 Global Read Aloud book, a Washington Post KidPost Summer Book Club selection, a Today Show Summer Read and has received 5 starred reviews  (in SLJ, Kirkus, SLC, ALA Booklist and PW), for a total of 17 stars so far, together with her previous 3 novels: A TIME TO DANCE, ISLAND'S END and CLIMBING THE STAIRS. Venkatraman enjoys teaching, mentoring, participating on panels, giving commencement speeches and providing keynote addresses at national conferences, has been chief guest at international literary festivals. She was recently interviewed on a national PBS program, and her work has been featured previously on national and international TV and radio, and in a documentary.