Michelin Uptis - The Puncture proof airless tyre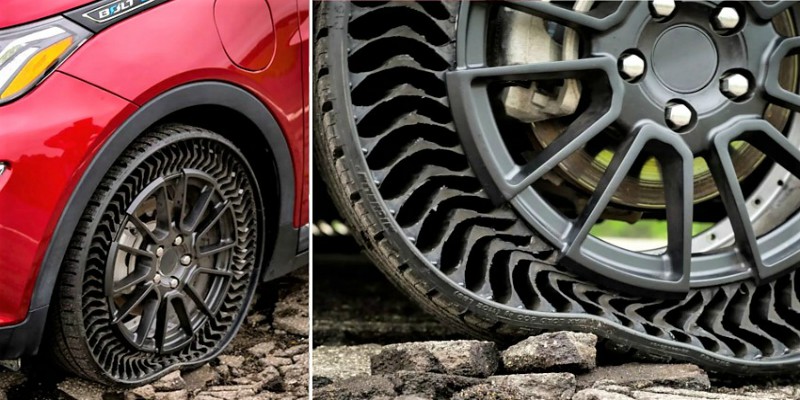 Michelin recently introduced a new generation of airless tyres named Uptis. Uptis stands for 'Unique Puncture Proof Tyre System'.
Michelin has joined hands with General Motors to test this new airless prototype tyre. Field tests will begin later this year on the Chevrolet Bolt EV. This is indeed a ground-breaking technology and it is a revolutionary new tyre, which is expected to be commercially available for the public from the year 2024.
These tyres won't leak pressure, get punctured or rupture. It is safer and environment-friendly. It has rubber for tread, a unique resin embedded fibreglass for the reinforcement, and aluminium for the wheel spokes.
These new tyres will decrease waste of tyres/rubber. Air pressure control or check would not be necessary at all. Also with this in place, scrapped tyres that get wasted due to rupture and puncture will reduce.
Michelin has been working on this Airless tyre concept for the past 5 years now. It is engineered in such a way to handle the current car production and also it is planned in such a way to suffice the future mobility solutions such as electric and autonomous cars. These tyres will demand near zero maintenance and will increase the operating capacity.
Presently there are more than 200 million tyres replaced annually across the globe and with the VISION concept, Michelin hopes to reduce that number by a considerable amount as these tyres will have a longer lifespan.