Signature Club Resort is a serene getaway set within Brigade Orchards — a 130-acre smart township in Bangalore. The club resort is managed by Brigade Hospitality Services Ltd. (BHSL), a wholly-owned subsidiary of Brigade Enterprises Ltd. It offers well-appointed 45 premium rooms and suites. The rooms come with amenities such as a minibar, work desk and Wifi connectivity. The resort is an ideal weekend getaway for families, and it also is well suited for business travellers visiting the city. An added attraction to Signature Club Resort is the Signature Villas. Each villa is designed and built to respect the earth and the environment, surrounded by trees and gardens. The well-furnished Service Villas offer a unique alternative to resort villas. Designed over three levels, every villa is built with amenities for a luxurious lifestyle. The resort is in close proximity to some of Bengaluru's popular tourist destinations including Nandi hills, Skandagiri Betta, Nandeshwara Temple etc.
Signature Club Resort is surrounded by Mango orchards and visiting the resort in summer is a bonus in itself. Guests can avail themselves the state of the art facilities ranging from a heated swimming pool to showing off their skills in badminton. They can also indulge in several leisure activities which could include a visit to the Grover Zampa vineyard to witness and part take in the wine-making process. With an overnight stay, you get to spend time at luxury accommodation laden with top-class amenities for sports and recreation including a six-lane indoor heated swimming pool, two badminton courts with Oak Wood flooring, squash & tennis courts, gymnasiums, yoga terrace, aerobic rooms, billiards & pool tables and indoor table tennis. The resort offers some of the finest culinary and dining experiences with Tamarind Restaurant, Courtyard Café and Pavilion Bar.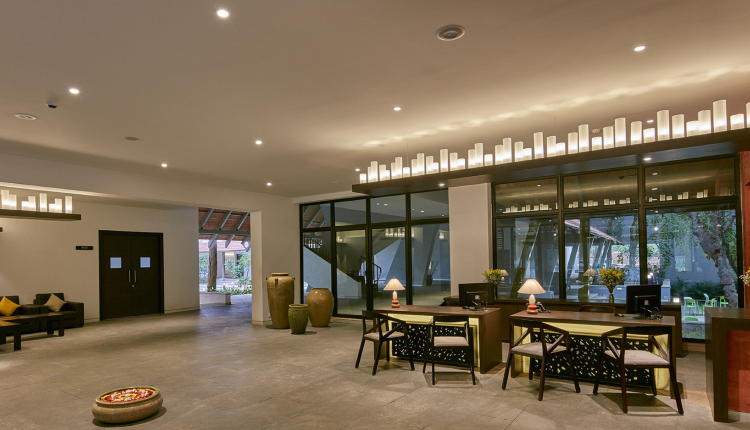 Signature Club Resort is an ideal location for weddings, parties, corporate events and conferences. Jasmine a 45 guest multi-purpose hall is fully equipped with modern audio-video facilities, Silver Oak which can accommodate up to 200 guests is a smart banquet hall with fine décor to suit all occasions & gatherings and Silver Oak Lawn is a plush landscape of over 12000 sq ft that provides banqueting experience in a surreal surrounding for up to 1000 guests.
Located near Bangalore Airport, Signature Club Resort is a relaxing and tranquil venue that offers high-quality amenities and hospitality facilities to deliver the best-in-class services.