Mammoth Lakes in California is an adventure lover's paradise with beautiful scenery boasting a rich plethora of natural attractions. With travel restrictions being finally lifted and that too coinciding with the upcoming summer holidays, this mountain destination in the Eastern Sierras promises some of the best experiences in a safe, quaint, offbeat, as well as picturesque setting.
A visitor can enjoy a host of activities from heart-pumping mountain bike rides, to fly fishing on peaceful lakes and streams, a wilderness camping trip, to a pleasant afternoon hike. Mammoth Lakes is also synonymous with its numerous music festivals ranging from reggae, jazz, rock, and blues that are organized all summer.
The summer months in Mammoth Lakes are ideal for experiencing the great outdoors and majestic nature present at the destination. With countless trails, Mammoth Lakes is a top hiking destination, and the Mammoth Lakes Basin has quite a few trailheads. We suggest a hike down the short but strenuous Crystal Lake Trail to see an alpine lake or the Mammoth Rock Trail for mountain and valley views.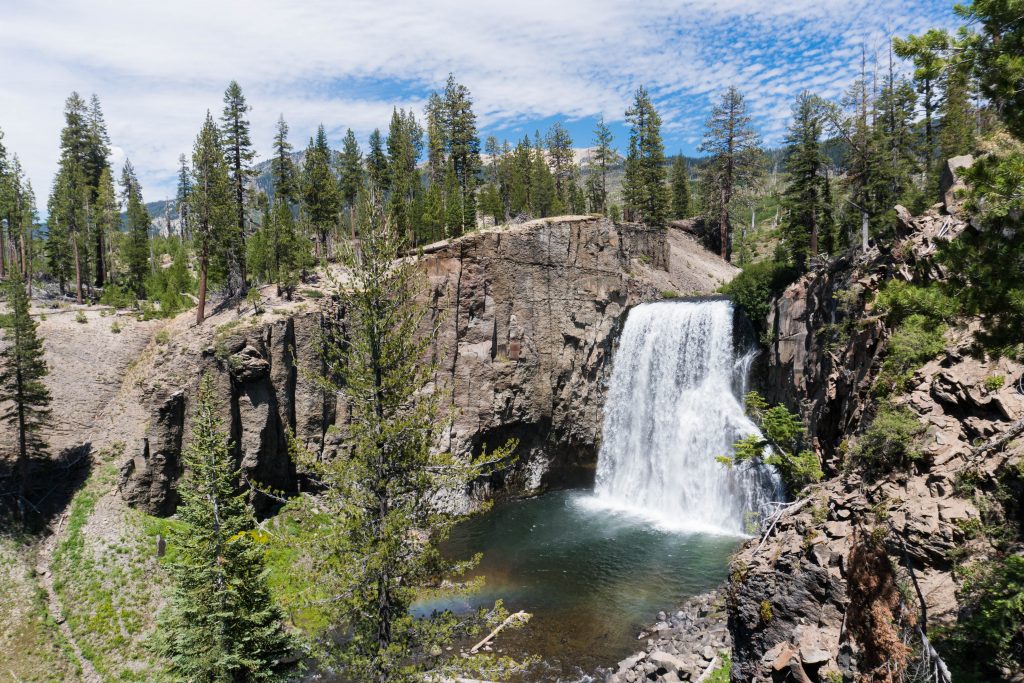 Biking is another great option to travel the obscure but incredible Mammoth Mountain Bike Park or the roads of the Eastern Sierra. The paved downhill trail of the Lakes Basin Path is ideal for a bicycle ride. Other options for cyclists include taking the free town trolley up to Horseshoe Lake with your bike and then riding 5-miles back down to the village. Alternately, if you want to experience an afternoon of relaxation and tranquillity, go boating on Convict Lake. Another must-do at Mammoth Lakes is to rent a stand-up paddleboard from one of the outdoor stores in town and take it up to the Lakes Basin to get on the water and enjoy some breath-taking views.
The San Joaquin River plunges more than 100 feet at Rainbow Falls and the mist casts a stunning rainbow. A great way to see the waterfall is on horseback. Red's Meadow Resort and Pack Station offer mule rides to the waterfall and longer rides to other popular destinations in the area. If you prefer to walk to the falls, the Rainbow Falls Trail is about a 3-miles round trip. The hike to the Devils Postpile is a short and easy walk from the ranger's station. See the 60-foot-tall basalt columns that were formed when a cooling lava flow cracked the basalt. As you descend into the Reds Meadow Valley, hop off the shuttle at the Agnew Meadows stop and take the Agnew Wildflower Loop. The short trail circles a nice meadow filled with seasonal wildflowers. With crystal-clear streams, sparkling lakes, and majestic forests, Reds Meadow Valley is an ideal place to camp during the summer and enjoy fishing, hiking, or horse riding in these pristine surroundings.
The alkaline Mono Lake is a nesting and resting place for migratory birds. Nearly 2,000,000 birds visit Mono Lake each year, so it's a great place for bird watching. Stop at the Mono Lake State Nature Reserve and take a self-guided walk along the boardwalk to learn about the stunning tufa towers and the history of the basin. Yosemite National Park, America's third national park is an easy and scenic 45-minute drive north of Mammoth Lakes. The giant Sequoias trees, Half Dome, Yosemite Falls, El Capitan, Bridalveil Fall, and Sentinel Dome all make for a picture-perfect. Stop in Tuolumne Meadows for a hike, or take a scenic drive to the valley to see the iconic granite monoliths and waterfalls.
Golfing and fishing are two of the most popular activities in Mammoth Lakes. With two golf courses and a driving range, Mammoth Lakes is a great destination for a golfing getaway. Play a round at the 18-hole Sierra Star Golf Course, or try the 9-hole course at Snowcreek Resort. Pack your fly rod and go fly fishing at Hot Creek. Hot Creek is a scenic wonderland containing dozens of natural hot springs bubbling up within the rocky walls of a river gorge and in the shadows of towering Eastern Sierra mountain peaks. It is a breath-taking place where boiling, bubbling water rich in dissolved minerals emerges in turquoise pools rimmed by layers of travertine rock and shrouded in veils of steam. A short drive and hike are all it takes to meander along trails that run alongside the creek. From here sightseers get a first-hand view of the geological processes actively shaping the distinctive Eastern Sierra landscape.
Summer and outdoor music go hand in hand. There's something about being outside listening to live music with a cold drink in hand, and Mammoth Lakes has no shortage of options for that. There are plenty of festivals and outdoor venues to see live music just about every weekend in Mammoth Lakes. Check out the outdoor stage at The Village at Mammoth for a fresh line-up of artists regularly. Grabbing a local beer after a day of summer activities is a great way to unwind. Stop by Mammoth Brewing Company or Distant Brewing for a pint. Groups can take an afternoon to go brewery hopping with Eastern Sierra Brewery Tours, and taste beer from three local breweries.
Mammoth Lakes also offers numerous options for the ultimate relaxation and recovery through its wellness practices. Head to any resort or spa to enjoy an exquisite wellness service comprising massage, facial services, body therapies, and more to make you feel rejuvenated after engaging in an unforgettable exploration in the Mammoth Lakes topography.
Picture credit: Mammoth Lakes Tourism