This World Music Day, Celebrate Music And Immerse Yourself In A Sufi Experience Like Never Before With #SoundsOfSociety's 'Reh Na Sake (Acoustic)' By The Legendary Artist, Lucky Ali And Narang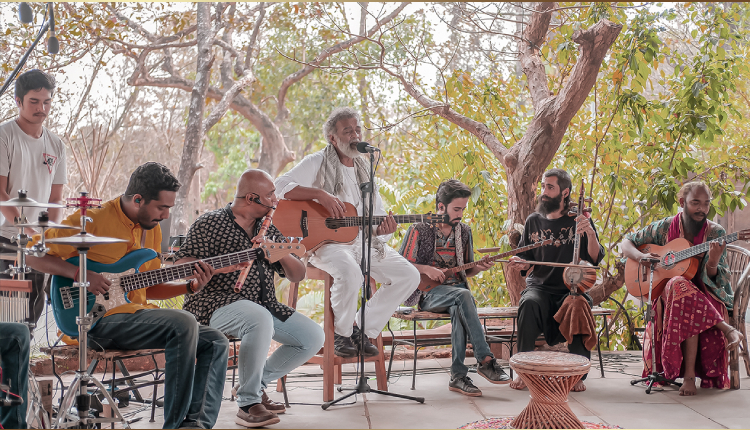 ~Lucky Ali And Narang Breathe Life Into The Ethereal Composition, Reh Na Sake With #SoundsOfSociety Season 2 Episode 7~
'Reh Na Sake': https://www.youtube.com/watch?v=t-anValkawk
Society Tea: https://www.youtube.com/channel/UCFz8hA36X-hd6ZCqYGve8ng
21st June 2021, Mumbai: Society Tea, in association with Urban Beat Project, curated by Laiq Qureshi, is here with Episode 7 of the live musical web series – #SoundsofSociety, Season 2 https://soundsofsociety.in/. Representative of existing synergies in the realm of music #SoundsOfSociety's new episode features legendary and iconic artist, Lucky Ali accompanied by the Indian-Iranian band, Narang, bringing to life 'Reh Na Sake (Acoustic)', on the occasion of World Music Day.
Sounds of Society is a genre-free, no-rules, and an all-inclusive approach to presenting music-making and its associated performing arts. It is a great platform for musicians to showcase their grassroots approach to making music, in an entirely collaborative format. Sounds of Society – Season 2 has been shot with minimal fuss and equipment. The season will has edited as well as one-take videos to show audiences the true organic nature of each episode.
This episode features a special acoustic rendition of 'Reh Na Sake', a song from Lucky Ali's upcoming album, is immersed in layers of Sufi flavors, aptly portraying how one needs to allow things to fall into place when they surrender to the flow. Ali's intricate poetic prowess and his diverse musical knowledge when paired with the Arambol based Sufi band – Narang, who are known for their knack for fluidity and originality with which they approach music, breathe life into this ethereal composition.
Maqsood Mahmood Ali, better known as Lucky Ali, is an Indian singer, songwriter and actor. With several popular singles and albums like, O Sanam, Mere Saath, Mausam, etc., emerged as a significant figure of Indi-pop during the 1990s.
Whereas, Narang is an international music band established by Iranian-Indian artists, enjoying their experience of finding harmony among rhythms and melodies. Narang in Persian means Colourless. Also, Naranji (Persian) – narangi (Hindi) – Naranja (Spanish) means Orange. Based on a belief that if there would be no color, everything will appear Orange, like Fire, Sun and God.
 "Reh Na Sake is about the impermanence of things. It's about looking within to understand the silence amidst all the noise outside. It's about the patience required to understand what the silence is saying. It's the mood I have in a generation that is quite rushed. For me it's about slowing down", says Lucky Ali.
He further adds, "It was an amazing experience to collaborate with Sounds of Society and Narang. I'm elated to have worked with these very talented new musicians, who I had the pleasure of sharing a common musical space with for putting together this special rendition of 'Reh Na Sake'… It's a cool coincidence that this track drops on World Music Day."
An elated Karan Shah, Director, Society Tea said, "Music, an integral part of our lives, has the power of bringing together people across borders, just the way tea does. With Sounds of Society: Season 2, we aim at bringing soulful melodies by collaborating with versatile artists. This season has an amazing line-up and is all set to brew a flavorful experience, with the aim of etching music and tea onto the hearts of our audience. We are ecstatic to launch Reh Na Sake (Acoustic) on World Music Day, emphasizing on the importance of silence and the need to listen to it amidst the noise. With Sounds of Society, we continue to strive towards keeping this spirit of innovation alive while spreading happiness."
Produced by Urban Beat Project and curated by Laiq Qureshi, the collaborations in each episode represent the already existing and ever evolving synergies in the musical world. Much of what is captured is entirely spontaneous, without any concrete rehearsals. "Some of the best music is made when musicians come together without any real aim in mind, and when they are free of going anywhere particular with their music. Like in a jam. What comes out is pure and organic. This is what we want to showcase." says Laiq Qureshi, founder of Urban Beat Project.
Sounds of Society hopes to feature what music sounds like on the street, on a terrace, in your bedroom, on the beach, or in your backyard. The only real aim is to document the social and cultural milieu in which we live, by presenting the sounds of today.
Artists featured so far are – Cian Finn, Swadesi, Naâman, Tritha Sinha, Mr. Woodnote, Ustad Dilshad Khan, Mohamad Alnuma, Raul Sengupta, Dub FX, Sahida Apsara, DJ URI, Delhi Sultanate, Hang Massive, Delhi 2 Dublin, Vasuda Sharma, Gowri Jayakumar, Chandana Bala, Nush Lewis and more.