WOMB – Women of my Billon to World Premiere at The 12th Bagri Foundation London Indian Film Festival 2021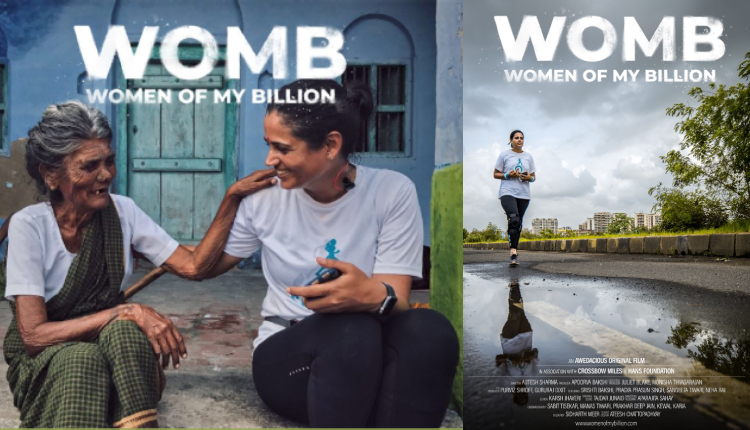 A heart-wrenching documentary based on one woman's walk across India to create awareness for women who are fighting and surviving violence of all kinds
Mumbai, 10th June 2021: WOMB – Women of my Billion, a powerful narrative that highlights the plight, dreams, rights and fight of the women of today's India against all forms of violence, will world premiere at the opening night UK Gala of the London Indian Film Festival 2021. The festival line up is a "love letter to India", given the ongoing hardships of the COVID-19 pandemic.
Deeply shocked and disturbed by the highway 91 rape case that was reported in 2016 in India, Srishti Bakshi decided to not be a silent spectator to rising crime against women in her country. The documentary captures her 3800 km on foot journey from Kanyakumari to Srinagar over 230 days and her heroic effort to create awareness on women's safety and empowerment through financial and digital literacy. The film highlights survivor stories of activist Pragya Prasun Singh, Lt. Col. Sangeeta Tiwari & Neha Rai and stands a crucial testament to the worldwide crisis which has only aggravated in these times of the pandemic.
An Awedacious Original, WOMB is a poignant and heart-warming watch exploring the social and political issues faced by women of today's India. The documentary feature highlights the monumental journey through Srishti's lens, her interaction with over 85,000 women over more than 100 workshops she conducted in schools, villages and institutions on her walk from Kanyakumari to Kashmir. Emotional and powerful, the documentary is a unique testament to seemingly insurmountable challenges in these unprecedented times and the everyday sheroes who are battling to overcome.
"In this documentary we have celebrated ordinary women who've shown extraordinary courage to rise above their limitations and challenge deeply entrenched gender norms. We did this to unite the majority because what we discovered was that 'gender-based violence is a crime perpetrated by the minority but perpetuated by the silence of the majority," says a very passionate Srishti Bakshi.
Says Director Ajitesh Sharma "Violence against women and girls is a human rights violation. And since the outbreak of COVID-19 and the world locking down to live within four walls, emerging data and reports from those on the front lines, have shown that all types of violence against women and girls, particularly domestic violence, has only intensified. With WOMB, I aim to bring forth inspiring stories of fight and survival which Srishti was privy to by meeting brave women on her walk. My aim is to pass on this privilege of knowing these women and their stories to inspire conversations on how gender norms need to be overhauled."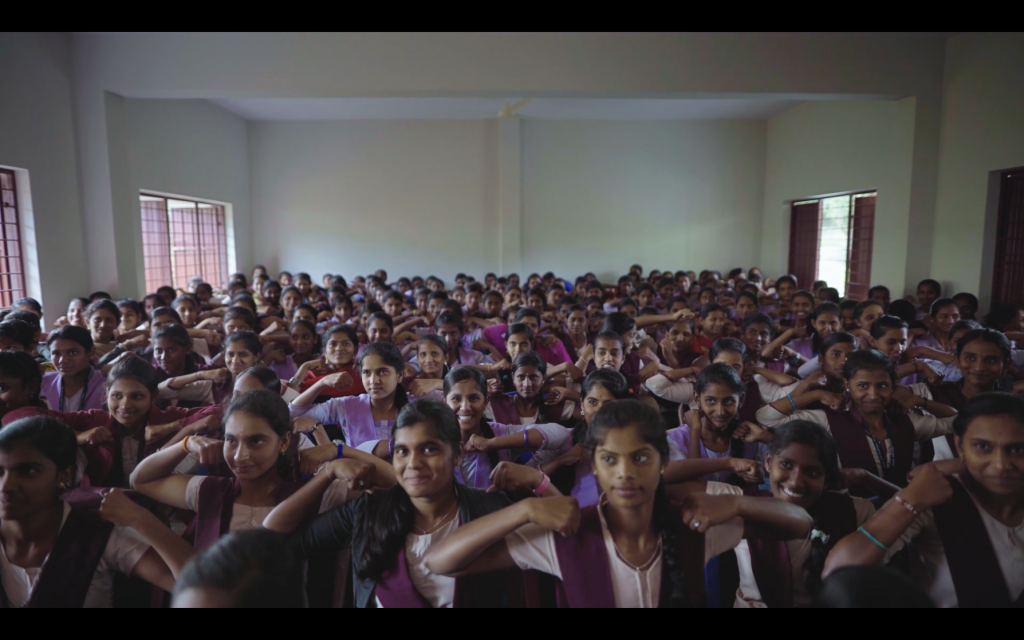 Executive Producer Juliet Blake comments: "In my work for TED Talks in India I have met many women who have been subject to unspeakable acts of violence and have listened to their stories in abject horror. In Women of My Billion Srishti Bakshi takes us on a profoundly moving journey illuminating the pernicious issue of gender-based violence weaving a remarkable narrative that speaks both to the resilience of India's women, and to the urgent need for societal change."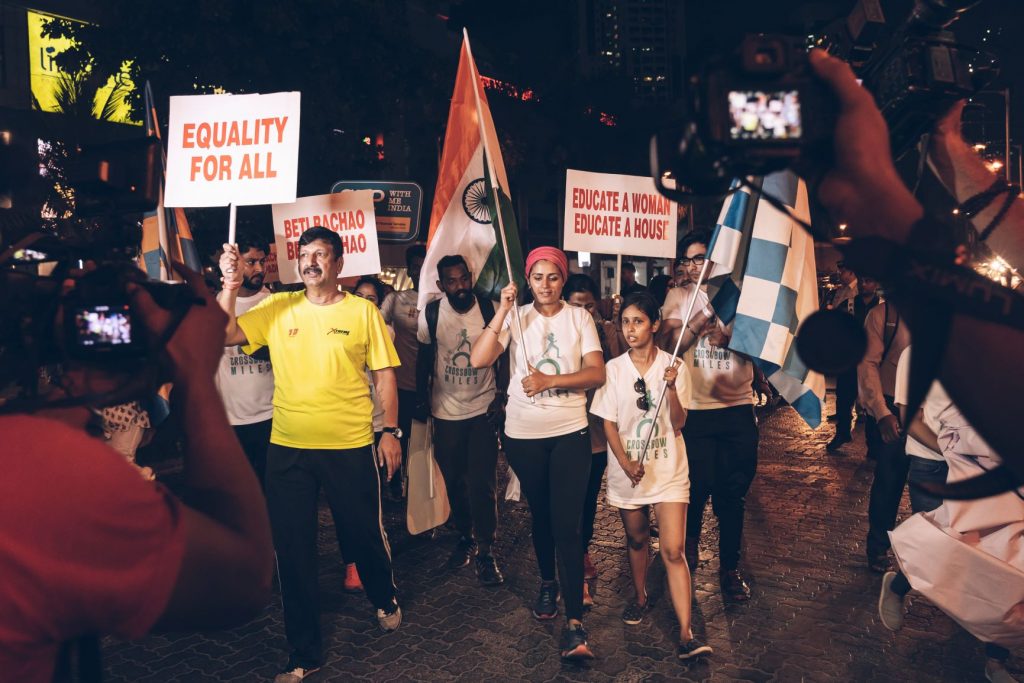 Adds producer Apoorva Bakshi, "We have lived with patriarchy as an unspoken norm and the problems it causes for women for so long, that somewhere we, the majority have stopped acknowledging it as a problem altogether. This is the first step towards finding solutions for change. At Awedacious Originals, we believe in collaborating with fearless film makers and supporting urgent and mission driven stories that have the ability to move, inform, stop you in your tracks, make you think or feel more deeply and 'WOMB' is a true example of such impactful storytelling. We take great pride in presenting our film at LIFF and look forward to sharing the same with audiences worldwide."
The film is the debut feature by director Ajitesh Sharma and produced by International Emmy Winning Producer of Delhi Crime Apoorva Bakshi along with her producing partners Monisha Thyagarajan & Gururaj Dixit and executive produced by Juliet Blake film & TV producer of The Hundred-Foot Journey and TED Talks India.
The 12th Bagri Foundation London Indian Film Festival 2021 and its sister festivals in Birmingham and Manchester will showcase WOMB as the opening film for the festival. The festival is slated to take place from 17th June to 4th July. The film also showcases at the New York Indian Film festival slated from 4th June to 13th June.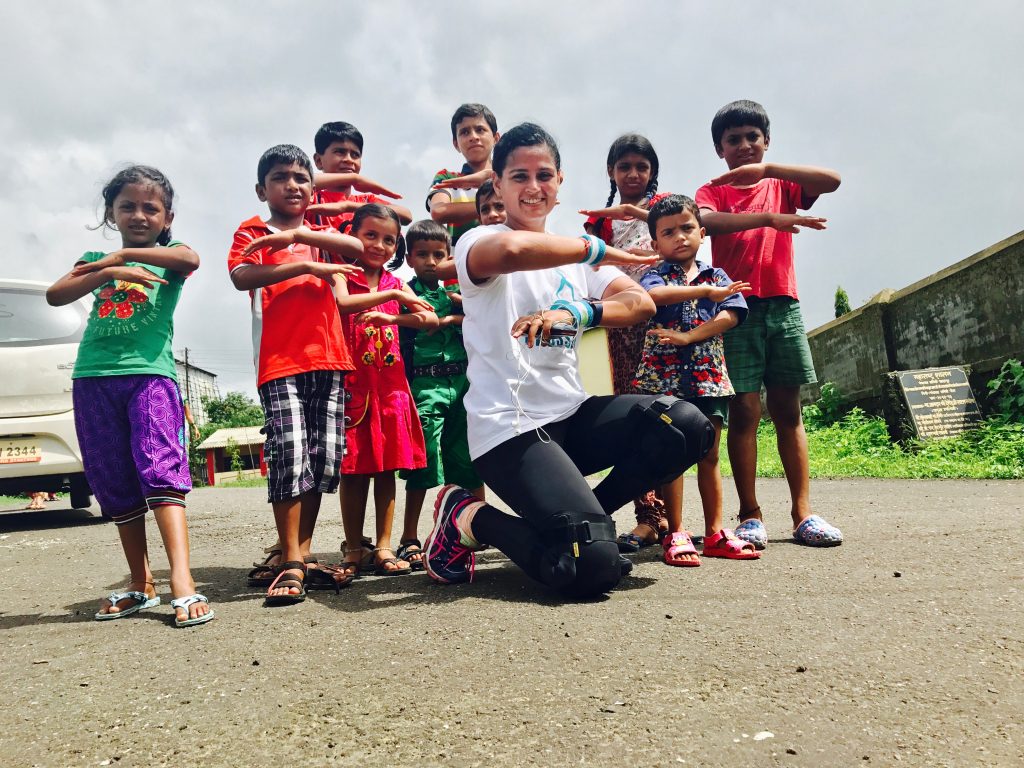 WOMB
Women of my Billion is a heart wrenching and heart-warming narrative of the plight, dreams, rights and fight against all forms of violence, that unify the women of today's India. Where we share a common reality of living and navigating through an indefatigable patriarchal society. Through Srishti's lens, we gain the privilege of discovering and understanding the WOMB, which deserves to be respected, empowered and protected. A perspective that stays at the fore of her on foot journey of 3800km over 280 days, from Kanyakumari (South India) to Kashmir (North India).
About Awedacious Originals:
Born out of a collective thirst to produce awe-inspiring and audacious stories, founders Apoorva Bakshi, Monisha Thyagarajan and Gururaj Dixit launched Awedacious Originals. A new era production company which through collaborative partnerships with fearless filmmakers, aims to share bold, unusual and compelling stories with the widest audiences possible, even if that means pushing boundaries and taking risks.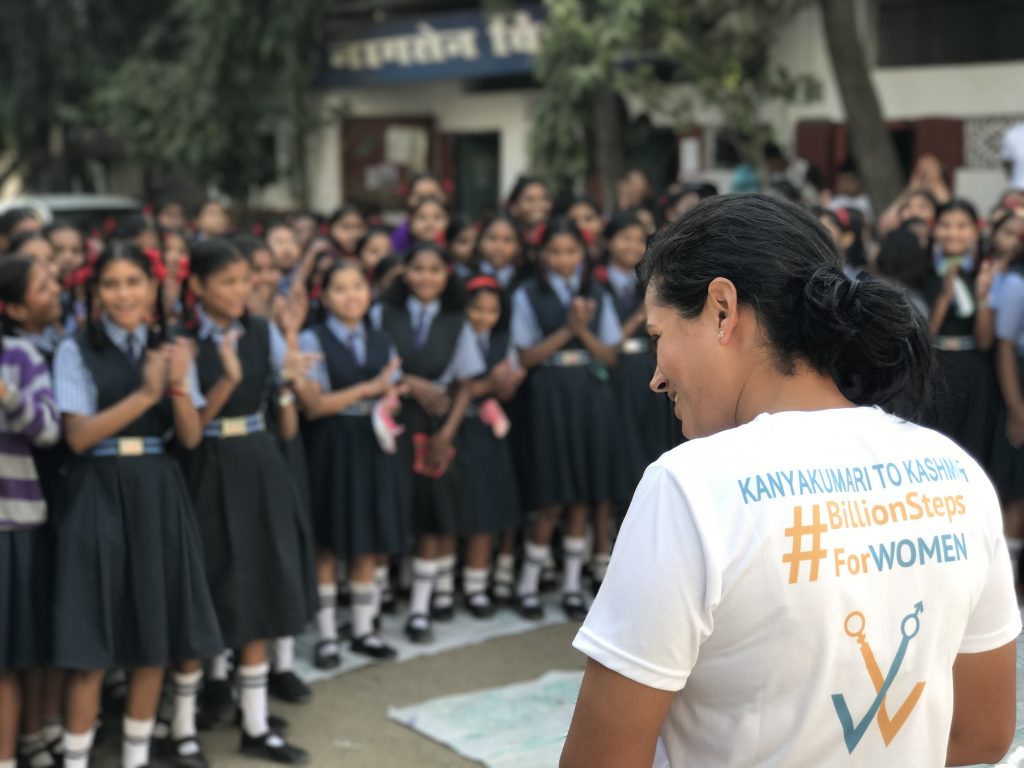 About Srishti Bakshi:
In 2017, Srishti Bakshi, founder CrossBow Miles, was named an Empower Women Champion for Change** 2016-2017 by UN Women. The President of India, Shri Ram Nath Kovind, extended his support to Srishti Bakshi and the CrossBow Miles Campaign for Women's safety and empowerment through digital and financial literacy. Srishti also got the highest accolade from the British Commonwealth, being named the India winner of the Commonwealth Points of Light award, which she received from the British High Commissioner, Sir Dominic Asquith, on behalf of Her Majesty the Queen.
About CrossBow Miles:
In 2017 CrossBow Miles embarked on a 3800 km on-foot journey across India from Kanyakumari, Tamil Nadu to Srinagar, Kashmir mobilizing citizens along the way to make India a safer country for women. CrossBow Miles today continues to sensitize citizens to the gender divide in the country, by collaborating with various organisations to empower   women with digital and financial literacy. In their latest Bihar tour with Asmita Foundation and NCC Bihar they conducted over 25 workshops across 10 districts in the state with over 2000 girls in school.
**The UN Women's Empower Women Initiative is dedicated to empowering women to achieve their full economic potential by inspiring both men and women to become to become advocates, change makers and leaders in their community. Please note: United Nations Mandate on usage of this text (to be used in full and not in part).