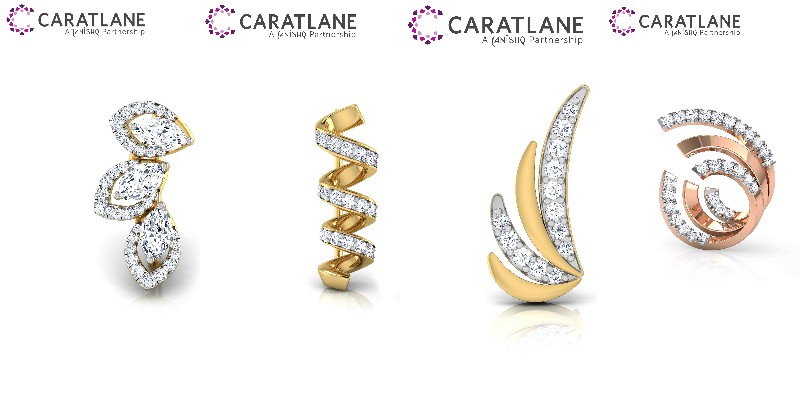 Stylish diamond jewellery is your go-to for adding a little sparkle, creativity and a sense of individuality to your outfit. If you know how to pick the jewellery design that suits your style, you can make a statement with an outfit as basic as a tee and jeans. Here's a list of unique diamond jewellery designs that make a bright statement.
Diamond Earcuffs – Ear cuffs may not be new on the style radar, but their stunning chicness is enough to make one fall in love with them. The new wave of diamond ear cuff is all about making a 'less is more' statement. So, if minimalism is your style, you can make a subtle statement by trying out a pair of sleek diamond ear cuffs with a crisp white shirt and jeans or simple sheath dress.
Did you find the diamond jewellery that suits your style? If yes, visit www.caratlane.com or download the app right now because ALL your diamond wishes are about to come true! CaratLane presents 'The Great Diamond Festival', where you get up to 20% on all Diamond and Solitaire jewellery. Hurry! The sparkle may last, but this festival won't.
About CaratLane:
CaratLane – a Tanishq partnership, India's first omni-channel jewellery brand was founded in 2008, by Mithun Sacheti and Srinivasa Gopalan, with a simple but courageous objective – to make beautiful jewellery accessible, affordable and forever wearable. All CaratLane collections draw design inspirations from a strong historical legacy and interpret them in a modern theme. With the new-age woman as a muse, the design philosophy at CaratLane is to make jewellery which makes the wearer 'feel' beautiful, drawing out her compelling individuality, inner confidence and self-esteem. With a strategic investment from Titan Company Limited, CaratLane is now partners with India's largest retail jeweler Tanishq. The partnership aims to work towards a common mission – to offer customers beautiful jewellery and a distinctive shopping experience that fits today's values and lifestyles – enabling CaratLane to grow as India's 21st century jewellery brand.
CaratLane is also known for its signature jewellery-buying experience across all platforms. Along with the website, which is India's largest online jewellery destination, CaratLane, has over 29 brand stores across the country. The stores bring the seamless jewellery buying experience with a no barrier access to all jewellery, along with Magic Mirrors for virtual try-ons. CaratLane also pioneered a unique Try@Home feature for jewellery buyers in the country, where customers can book an appointment, get their desired jewellery delivered at their doorsteps, and try them at their comfort with no-obligations to buy.
Further CaratLane also launched a revolutionary virtual try-on app – the Perfect Look App – which Enables jewellery buyers to try multiple pieces without, literally, having to putting them on. CaratLane integrates the StreamLaneTM system to eliminate inefficiencies in the supply chain. It keeps the overheads low and enables CaratLane in efficient delivery, along with bringing forth savings of up to 25% over retail costs to customers, while continuing to give the best quality. Facilitating the diamond-buying experience in India, CaratLane stores include a Solitaire Lounge to assist diamond buyers to find the perfect solitaire. CaratLane diamond consultants are also available 24X7 at toll-free number 1-800-102-0103.
To know more about CaratLane: Visit www.CaratLane.com
Join the conversation: #CaratLane | @CaratLane | facebook.com/Caratlane