XIAOMI AI-based translator called the 'Mini AI Teacher'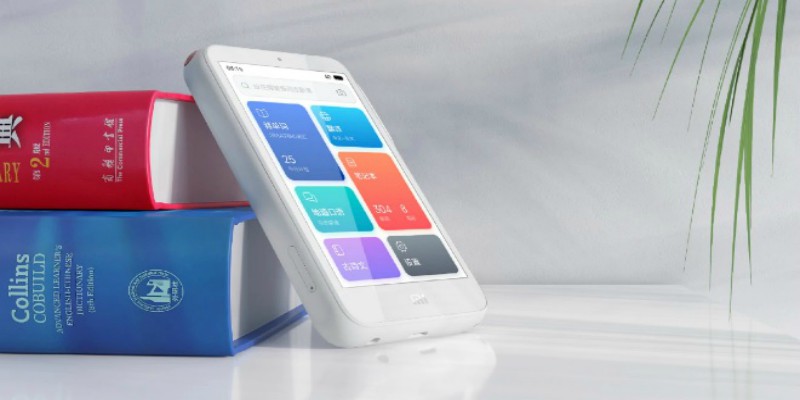 Xiaomi at it's Artificial Intelligence of Things (AIoT) event in China had introduced a handheld AI-based translator called the 'Mini AI Teacher' that offers offline translation. It supports listening, visual and voice modes for translation.
The screen size is only 4-inch and is small enough to be easily held on the user's palm
It comes with 3GB RAM and 64GB of internal storage
It sports a 5-megapixel rear camera with an autofocus and a 50-millimeter macro lens, for handwritten notes and translating signs
It also comes with dual physical buttons
It has a SIM card slot for 4G network access
It provides a Wi-Fi hotspot network sharing facility
It is packed with 18 hours of continuous usage on a single charge
Offline translation support for up to 5 languages
4G + Wi-Fi variant of the Xiaomi Mini AI Teacher with 3GB RAM and 64GB storage price is CNY 999, approximately INR 10,000/-
Wi-Fi only model with 2GB RAM + 16GB storage comes with a price tag of CNY 499, approximately INR 5,000
It is powered by the company's own Xiao AI smart voice assistant and the device has been pre-installed with five reliable and commanding dictionaries that include Collins COBUILD Advanced dictionary, Oxford Dictionary, Modern Chinese Dictionary, New Age Chinese-English Dictionary, and Xinhua Dictionary.
Offline translation of Chinese, English, Japanese, and Korean languages is pre-installed in the device and expected to support for 224 countries/regions around the world.
Go Multilingual from Monolingual!