'I was doing Art Direction alongside teaching from 2015 to 2020': Meet Jennipher Kerenhappuch, Women's Day Special Coverage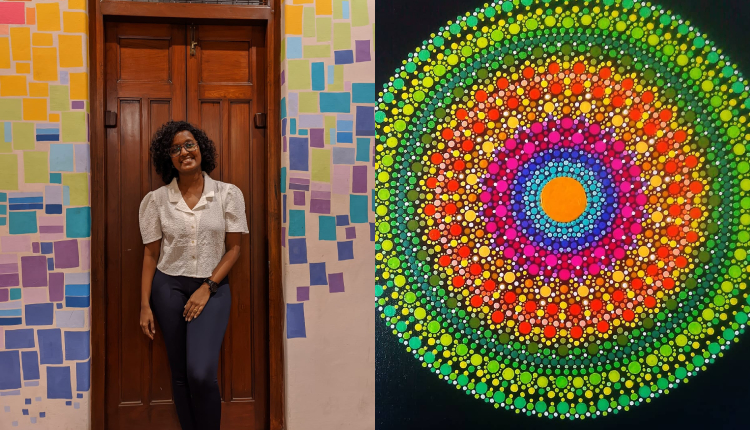 Born and brought-up in the southern part of India, a young woman who followed her passion towards art has a lot to share. While most people preconceive that there is no hope in following the passion towards art, we have Jennipher Kerenhappuch, who follows what her heart says. In the world of discouragement and disappointment, the young girl found her destination and decides what she should be. Art does give you a bright future when you do not give up on it and follows it passionately. To those thinking that there is no future in pursuing Art, it can be your ultimate profession someday.
On this Women's Day, we introduce an Art Educator who changes your thoughts on Art department, who is currently teaching Art at an IB (International Baccalaureate) school in Vijayawada. Check out her thought-provoking answers to our questions.
Snippets from the interview:
What made you pursue art?
My interest towards art and the personal connection I had towards creating something new and unique. In fact, I did BIPC-Math just to draw diagrams and keep my art skills up to date through sketching diagrams
Why chose to be a full time Art Educator rather than doing Art direction?
I was doing Art direction alongside teaching from 2015 to 2020. Though it was a combination of passion and profession it was quite difficult to give up one or the other. It's a pleasure to have started my teaching career with IB which gave a very different perspective towards art and it's approach towards delivering arts to the outside world. Being an IB Art Educator felt more challenging to unlearn the traditional teaching methods and relearn IB way of teaching made me understand the responsibility in developing the artistic minds of every individual student. This meant so much to me as IB Arts is designed to give scope for students to focus on all art forms and styles.
Tell us your experience about working as an Assistant Art director in the movie, Aruvi?
Working on Aruvi and other feature films was challenging and a roller coaster ride between my final semester of college and film sets. It gave me an opportunity to identify my strengths in building my career as an art director and build a strong communication with the film fraternity.
Most parents would not allow their daughter to work in films. But how supportive are your parents?
I thank God for blessing me with understanding and loving parents who consider their daughter's passion as their own and stand as the biggest support system. They have always stood with me in all walks of my life either weekend shoots or staying away for months for bigger schedules. All they wanted from me was to have a good health and a Happy heart in becoming better as an Artist.
What were the hindrances you face while working in Cini field as Art Director?
I did not have much hindrance in the beginning as everyone says Cinema is a big ocean and I was just one single drop that cannot be counted collectively. It was tough to shine independently as cinema does not come by standing alone to succeed. You should be able to collaborate, listen with an open heart, be patient and consistent.
What is the scope for Art Direction now and is it a safe and thriving profession for young women to step into?
Right now, Tamil cinema has become the epitome of film making and the strong commitment towards creating an art. It is not the same as it was 10 years ago. Media gives you scope for becoming the stronger version of yourself so I strongly recommend anyone irrespective of their gender to take up Art direction to lead and support young artists.
What are the major differences you felt as an Art Educator in IB school and working as an Assistant Art Director for a movie?
Learning from senior art directors through their experience and explorations to creating the same experience for the students at a very young age in the biggest difference. Art direction focuses on applications of skills acquired where Teaching gives scope for me to introduce the students to become stronger in their choice of art styles.
Would you love to be an Art Educator or Art Director?
Art direction is part of being an Art educator. So, I guess it goes hand in hand and cannot be separated from me.
Would you work for a movie as an Art Director again if the opportunity knocks at your door?
Definitely Why not. I can take that experience back into my classroom to help my students better understand how art is used in the field of film making.
Your piece of advice for young women who want to explore the Art world?
Do not think twice for doing something you love. But be smart to fulfill your needs and passion hand in hand as the world is unpredictable and can flip back so always have a back-up. Make your parents understand your passion so that they support you emotionally, select good friends to support you in need, select the right people to work with so you excel in what you do. Happy learning and doing Art.
We will be delighted to have your thoughts and feedback. Please write to us at [email protected]
Follow Life and Trendz on Instagram: https://www.instagram.com/lifeandtrendz/
Facebook: https://www.facebook.com/lifeandtrendz
Twitter: https://twitter.com/LifeandTrendz