Being a mother is a wonderful, invaluable experience that gives you feathers of joy. However, most women find it extremely difficult to choose what to wear while they are pregnant. However, you're in luck because there are so many stylish and adorable options available right now. You are no longer required to limit your pregnancy wardrobe to a Kurta or saree. So, we made the decision to write a piece to assist these expectant mothers in stocking up on maternity clothing. In this blog, we'll look at some of the cutest, classiest, and bump-friendly dresses to flaunt your chic look during pregnancy.
Bump-friendly dresses to flaunt during pregnancy:
Long Flowy Gowns
The most gorgeous outfit you can wear while pregnant is a flowy dress, which will make your growing baby bump look stylish and adorable. Any pregnant woman looks absolutely stunning in a long gown in a striking colour. This voluminous fabric beautifully accentuates your stunning appearance and accentuates your feminine figure. So, if you haven't already, fill up your wardrobe with long, flowing gowns in colours like red, maroon, and white.
You may also like: Style up your wardrobe with women's oversized t-shirts 
Kimono with Shorts or Jeans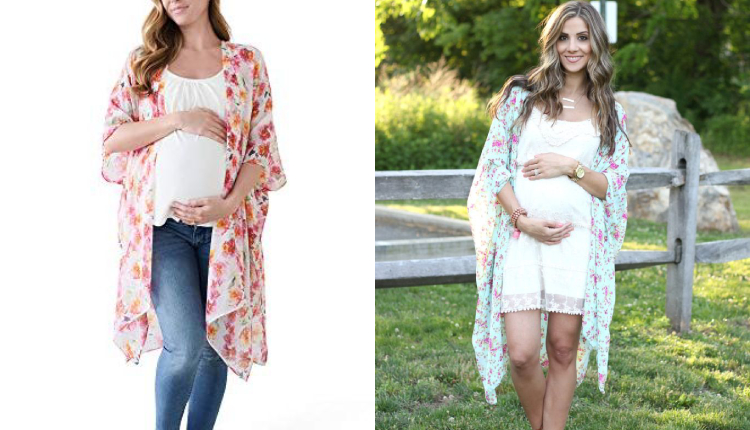 If you've always been stylish, you can keep being one throughout your pregnancy as well. Just like you've always done, dress in a blouse, a kimono for cover, boots, as well as a scarf whether it is fall or winter. Alternatively, if the climate still permits it, feel free to include some casual yet stylish items like shorts, a tank top, as well as a kimono. You shouldn't let the season, a pregnancy, or anything else cease you from being who you are.
Bodycon Dresses
We believe bodycon dresses would totally work if you were working the entire time you were pregnant. They appear sophisticated, chic, and refined. It's important to remember that not every bodycon dress is uncomfortable, so you'll never have to worry about sacrificing comfort for style. If your goal is to keep it simple and beautiful, you can choose floral prints. Solid bodycon dresses are also popular right now, so try a few different options and decide which one you like best.
Shorts and Long Tops
For a variety of reasons, pregnant women typically stop wearing shorts, but maternity clothing companies have addressed this issue as well. Therefore, if you want so badly to wear shorts during your pregnancy but are uncomfortable wearing your regular shorts, invest in a pair of pregnancy shorts made of a stretchable material. A hip-length asymmetrical top should go with it. Since this is a timeless outfit that women frequently wear, we don't really need to go into detail about the other ways you can style it. Just do what you find most comfortable wearing it.
Strapless Maxi Dress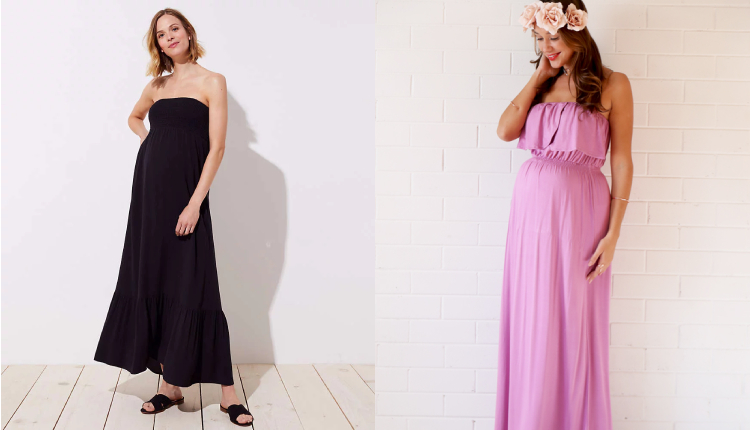 Are you getting ready for a photo shoot or are you attending a party? A strapless, flowy maxi dress is what you should seek out; ideally, one with a sweetheart neckline. It is easygoing, fashionable, and cosy. You literally don't need other accessories when you have a lovely bump protruding from your body. Furthermore, you are not required to wear this outfit exclusively for your maternity photoshoot. You can put it on to be comfortable and fashionable at some not-so-casual but still-pretty-formal parties.
Bohemian Dresses
Boho is the current craze, and it is spreading like wildfire. Bohemian fashion is perfect for expectant mothers because it emphasises airy, flowing clothing. So, don't hold back when wearing those stylish Bohemian dresses. If you want to look like a new-age queen at a casual event, be sure to wear these dresses with comfy shoes and a tote bag. These dresses are great for picnics, casual day outings, and other similar occasions, but you can wear them wherever you feel comfortable.
Thanks to contemporary artists, pregnancy is not just about healthy eating and regular exercise, but also about showing off those adorable, cosy, and fashionable pregnancy clothes. There are numerous options available, including asymmetrical evening gowns and strapless maxi dresses. Now it's your turn to make fashion decisions and show off your growing baby bump. We are confident that these styling suggestions will earn you a tonne of positive attention. Tell us about the outfits you wear on a regular basis to stay stylish and cute during your pregnancy!
We will be delighted to have your thoughts and feedback. Please write to us at [email protected]
Follow Life and Trendz on Instagram:https://www.instagram.com/lifeandtrendz/
Facebook: https://www.facebook.com/lifeandtrendz
Twitter: https://twitter.com/LifeandTrendz