DEFEND & PROTECHT to launch Active Virus-Resistant Masks

DEFEND & PROTECHT to launch Active Virus-Resistant Masks powered by Four HeiQ Swiss technologies for 1st time in India
The technologies will be applied to masks and a range of protective accessories. Chennai-based Defend & Protecht Initiative, powered by HeiQViroblock, introduces India's first multi-functional protective masks enhanced by four HeiQ technologies at the same time. HeiQViroblock NPJ03 is amongst the first textile technologies in the world to be proven effective against SARS-CoV-2 (COVID-19) in the laboratory, deactivating 99.99% of the virus in just 30 minutes.
The other technologies in the mask are HeiQ Smart Temp for thermoregulation and moisture management, HeiQ Pure for odour control and HeiQ Eco Dry for water and droplet repellent properties. Such a combination of high-tech Swiss textile innovations in one mask is currently not available on the market.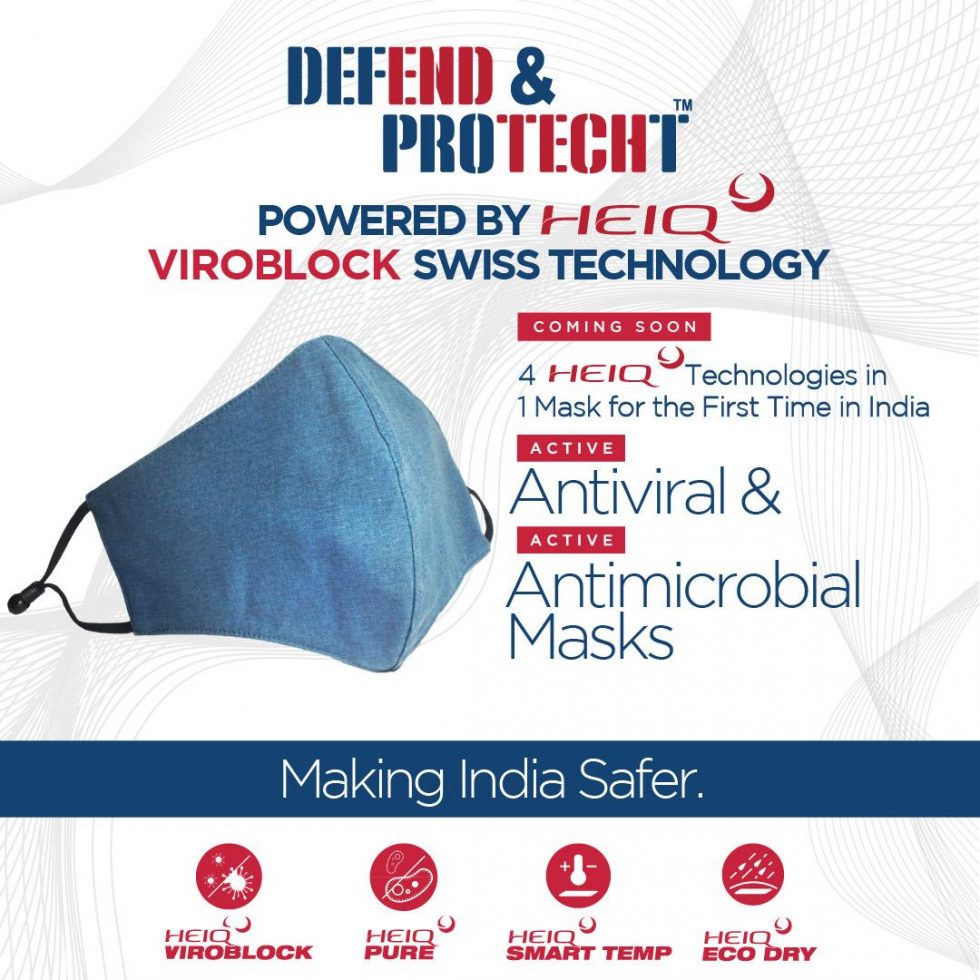 Defend &Protecht Initiative consists of three textile specialist organizations – Emcee
Apparels, SreekumaarTexind Corporation and Dvintex – who addressed the need of the hour in these unprecedented times. Masks have become an everyday essential and developing a multi-functional mask that actively inhibits viral and microbial activity and is affordable was the obvious requirement.
"We strongly believe that everyone should have access to masks that protect them from viruses. Defend &Protecht's masks are probably of the highest quality available in the non- medical category. What we have created is the right product for the right reason and at the right time," says Bharat, Emcee Apparels.
Designed and developed in 3-layer variants, the outer barrier which is common for all variants are engineered to actively destroy viruses and microbes on contact and filter pollutants, and is droplet and water repellent and breathable. The middle layer is treated with anti-viral, anti-bacterial, water repellent and pollutant filtering technologies. The inner comfort layer has thermoregulation, moisture management and odour control. The mask is self-sanitizing, reusable, breathable, hypoallergenic and optimally designed for a comfortable fit.
In a recent CNN Money Switzerland interview, HeiQ Group's CEO Carlo Centonze said, "Textiles are one of the main vectors for viruses and also for bacteria. The technology we [developed] really addresses both. All the textiles that are treated with [HeiQViroblock] become basically capable to destroy both of them in seconds to minutes and make sure that there is no re-transmission or contamination from the surfaces."
The masks will be introduced at Rs. 250/- into the market in a range of colours and prints. Other variants of the mask and the specially designed The Essential India basic line will be introduced in Phase 2. Based on CDC research, Defend &Protecht will also undertake a made-to-order range of masks that offers enhanced protection for men with beards. This will be at an additional cost. The anti-viral and anti-bacterial treatments in Defend &Protecht products stay active for up to 30 gentle washes. The masks have a life cycle of 18- 24 months with proper care.
Defend &Protecht materials are sustainably sourced and responsibly made. Senthilkumar from SreekumaarTexind says, "At Sreekumaar, we have developed a standard of care with innovative solutions at our women-centric manufacturing operations. As we combat the increasing spread of COVID-19, our masks 'Defend and Protecht' you during this pandemic ".
The facility maintains stringent health and sanitisation standards. The masks will be available from mid-July 2020 on the Defend &Protecht website and by the end of the month on other online platforms. The Essential India line will only be available for sale based on enquiries by institutions, NGOs, etc.
The Defend and Protecht initiative is currently testing extended protective accessories to be launched in the next quarter.