Mark Antony, released on 15th September 2023, is a quirky sci-fic film. Directed by Adhik Ravichander, the film features Vishal and SJ Suryah in lead roles. The film has been widely applauded by the audiences. Movie critics, fans and celebs are sharing their review on Social Media Platform. Receiving positive reviews everywhere, we are here to provide ours.
By competing SRK-starrer Jawan, Mark Antony receives a greater response from the audiences. Released both in Tamil and Telugu, the film with distinct storyline does not disappoint the audiences. Mark Antony is a great comeback for Vishal while SJ Suryah is the real show-stealer. Fondly called as, "Nadippu Arakkan", SJ Suryah excels in his acting skills. As Vishal did not set out to offer any great movies recently, this quirky sci-fic film marks his tremendous comeback.
Mark Antony is a period gangster film with sci-fic elements. The film features both Vishal and SJ Suryah in dual roles. While the former performs as Antony and Mark Antony, the latter amazes the audiences with his dual roles as Jackie Pandian and Madhan Pandian. The period-gangster flick opens with Selva Raghavan as Chiranjeevi who invents the time travel telephone through which people can talk to the past. As per the storyline, Mark Antony, the son of a dynamic gangster, Antony, finds the telephone and tries changing the past. However, the film incorporates intriguing twists when Mark Antony realizes the real face of God father, Jackie Pandian, who is also the true friend of his father.
Jailer Fame, 'Blast Mohan' or Sunil, played a key role in the film as Ekambaram, travels throughout the film alongside Vishal and SJ Suryah. His versatile acting is proved once again in Mark Antony. He, thus, conquers the Kollywood fans with ease.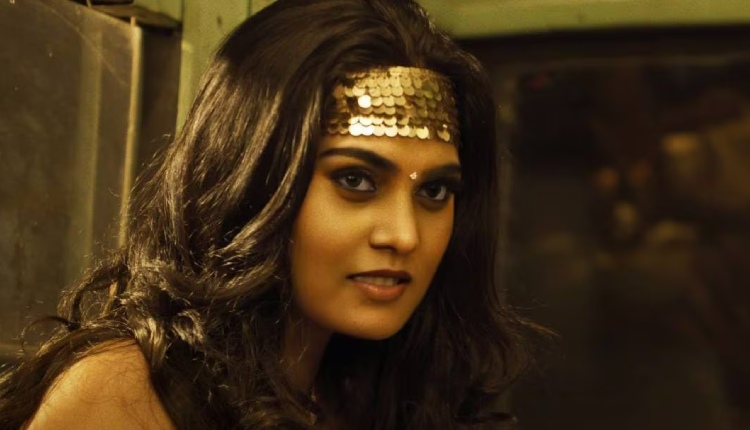 The film gets more engrossing in the second half. Thanks to the filmmaker for showcasing the gorgeous and dauntless actress of 70s and 80s, 'Silk Smitha' in the film. Though it is not up to the mark, the look-alike of the Late actress truly surprises the audiences. Mentioning her real name, 'Vijaya Lakshmi' in the film, is so heart warming as well.
You may also like: Jawan Review: Atlee Delivers A Colossal Entertainer, Sturdy Sociopolitical Themes
In the musical composition of GV Prakash, the film towers up the excitement. Even though we do not get any great hummers from the film, GV Prakash's BGM is blockbuster as it blends well with the action sequences. Apart from this, the curation of 'Panchu mittai' remix and 'Varuthu Varuthu Venghai Veliyae Varuthu' from Kamal-starrer film, are a great addition to the action drama.
Overall, Mark Antony with a mad climax, is a must-watch film in theatres. Though Tamil Cinema includes good sci-fic films like '24', 'Indru Netru Naalai', and 'Maanaadu', Mark Antony, with a mad climax, is definitely a unique drama, making it a must-watch film in theatres. It's worth your money!
We will be delighted to have your thoughts and feedback. Please write to us at [email protected]
Follow Life and Trendz on Instagram:https://www.instagram.com/lifeandtrendz/
Facebook: https://www.facebook.com/lifeandtrendz
Twitter: https://twitter.com/LifeandTrendz