Hello Chennaites! Elysian, the European style restaurant will be your new weekend gathering spot from now on. Be it brunch or dinner, Elysian serves the best menu. Not only does it satiate your tummy growling but also it imparts a lip-smacking treat to your taste bud. With about 110 dishes, Elysian's menu incorporates everything your tummy asks for. From starters to desserts, the Chef duo – Chef Bhagyaraj and Chef Syed serve the best food and beverage menu with love and flavorings. The never-before delicacies and dining experience are what Elysian offers. With scrumptious foods served in an European style, the elegance of the ambiance and cozy seating make the restaurant one of the best addition to Chennai. Continue reading because we are going to give you some special, palatable dishes we relished here in Elysian.
Pumpkin Seed Soup: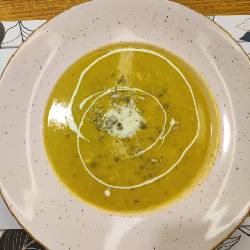 We strongly suggest you to have this – Pumpkin seed soup garnished with cheese imparted an out-of-the-world taste. This can be your new favorite when you have a spoonful of warm, healthy, and creamy soup from a bowl of it. Even non-soup lovers cannot resist falling for Elysian's special soup.
Falafel with Hummus: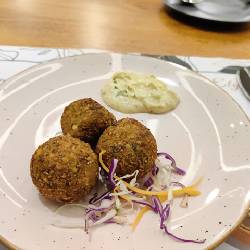 Right after the soup, we had this crunchy and yummy Falafel along with hummus. Originated from Middle Eastern cuisine, the starter is usually prepared using ground chickpeas. Falafel with Hummus is for all the vegans who may love to have starters like non-vegans. And Elysian knows how to serve the top-notch Falafel.
Barbeque Cheese Chicken Tikka: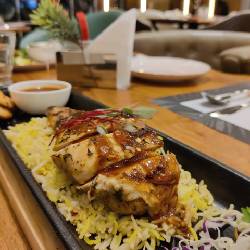 For all non-veg lovers, you may have tasted grills and tandooris. But Elysian serves a unique delicacy of chicken. We really loved the soft bites of chicken. It was served with a blend of rice and bread along with the tangy sauce. With every bite of scrumptious chicken tikka, we felt the Chef's specialty. Not to mention, the presentation of the dish makes you gobble the minute it has been served in front of you.
Pesto Paneer Cheese Pizza: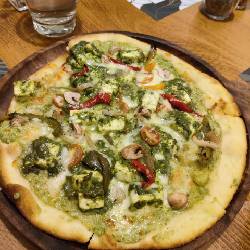 Served as one of the mains, Pesto Paneer Cheese Pizza is definitely a pick, especially if you are a Pesto fan. When we were served this medium-sized Pizza, the amalgamation of paneer, pesto, and cheese proffered a toothsome bite.  Wish to relish the best Pesto Pizza? Then, Elysian is where you should be.
Pomegranate Tiramisu: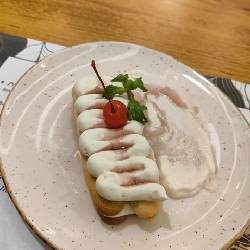 And Finally, we had one of the delish desserts – Pomegranate Tiramisu. Pomegranate Tiramisu? Well, usually Tiramisu is prepared using coffee but Elysian serves it with the distinct concoction of Pomegranate and Biscoff. Like Pumpkin seed soup, we strongly suggest you order this delicious dessert when in Elysian.
Started in Mid-November, Elysian, the new European style restaurant has now been serving the best and most distinct delicacy from their culinary. They are also planning to have festive cheers with a special menu for Christmas and New Year. We really had a great time while relishing the palatable foods on their menu. Try their menu and let us know!
We will be delighted to have your thoughts and feedback. Please write to us at [email protected]
Follow Life and Trendz on Instagram: https://www.instagram.com/lifeandtrendz_com/
Facebook: https://www.facebook.com/lifeandtrendz
Twitter: https://twitter.com/LifeandTrendz