Glad that audience has appreciated 'AK vs AK' and my performance in it says Anil Kapoo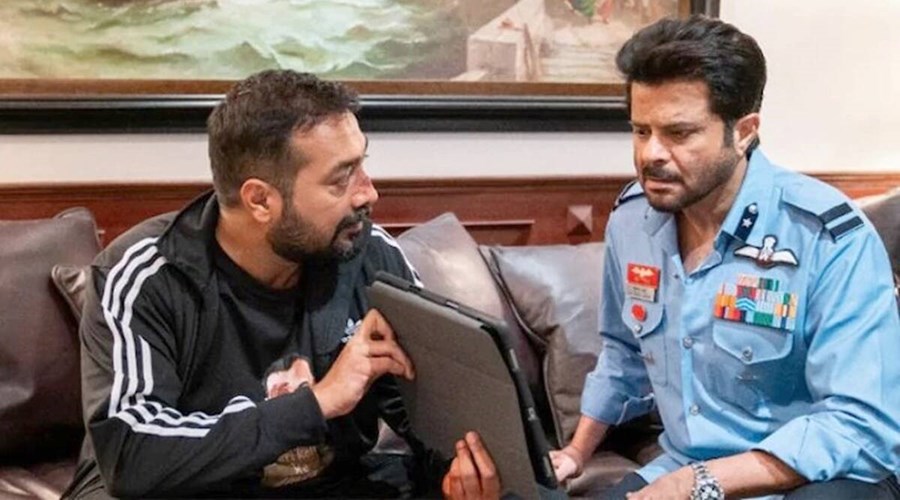 Actor Anil Kapoor, who was last seen onscreen in 'AK vs AK', has said that he is happy that audience has liked the black comedy film and his performance in it. He also hoped that 2021 will be a good year for the film industry.
Anil Kapoor was interacting with News Helpline at the special screening of 'Kaagaz' on Tuesday in Mumbai.
'AK vs AK' which is streaming on Netflix, stars Anurag Kashyap as a brash film director who kidnaps popular movie star Anil Kapoor's daughter Sonam Kapoor Ahuja and films his search for her in real-time to present it as his next blockbuster. The director and actor constantly mock and criticise each other throughout the movie. They had also had a fake showdown when they presented the film's trailer at a press conference last month.
The film has been getting positive feedback from the audience, critics and the members of the film industry.
Talking about audience response to 'AK vs AK', Kapoor said, "When people like your film and your performance in it then obviously you feel good, so I am glad that people liked the film. There are few films which are made for the big screen only. There are few films of mine which are going to be released this year, so I hope audiences watch those films in theatres. I am pretty sure about that because people are very eager to watch films in theatres. There are few films which give you the same joy on big screen and on OTT platforms and I feel that 'AK vs AK' is one of those films."
Anil Kapoor has acted with Satish Kaushik in several films and Kapoor has also worked under Kaushik's direction on several occasions, talking about Kaushik's latest release 'Kaagaz', Kapoor said, "Today, I have come here to come to wish my friend Satish Kaushik for the release of his new film. I have heard a lot of good things about the film from people who have watched it. It is releasing on 7th January, so I would urge the audience to watch this film if they like consuming good content. We all know that Satish ji is not only a good actor but also a really good director. I have worked with him on several projects and out of them 'Hum Aapke Dil Mein Rehte Hai' and 'Hamara Dil Aapke Paas Hai' did well at the box-office, so after watching this film's (Kaagaz) few rushes, I think this film will also get good feedback from the audience."
On film front, Anil Kapoor will next be seen in Karan Johar's historical drama film 'Takht' along with an ensemble cast. He is also a part of another Dharma Productions comedy-drama film 'Jug Jugg Jeeyo' along with Varun Dhawan, Kiara Advani and Neetu Kapoor.
 Kapoor will also feature in Sandeep Vanga Reddy's crime-drama film 'Animal' along with Ranbir Kapoor and Parineeti Chopra.