Mehandi functions, also known as Haldi in the northern region of India, are crucial to a wedding. The groom can be a part of the photos and festivities even though it is primarily a celebration for the bride. To maximise the memories, many people now celebrate this occasion in a unique setting. However, the cost of such events may be greater than what you want to spend on your wedding. So let's look at some minimalist Mehandi function suggestions that you should use to have fun and save some extra money.
How to have a minimalistic Mehandi function?
DIY the Decors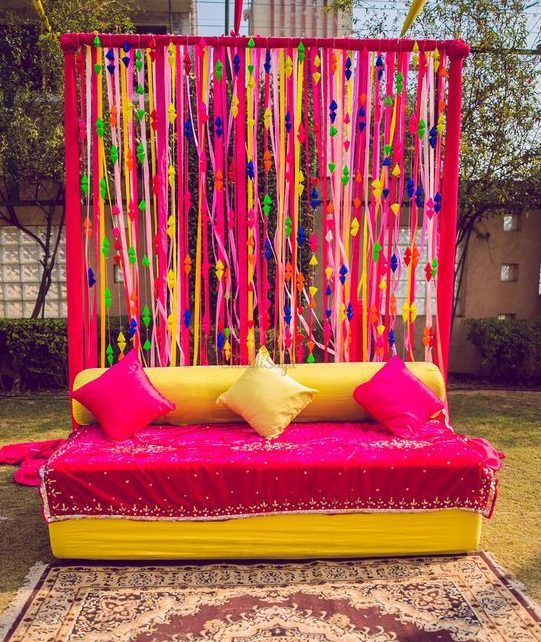 Numerous wonderful and adorable decorations can be found online, but they are expensive. Make your own decors if you're on a tight budget and want to keep things as simple as possible. We are aware that asking the bride to create all of the decorations for her own Mehandi ceremony is not practical. You do, however, have friends and family for this reason. Invite everyone over on the day of the Mehandi ceremony and ask them to assist you in creating any kind of decor you desire. In the end, you'll get to spend an extra day with your loved ones and save money for your ceremony.
You may also like: Pre-bridal Skin Care Tips for all the Bride-to-be
Use your terrace as the backdrop (if you have any)
Setting up a lovely backdrop for your pictures doesn't require you to reserve a super expensive location. For photography, use your balcony, terrace, or even the living room. To make it colourful and enjoyable, use various kinds of flowers to create a lovely floral backdrop. The best part, though? It will also be reasonably priced. If you book a location and hire a decorator to handle everything, you'll end up spending thousands of dollars on a day where keeping it intimate is the main goal.
Keep the guest list short
Intimacy and simplicity are key components of Mehandi ceremonies, as we mentioned above. Therefore, refrain from inviting nearly everyone who will be there on your wedding day. Instead, only invite those who you won't be able to spend quite enough time with on your wedding day, such as your closest friends and family. You can invite some of your closest friends, favourite cousins, and neighbourhood friends. You have to be careful not to spend too much time conversing with people you don't really want to create memories with because your close family will be there by default.
Keep the menu simple too
The next thing to consider is what you're going to serve the guests at your Mehandi function. Avoid including more than three items, excluding dessert, if you want to keep it simple. By providing a buffet of food for the visitors, you are not treating them to a special treat. Instead of the food, you want the visitors to linger and create memories with you. Don't overdo the food at your Mehandi ceremony; guests will have plenty of time to eat a variety of things on your wedding day.
Put on some music and have fun
Ask your bridesmaids to put together a lively playlist that you and your guests will enjoy. Get a day's worth of Spotify Premium instead of hiring a DJ or music player for your mehndi ceremony. Make all the arrangements on your terrace or balcony, as we previously mentioned, if there isn't enough room inside your house for your guests to dance the rest of the evening. Last but not least, remember that the day is really all about you and your partner and enjoy yourself. You don't have to subject yourself to excessive stress in order to enjoy yourself in the end.
Do you have any other minimalistic Mehendi function ideas that you know of? Do let us know if you have any good ideas!
Mehandi celebrations are all about the henna's fragrance wafting through the air as guests mingle, snap pictures, and create memories with the bride. What do you think of these simple ideas for Mehandi functions? What did you do to make your Mehandi event enjoyable and simple? Please share your wedding plans with us whenever you'd like, and please let us know all the details!
We will be delighted to have your thoughts and feedback. Please write to us at [email protected]
Follow Life and Trendz on Instagram: https://www.instagram.com/lifeandtrendz_com/
Facebook: https://www.facebook.com/lifeandtrendz
Twitter: https://twitter.com/LifeandTrendz