Luminox X Bear Grylls Never Give Up Meets EverySecondCounts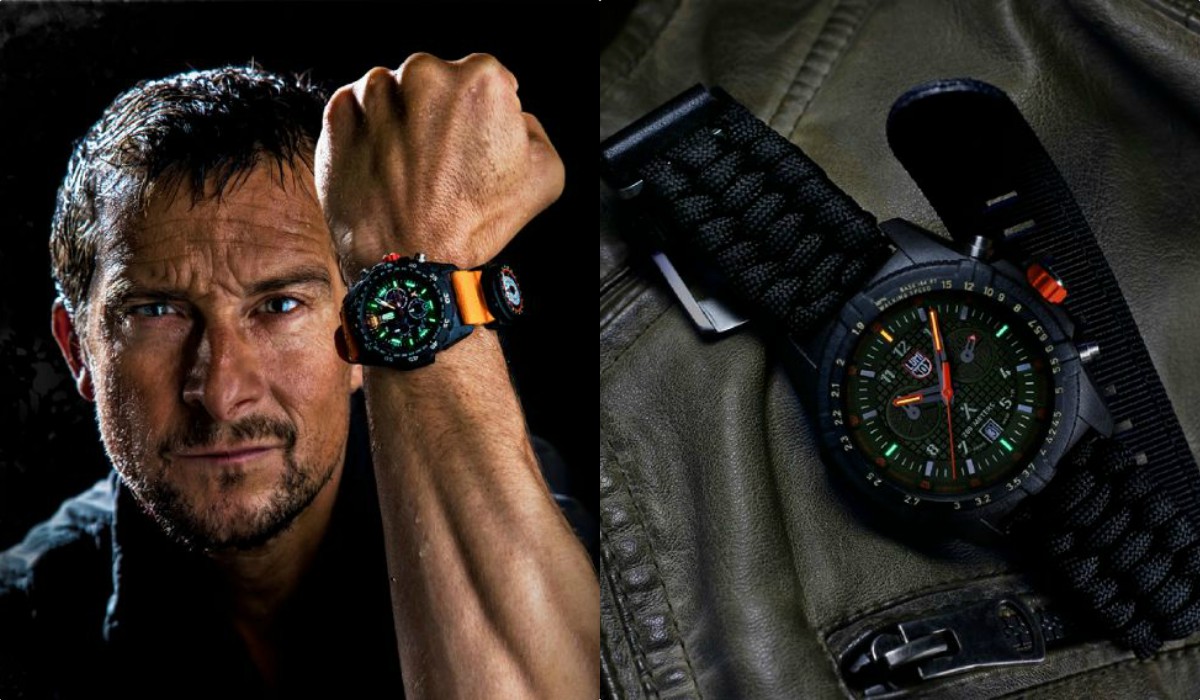 The man is fighting his way through dark jungle, the sun obscured by the trees. The going is tough, but he hacks his way through thanks to a machete and his sheer grit and determination. Hot and humid, the jungle is a tough environment, with many lurking dangers. He fights his way through to a clearing, to see the sun. The man points the hour hand of his watch at the sun, gets his bearings, computes his land speed and determines he can reach higher ground and camp before the sun sets. Determined to never give up, the man knows he will be safe.
The man is Bear Grylls and the watch is Luminox. Bear Grylls is the world's most recognized face of survival and outdoor adventure, having spent his career in the wild, navigating some of the most extreme landscapes on earth and coming out of the most dangerous situations alive and unharmed. Today, Swiss Made watch brand Luminox is announcing a long-term partnership with Bear Grylls and the introduction of the first timepieces.
"It's incredibly important to me to work alongside world class trusted partners and Luminox have proved that and more.  .  I've been wearing Luminox since my early adventuring days, so it's great to now be a part of the family. The rugged watch range has been carefully crafted featuring multi-functional design and state of the art materials – set to inspire and encourage the adventurer in everyone – men and women, boys and girls, outdoor novices and experts."
For Luminox, the partnership underscores what the Navy SEALs, the Icelandic Association for Search and Rescue (ICE-SAR) and many other professionals have known for many years – the brand's watches can survive just about anything. Water resistant up to 300 meters and cased in light, durable, and tough CARBONOX™ or stainless steel, these watches are built to accompany you in the most extreme conditions on Earth. If Bear Grylls can survive it, these watches can too.
"Working with Bear Grylls is perfect for Luminox," says Niels Moller, CEO of Luminox. "We have always developed watches for the toughest people and situations on earth, for use by Navy SEALs, first responders, law enforcement and more. Bear is famous for thriving in the world's most challenging environments, and so is Luminox".
The watches will all feature Bear Grylls' logo and motto, "Never Give Up," on the dial and the case back. Depending on the model, the watches incorporate chronograph functions, compasses, paracord straps, morse code decoders, rulers, walking speed scales, and, of course, Luminox Light Technology so that the watch is visible in any lighting conditions and will remain so for up to 25 years.
Specifications:
Origin                                  Swiss Made
Always Visible                   Constant glow for up to 25 years in any light condition
Size/Diameter                   45mm
Water Resistance              200 meters, 20 ATM, 660 feet, individually tested
Movement                          Chronograph, Ronda 5021.D
Battery/Battery life           395 / 50 months
Case                                      CARBONOX™
Bezel                                     CARBONOX™, fixed bezel
Case back                             316L stainless steel, screw-in
Crystal                                  Hardened Mineral crystal
Crown                                   316L stainless steel
Height                                  14mm
Weight                                  89gr
Standard StrapBlack genuine rubber signature strap with stainless steel signature buckle, 24mm/ Black paracord strap with stainless steel signature buckle, 24mm
Price – INR 51,072
The Bear Grylls collection will consist of watches in all of Luminox's signature series: Sea, Air and Land. The first six models (4 in SEA and 2 in LAND) will be introduced in January 2020, while the other two models (AIR) are scheduled for August 2020.
All of the Luminox X Bear Grylls watches launching in January feature CARBONOX™ cases – CARBONOX™ is a carbon-based material exclusive to Luminox which is Light, hypoallergenic and extremely durable and resistant – while the watches launching in August will be made out of grade 316L stainless steel, ensuring superior durability.
Bear Grylls is famous for being able to survive in any conditions, and Luminox watches are known for their ability to perform in extreme situations, making this the perfect partnership. Luminox's motto, Every Second Counts, dovetails flawlessly with Grylls' Never Give Up. There is no better watch to be on Bear Grylls' wrist than a Luminox, especially a Luminox which Grylls helped design and develop.