The Moms Co., India's Leading Mom & Baby Care Brand, Launches Natural Hair Strengthening Oil for 77% Increased Hair Strength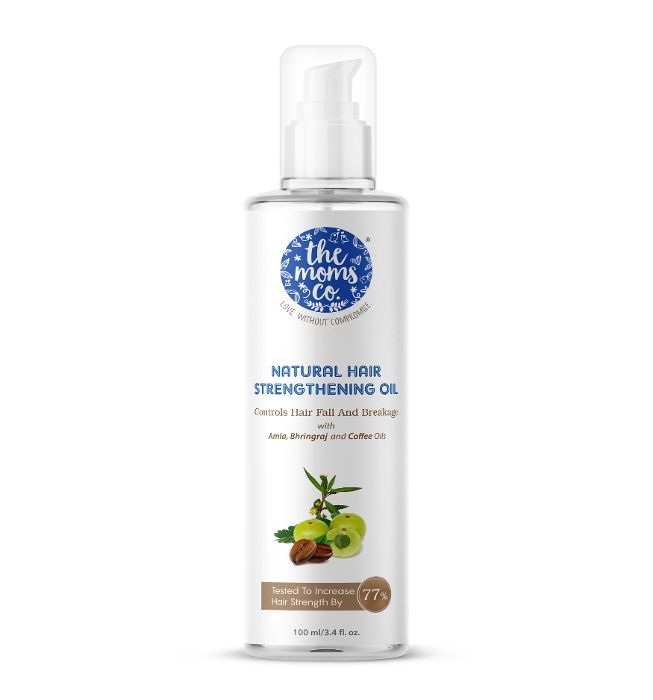 ~ Australia Certified Toxin-Free and Made Safe, Dermatologically Tested and Allergen Free ~
The Moms Co., India's leading mom and baby care start-up announces the launch of Natural Hair Strengthening Oil enriched with three key oils – Amla Oil, Bhringraj Oil and Coffee Oil. With a mission to provide natural and toxin-free solutions for concerns that moms and pregnant women face, The Moms Co. continues to expand its product portfolio with yet another 100% natural and Australia-certified toxin free product to serve as a solution for hair fall, hair thinning and breakage, weak hair roots and brittle hair.
Amla Oil in Natural Hair Strengthening Oil nourishes roots and strengthens hair while Bhringraj Oil improves blood circulation and encourages hair growth. Coffee Oil stimulates hair follicles leading to stronger & healthy hair. The combination of 8 natural oils including Amla oil, Bhringraj oil, Coffee oil, Tea Tree oil, Moroccan Argan oil, Pumpkin Seed oil, Macadamia Nut oil and Coconut oil in Natural Hair Strengthening Oil has been tested to improve hair strength by 77%.
From The Moms Co.'s range of Australia-certified toxin-free products, the new oil does not contain any harmful ingredients such as Mineral Oil, Parabens, Synthetic Fragrances, Phenoxyethanol etc. making it a completely safe solution for pregnant women & new moms.
The new oil will be available on The Moms Co. website, Amazon India, Nykaa, Flipkart, First Cry, and several other e-commerce platforms. The range will also be available offline throughout The Moms Co.'s ten brick and mortar retail stores in Delhi-NCR and Bangalore.
The Natural Hair Strengthening Oil is available in two variants of 100ml & 200ml.
Price: Rs 429 for 100 ml
Rs 599 for 200 ml