Traveling to a dreamy destination for your wedding is more fun and adventurous, isn't it? If you are planning a wedding in India, you are spoilt for choice with its wide range of venues. Whether it's a magnificent palace wedding or a beachside ceremony, there is something for everyone when it comes to choosing the perfect destination for your special day. Here is a list of some of the best wedding venues in India that are worth checking out.
Taj Falaknuma Palace in Hyderabad
Set in the heart of Hyderabad, this 19th-century palace is sure to provide the most opulent backdrop for your special occasion. With its intricate architecture, crystal chandeliers and grandiose furnishings, Taj Falaknuma Palace can make all your fairytale wedding dreams come true. Host up to 2,000 guests as you exchange vows beside a breath-taking marble staircase and take wallflowers look on in awe while they celebrate your love story on one of the biggest days of your life.
You may also like: Top Picks for Destination Wedding in India 
Udaipur City Palace in Rajasthan
Perched atop a hill on the eastern side of Lake Pichola, Udaipur City Palace is one of the best places to have a royal wedding. Known as "The City Of Dawn", Udaipur will make you feel like royalty as you work your way through its winding paths of courtyards and narrow passages. Udaipur City Palace dates back centuries and offers outdoor terraces for ceremonies overlooking Lake Pichola and its beautiful surroundings. Make sure you don't miss out on this incredible venue when planning a traditional Indian wedding!
The Oberoi Udaivilas in Udaipur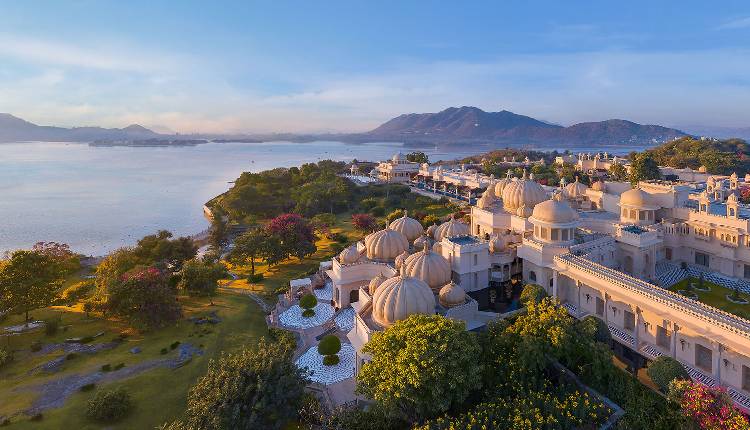 The Oberoi Udaivilas in Udaipur is an exclusive and luxurious wedding venue. This venue is perfect for couples looking to have a traditional wedding in India and make an impressive statement. Their outdoor terraces provide breathtaking views of Lake Pichola, lush gardens and the Aravali Hills beyond. The Oberoi Udaivilas also has many indoor venues suitable for different ceremonies such as the Courtyard Pavilion or the Balu Mahal where you can host your wedding feast, receptions parties, and more!
Samode Palace, Rajasthan
Located in the picturesque town of Samode, Rajasthan, this venue is perfect for couples wanting a more traditional royal feel for their wedding day. The Palace itself dates back to the 16th century and has a breathtakingly beautiful Regency style architecture, landscaped gardens and reflecting pools. Samode Palace is home to two restaurants that specialize in Rajasthani cuisine and also offers activities such as elephant rides on its grounds. This venue is perfect for anyone looking to have a romantic and extravagant Indian wedding experience.
Ananta Resort & Spa, Uttarakhand
Nestled in the Himalayan Mountains, the Ananta Resort & Spa is the perfect destination for couples seeking a fairy tale-like wedding. The resort offers a range of amenities, discourses and luxurious villas which make it an idyllic destination for your big day. It also has plenty of scenic locations to choose from, like their spa courtyard which overlooks a forest, or their grand palace ballroom with two 30-foot high ceilings adorned by glass crystals. If you're looking for a unique experience during your Indian wedding, this venue is sure to give you just that.
We will be delighted to have your thoughts and feedback. Please write to us at [email protected]
Follow Life and Trendz on Instagram: https://instagram.com/lifeandtrendz?igshid=Yzg5MTU1MDY=
Facebook: https://www.facebook.com/lifeandtrendz
Twitter: https://twitter.com/LifeandTrendz