This Valentine's day, travel and spend time by the riverside. There is no disputing that the heat is getting unpleasant in many parts of India. Some people are attempting to escape the heat in several urban cities by travelling to cooler locations. If you're looking for something similar, you've come to the right place. We did some research and discovered some of the top riverside stays you should try this weekend. Both to escape the heat and your mundane life. So, shall we have a look at the top river hotels in India that you should visit this weekend?
Top river side stays in India you should visit this weekend:
Fragrant Nature Resort, Kollam
This resort lives up to its name by providing a wonderful sense of nature. A spiritual experience awaits at Fragrant Nature Resorts in the Kollam district. The sight of luxuriant flora, from manicured lawns to arching trees, with a view of the tranquil waters of Mala Lake and the verdant land beyond, makes for a joyous stay. The resort is a terrific method to engage in a relaxing holiday, with unrivalled views of the pure clear skies and the water below and a beautiful impression by the top that surrounds the waters. The smells, sights, and beautiful sounds of nature, coupled with the birds chirping, will provide you with an experience to remember for long life. And you should know that the resort also provides an authentic backwater experience.
The price range of this riverside stay: Ranges from 6000 to 13000 INR per night
You may also like: 9 Best Trekking Sights to Explore 
Lotus Resorts, Goa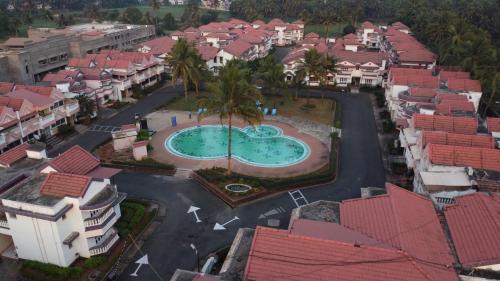 The lotus resort in Goa is rated 3 stars and is a well-established network of luxury resorts from Kamat Hotel India Ltd. It is indeed a good destination for relaxing retreats, family holidays, and honeymoon getaways. It lies in the South Goa town of Benaulim. Ideally located near bodies of water and rich nature, this hotel provides visitors with moments of quiet, relaxation, and elegance. If you want to spend a quiet and calm vacation in Goa, this is the place for you. The property has 48 bedrooms in total, with 16 Standard Rooms, 16 Deluxe Rooms, as well as 16 Suite Rooms.
The price range of this riverside stay: Ranges from 3000 to 5000 INR per night
Ahsan Mount Resort, Jammu and Kashmir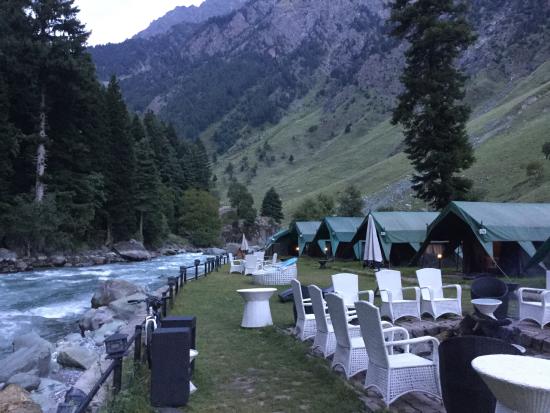 Ahsan Mount Resort, located between the rushing Sindh River and the gorgeous, pine trees covering the Himalayas of Jammu & Kashmir, is a location to appreciate nature's glory. Ahsan Mount Resort, six kilometres from Sonamarg, stands out with its multi insulated tents, sheesha lounges, and dining gardens. The resort features a river channel that runs straight through the campsite and boasts delightfully modern décor. When the sun goes down, bonfires are common, and you're allowed to warm up on the lawns. The Resort carefully combines luxurious facilities with environmentally sustainable methods without sacrificing functionality or convenience. It allows visitors to unwind in a beautiful setting with views of mountains and rivers.
The price range of this riverside stay: Starting from 10,000 INR per night
Ganga Kinare, Uttarakhand

Ganga Kinare – A Riverside Boutique Hotel is a delightful 4-star luxury hotel located on the banks of the calm River Ganges in the sanctity of Rishikesh. It is located in Rishikesh where spirituality and Mother Nature mingle into a tawdry tale. The Ganga Kinare overlooks the Rajaji National Park, one of North India's biggest protected areas. The resort features a waterside promenade where visitors can wander alongside the flowing river, take in the scenery, and bask in the stunning sights of the surroundings. The hotel is an important location for Yogic gurus to deliver their teachings in Rishikesh, the world capital of yoga.
The price range of this riverside stay: Ranges from 5000 to 7000 INR per night
Sharoy Resort, Wayanad
The Sharoy Resort in Wayanad, Kerala, is tucked away in the gorgeous Sahyadri and offers breathtaking scenery of the Ghats and the peaceful waterways of Banasura dam. If that isn't enough, you should be prepared to be surrounded by colourful flowers, well-kept gardens, betel nut trees, and gigantic coconut trees. Fireflies, which create flaming sparks in the night, add a fantastic touch during your stay in this resort.
The price range of this riverside stay: Ranges from 7000 to 15000 INR per night
What are some of your favourite riverside stays to spend the weekend in India? Let us know!