FOAID DESIGNS USES PERSONALISED APPROACHES,INNOVATIVE MATERIALS AND MORE TO CREATE HOMES AND COMMERCIAL SPACES THAT TRULY STAND OUT
Chennai-based FOAID Designs specializes in highly bespoke architectural and interior solutions, serving a wide range of residential and commercial clients across the city. Whether to better present a brand image or to express the vision and personality of a homeowner, no two sites are treated as alike. Renovations using innovative materials, custom-designed décor and Vaastu-compliance are some of the mainstays of the firm's approach.
In terms of residential projects, FOAID Designs conceives distinctive homes that make use of space creatively, with a focus on both new constructions and renovations. The Kaleem Residence in the densely-populated Triplicane neighborhood, one of their initial projects, is an interesting example of their work. For this project, the challenge was to bring in more light and ventilation to a home, despite the property being located in a wall-to-wall construction area. The firm designed light wells on the sides of the house, as well as a basement recreational area with a swimming pool, and made use of set-backs for a balcony and a garden – resulting in an outstanding-rendered building unlike any in the vicinity. Another major renovation that the firm executed was the reworking of a 17-year old property. The house was brought up to Vaastu compliance and current trends and completely redesigned with unusual features such as an "under the glass" Zen garden balcony and a home theatre room on the terrace. The firm spent a week in China with the client to outsource personalized décor and furniture exclusively for the project.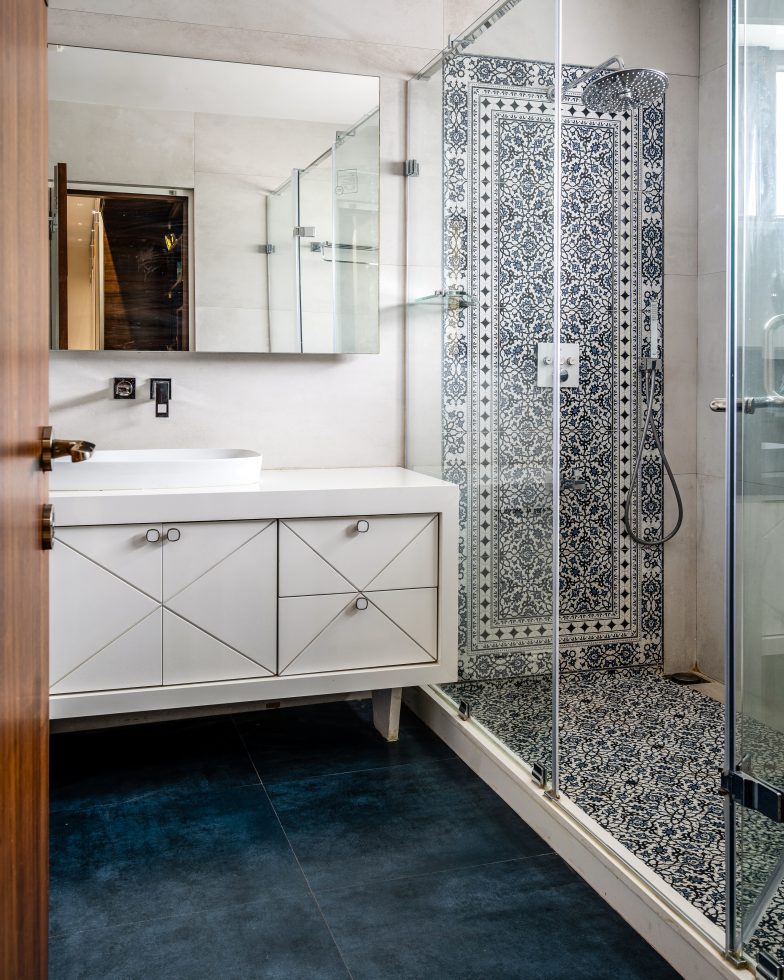 Among the firm's recent projects is the Chennai branch of the popular Coimbatore showroom Mr. Light, which is located here under the brand name Light Matters. The showroom was designed on a gallery concept, divided into zones, with each light fixture studied so as to best display it with complementary furniture and wall features. The ambient effect lets customers experience how the client's products would function in their own settings. FOAID Designs also has an expertise in unique elements that elevate commercial projects, such as the façade design at Ranjeet Jewellery, and the wall of foliage which is sustained by a repurposed rainwater system sourced from the terrace. Additionally, their thoughtful use of sandstone, brass, hand-embroidered art, silver and marble elements at the fine dining restaurant, Hamsa, has received awards in restaurant interior designs categories.
"We take a very original approach to every project, incorporating the client's tastes, and matching it to prevailing trends and ongoing scenarios," says Ekta Agarwal, Managing Director and Chief Designer of FOAID Designs. "Lately, we have been working with several clients who have been redoing their homes for a better work-life balance in the long-term, also taking some learnings from the pandemic into the approach. This has meant focusing on elements like in-home entertainment and pampering, open spaces and dedicated areas for leisure and for work. We have given our clients in-house bars, saloons and office set-ups, working with them right from the concept stage down to the most detailed finishes and flourishes so that their homes are perfect sanctuaries."
Aside from architectural solutions, FOAID Designs also has a product design vertical, led by Architect Parul Agarwal, through which functional and decorative items are developed to suit clients' needs. These include all types of furniture, accessories, hardware, light fixtures and innovative items such as their recently-designed multiple dispenser for hygiene purposes, conceptualized for the current pandemic scenario.
FOAID DESIGNS – PRIVATE RESIDENCE: 
The comprehensive renovation of House #1, located in Chennai, was one of FOAID Design's key projects. The 17-year old, two-storey property of 13,500 square feet was redesigned by principal architect Ekta Agarwal, and completed in January 2020. The redesign ensured light optimization, better ventilation and excellent use of well-demarcated areas within the building through breakout spaces, overlooking public spaces and intelligent features such as expandable rooms. Landscaping and aesthetic modernization were priorities as well, achieved through a thoughtful Zen garden under a glass balcony and re-use of tropical palm trees, and design effects that improved aesthetics in line with current trends.
* Ensured Vaastu compliance
* Resolved water leakage issues and resulting termite issues of the original property; solar panel water heating and rainwater harvesting incorporated for greater sustainability
* Special materials used: marble, teak wood, sandstone, clay materials, asbestos sheet
* Unique re-design of the kitchen so that it could be accessed separately from the house, for privacy and security concerns