"As an actor, Ranveer is probably the best we've had in a really long time. His versatility is unmatched,'' says Deepika Padukone in the latest edition of Femina.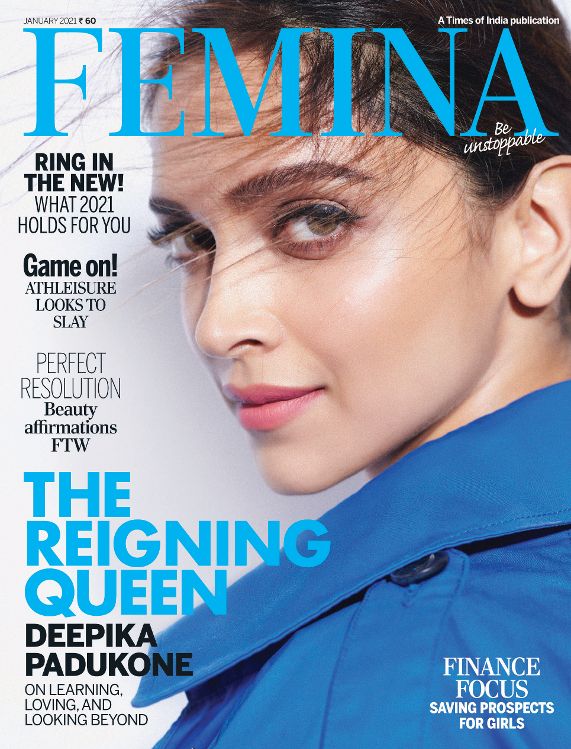 A youth actor, bonafide superstar, actor par excellence, and an inspiration to all women, one simply cannot stop singing Deepika Padukone's praises. Despite being brilliant at what she does, Deepika Padukone feels that she is just like anybody else, and that she has been fortunate enough to have the love and support of her family to do what she wants, she reveals in Femina's latest edition.
Playing a host of powerful roles, the actor, in this fabulous cover story, tells us that, if not an actor, she would have loved to be a homemaker. "Managing a home is not a chore—it is something I enjoy doing. For instance, when I have people over, I do not just get a party planner. I set the menu myself, serve home-cooked food because that's how I have seen it with my mother; we are still very traditional," she says.
There simply has been no turning back for Deepika, who made her debut 13 years ago alongside the Badshah of Bollywood, Shah Rukh Khan, in Om Shanti Om. Over the years, her friendship with him and Farah Khan has only grown stronger. Speaking about how close they remain to this very day, she says, "Shah Rukh still corrects me and is very protective, and Farah is like my second mother. They both groomed me on how to conduct myself in front of the media and presented me well, not just during the film but also during the marketing and promotion."
The interview also captures Deepika gushing over her husband, Ranveer Singh. While the actor commands a massive fan following, it seems his wife leads his league of fans. "I don't think there's any actor in the current generation who has the versatility… Very often. You still see the actor in the character, but, when you see Ranveer play a role, there is an absolute transformation, and I haven't seen that in a long time," Deepika says.
To read the full story with Deepika Padukone's revelations on fighting depression, her journey from being a model to a superstar, and much more, catch the latest edition of Femina, on stands now!