Jenna Ortega as 'Wednesday Addams' was such a treat to watch. This American actress is known for series like 'Jane The Virgin' and 'Wednesday'. This powerhouse of talent is just 20 years old and is already capturing hearts. Furthermore, the actress is known for her performances in horror films like 'Scream' and 'X'. Thus she was recently crowned as the 'Scream Queen' in 2022.
Jenna also has a great sense of fashion. She has a dedicated stylist team who worked on her recent red-carpet events. The actress's fashion sense is often edgy and trendy. Also, she mostly wears sleek and sophisticated dresses with a touch of twist and elegance. She can very much carry any outfit with grace. Furthermore, most of her classic outfits are in black. She was rarely spotted in white or nude outfits. Here are 5 fashion inspirations from Jenna Ortega that will leave you awestruck. Read on to have a sneak peek into the iconic outfits of Jenna Ortega.
5 Iconic Outfits of Jenna Ortega In Recent Times
Who can forget Jenna's black dress from the 'Rave N Dance'? In recent times Jenna has established a fashion and beauty trend on her own. Her black outfits and gothic looks are inspiring many in the fashion world. Moreover, her dark fashion sense on-screen as well as off-screen has captured many eyes.
'Wednesday' Premiere Outfit
Jenna's stardom peaked after the Netflix horror comedy series Wednesday. In 2022, she attended the LA premiere of the Netflix show. There, she donned one of her most Wednesday-based looks for the series premiere. Jenna Ortega looked stunning in a black high-slit, crinkled dress. The quirky black dress had lace embellishments and an exposed bra.
Furthermore, she accessorized with black strappy platform heels, as well as a black veil. She went for dark eye makeup, straight hair, and sharp black chrome nails for glitz. Thus she just walked the premiere as 'Wednesday Addam' with a sense of fashion.
You may also like: Best Outfits from Wednesday (Netflix)
Versace Atelier Dress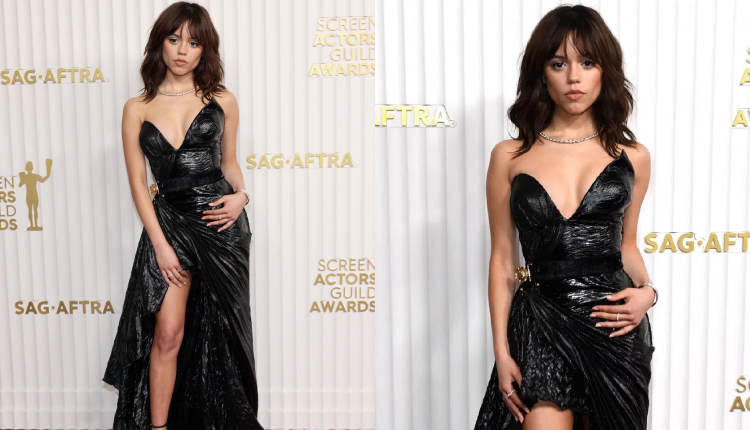 The actress was again spotted in a black dress at the 2023 SAG Awards. Even this time she represented herself in the Wednesday-inspired look. Jenna wore a 1994 edition 'Atelier Versace Autumn' dress. Also, she gave her own twist and turned the shoulder belt into a hip belt. Thus she wore a strapless black dress and paired it with a neckpiece from Tiffany & Co.
The black Atelier Versace was a patent leather dress. Furthermore, it had a reptile-print finish and a high slit with an asymmetrical cut. The actress completed her look with high-platform heels in black.
Golden Globes Outfit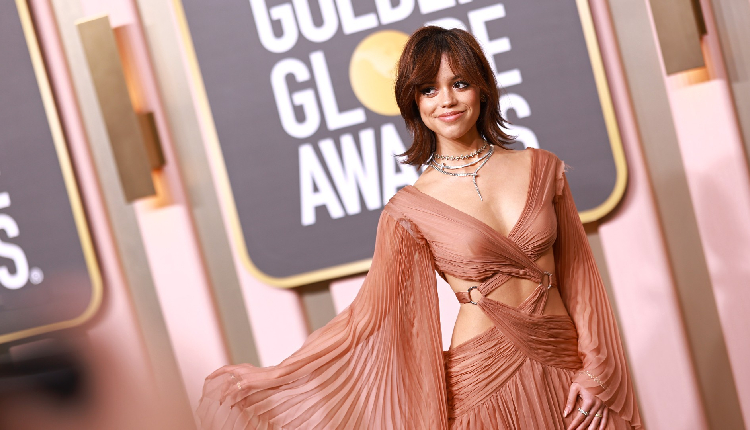 Jenna Ortega attended the 80th Golden Globes Awards in a Gucci dress. She donned this blush gown as a change from the lot of dark and gothic looks she has been wearing lately. This pinkish-brown Gucci is a long-sleeved, cutout dress with a big fringe. It also had a pleated drapery and tiered ruffles. She complemented the look with Tiffany & Co diamond jewelry, as well as layered flower necklaces and rings. She paired this iconic outfit with metallic platform sandals. Furthermore, with chopped bangs and curtain bob, she looked just perfect!
Dolce And Gabbana
The Wednesday star again promoted her gothic look in the Jimmy Fallon TV show. Jenna recently appeared as a guest on 'The Tonight Show'. Here she wore a black Dolce & Gabbana dress from the 2023 spring collection. The look comprised a floaty black silk dress over a satin bodysuit. The outfit also had contrasting white and silver detailing. Again, she paired the outfit with high heels.
Furthermore, she perfectly captured the gothic and glamorous look for the night. Though she was quirky and fashionable, she didn't look too costumey. Thus it proves that the actress has elevated her fashion sense to the right level.
Thom Browne Suit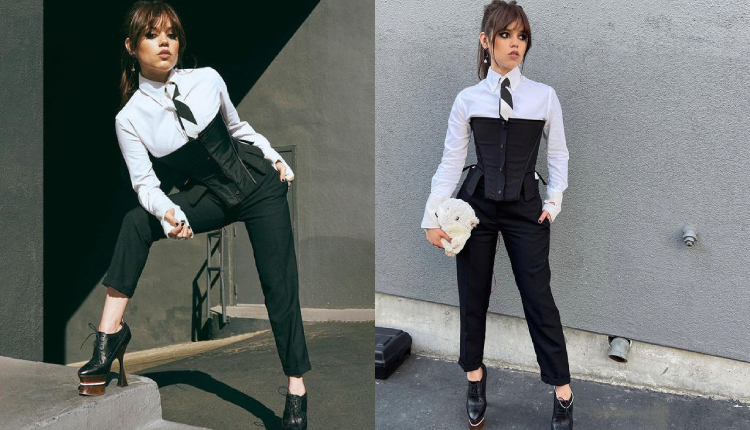 Jenna again channeled 'Wednesday Addams' in her Thom Browne suit ensemble. The suit gave a gothic yet perfect business look vibes. The ensemble had a white button-down shirt and black trousers. Furthermore, it was paired with a sensual black corset. She also accessorized it with a black and white striped tie which elevated the whole look. This power girl outfit looked complete with shoe-type platform heels.
We will be delighted to have your thoughts and feedback. Please write to us at [email protected]
Follow Life and Trendz on Instagram:https://www.instagram.com/lifeandtrendz/
Facebook: https://www.facebook.com/lifeandtrendz
Twitter: https://twitter.com/LifeandTrendz