The Oscars after-party is an event that follows the Academy Awards ceremony. It's a star-studded gala filled with glamour, glitz, and celebration. This year's Oscars party by Vanity fair is no exception. Several top names in the entertainment world as well as industry insiders attended this party. The pics from the Oscars after-party definitely look electrifying. The evening's theme was to bring an Old Hollywood vibe with a modern touch.
Many of the best Oscars looks were seen at the after-party rather than on the red carpet. Winners as well as attendees donned their sparkling, glossy, and sheer garments after the Oscars. This 'blue carpet' event was held in Beverly Hills, California. Here are our top picks from the Vanity Fair's Oscars after-party.
10 Best Looks From the Vanity Fair's Oscars After-Party
This year Oscars witnessed Asian representation on the big stage. 'Everything, Everywhere, All At Once,' starring Michelle Yeoh, won 7 of its 11 nominations. Also, it is special for Indians as 'The Elephant Whisperers' and 'Naatu Naatu' bagged awards. With such high spirits, the after-party kicked off with a bang. Bollywood's pride Deepika Padukone walked the party in her feathery pink mini dress. Here let's see other celebrities who rocked their vanity fair's Oscars party look.
You may also like: The Fashion Moments by Indians at the Oscars 2023: What they wore
Michelle Yeoh
Michelle Yeoh received the 95th Academy Award for best actress for her role in "Everything, Everywhere, Everything at Once". Also, she is the first Asian woman to win the Oscars. She grabbed the award in a heavenly white gown. Later for the after-party, she wore a shimmering outfit. Her strapless, and floor-length silver dress was coated in mirror-like sequins. The sheer dress had a V cut out and a striking black statement flower in the middle. She complemented it with her diamond jewelry for the ideal vintage Hollywood look. She just owned the evening along with her award.
Gigi Hadid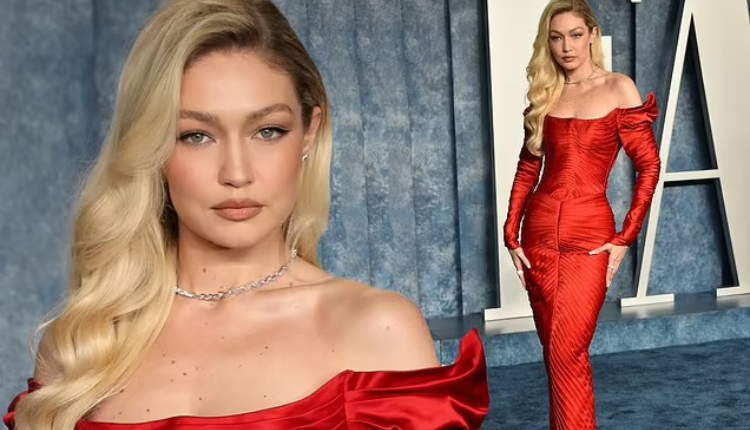 This American model sported a gorgeous off-the-shoulder red gown. This siren red gown is from American designer Zac Posen. Hadid turned heads with her blonde locks combed to the side. She also perfectly paired the bright red dress with nude lipstick and cat-wing eyeliner. She completed her ensemble with a lovely diamond necklace. Moreover, her broad smile was the best accessory of the evening.
Kendal Jenner
The model walked the red carpet in a vintage Jean Paul Gaultier gown. The shimmery gold gown was from the brand's 2008 Spring collection. It was a glossy golden bronze-toned dress with a plunging neckline. The model made her look simple with no jewels and classic black heels. Thus she shifted the entire focus to her outfit. This vintage outfit definitely deserves attention.
Cara Delevinge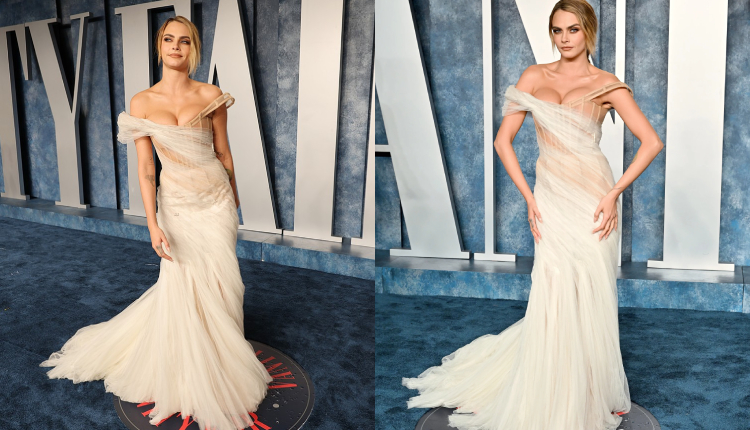 Cara was definitely a surprise charmer on the blue carpet. She first appeared on the Oscars red carpet in an Elie Saab crimson asymmetrical gown. Her after-party outfit, on the other hand, was even better. The actress and model wore a corseted dress wrapped in white tulle. This 'Del Core' designer wears spiraled down her body and ended in a pleated train.
Jodie Turner-Smith
Jodie Turner-Smith isn't afraid to try a risky party outfit. Turner's stylists, Wayman and Micah, revealed more about the dress on their social handles. The stunning checkered and diamond-encrusted gown was from Gucci. The dress had a gorgeous transparent neckline and a red velvet bodice. Furthermore, her dazzling red lipstick suited her outfit perfectly. Also, the elements in her velvet dress perfectly matched her husband's suit.
Ram Charan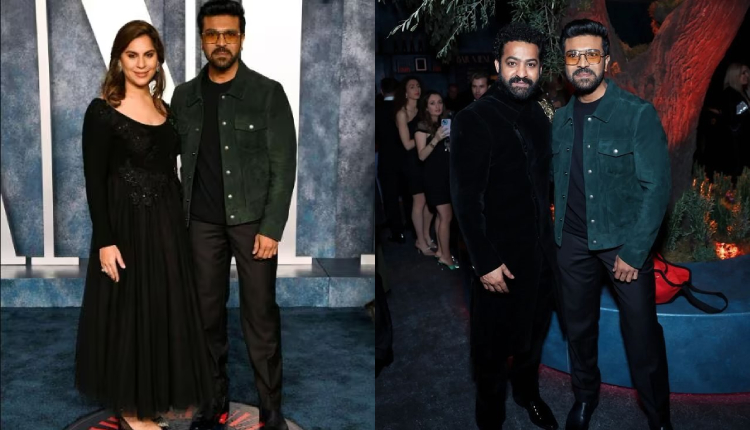 Ram Charan also presented at the Vanity Fair after-party with his wife Upasana Konidela. They celebrated RRR's Oscar victory for Best Original Song. The couples initially wore Indian outfits for the day. Later they changed into more casual attire for the after-party. Ram wore black pants and a top. He also paired it with a bottle green jacket. Furthermore, he completed the look with chic sunglass and a sleek hairdo.
NTR
NTR also celebrated RRR's win at the Oscars after the party. The Indian star wore a traditional outfit designed by Gaurav Gupta. The custom-made black velvet bandhgala had everyone's eye on it. The outfit also had beautifully fitted antique Tiger embroidery. Thus he paid a perfect homage to Indian traditions. Not to forget, the actor is also fondly known as the 'Young Tiger'.
Andrew Garfield
Andrew Garfield, aka Spiderman, is a consistent winner when it comes to party outfits. The actor donned a Valentino Autumn 2023 suit that had an early 2000s vibe. The outfit comprised a bold red color blazer, light blue shirt, and dark pants. Furthermore, he perfectly completed it with a sleek tie.
Michael B Jordan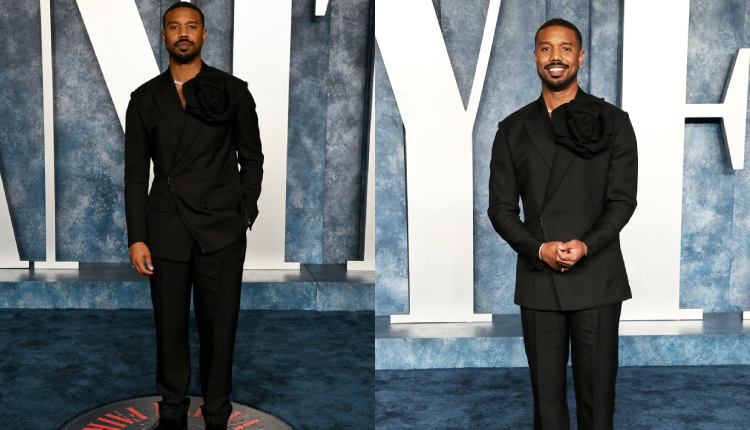 Michael B. Jordan also wore a Valentino costume. The actor looked sharp in an all-black outfit. He wore a Valentino Autumn 2022 Couture suit in black with a huge flower on the collar. He paired it with perfect black trousers and black shoes.
Donal Grover
The Atlanta star walked the red carpet in a grey cut-out suit. It was a classic Alexander McQueen outfit. Furthermore, he paired the deep-cut suit with a layered silver chain. Also, the actor pulled off the costume with a stylish salt-and-pepper look.
This year's Oscars party wasn't short on styles. Surprisingly there were more best outfits than worst. The event saw everything from all-black outfits to shimmery costumes. Thus there are many more interesting outfits that adorned the blue carpet and these are just a glimpse.
We will be delighted to have your thoughts and feedback. Please write to us at [email protected]
Follow Life and Trendz on Instagram:https://www.instagram.com/lifeandtrendz/
Facebook: https://www.facebook.com/lifeandtrendz
Twitter: https://twitter.com/LifeandTrendz