Shruti Haasan is a fantastic playback singer who has experience working in multilingual films. Apart from her singing as well as acting abilities, she is well known for her incredibly beautiful wardrobe. She truly is the epitome of beauty. She can make anything she carries more elegant. The actress also has many admirers for her fashion sense. Here are some western outfit ideas from Shruti Haasan's wardrobe for inspiration.
Blazer Jumpsuit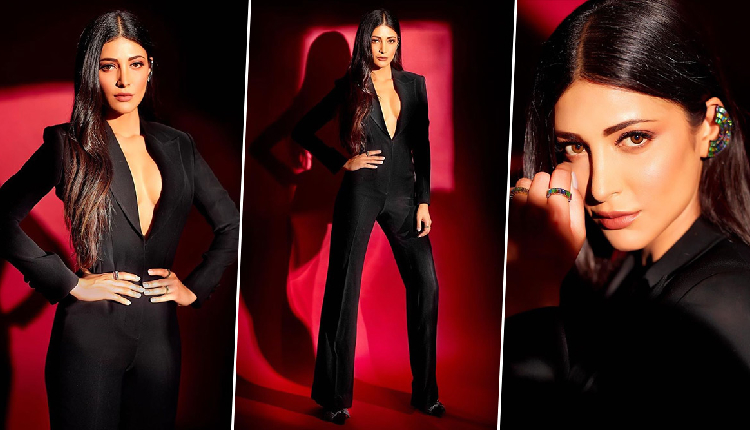 Shruti's wardrobe is an inspiration for every fashionista. She is a designer's delight. One can mainly spot the actress in black outfits and she also gives us various fashion options in black. The above black outfit is a blazer jumpsuit specially designed for Shruti Haasan by Nauman Piyaraji. Though it is a designer outfit made of merino wool, it stands as a perfect inspiration for a classy and elegant jumpsuit look.
You may also like: 5 Stunning Costumes of Samantha in KRK (Kaathuvaakula Rendu Kadhal)
Crop Top and Printed Jeans
The 2021 Ajio Ad had the actress along with Sidharth Malhotra. Shruthi sported a neon green feathery crop top with printed jeans. Neon sarees were in trend for the past few years. But Shruti's look took the whole western outfit ideas to a new level. The crop top was paired with subtly printed jeans which is also making a trend these days. Also, Ajio had a special section called 'Shruti's Wishlist' to display her favourite collections.
Dress and Sneakers
It is said that women who wear black live colourful lives and Shruti stands perfect for it. Recently, the actress was spotted in a black dress styled by her boyfriend Shantanu Hazarika. It was a simple yet quirky outfit that is perfect for any party. The dress from AllSaints paired with Nike sneakers for that extra chic look.
Denim Queen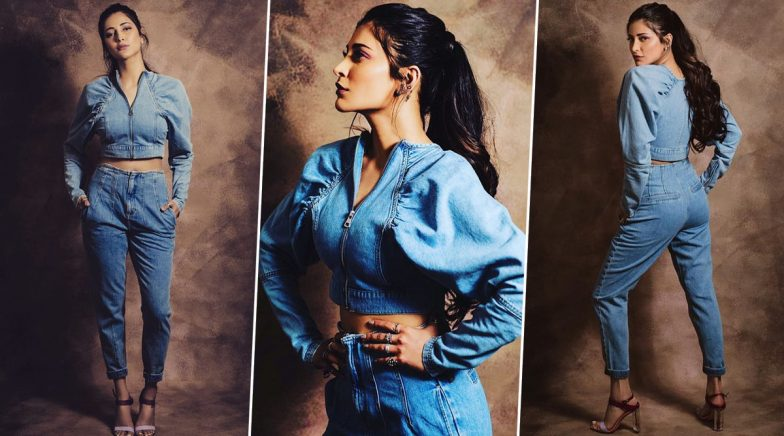 Denim is always in trend and makes a perfect street style. Also, Shruti Haasan was spotted several times in denim outfits. Denim tops/crop tops, denim mini skirts, denim blazers, and denim dresses were a part of her regular airport and travel looks. Generally, glamorous and trendy denim outfits are a part of the actress's wardrobe.
The newest fashion is raw denim that hasn't been washed or chemically treated. They are brand-new fabrics that are fresh from the loom. Although initially stiff, these jeans later soften and mould to the wearer's body, taking on the user's specific shape.
Semi-Gothic Look
Shruti is often known for her semi-gothic fashion sense. It is often characterized by mysterious, dark, and also frequently genderless traits. The look includes dark lipsticks and exotic hairstyles. In the above picture, the actress wore a long black leather skirt with a black crop top. Furthermore, Shruti donned this look for the GQ best-dressed party. It gives serious inspiration on how to don a black outfit in the most stylish way possible.
We will be delighted to have your thoughts and feedback. Please write to us at [email protected]
Follow Life and Trendz on Instagram: https://www.instagram.com/lifeandtrendz_com/
Facebook: https://www.facebook.com/lifeandtrendz
Twitter: https://twitter.com/LifeandTrendz