'Enjoy your space and freedom and Do what you love!': Meet Mrs. Dhivya Lakshmi Prashant, Executive Director, Pothys Swarna Mahal – Women's Day Special Coverage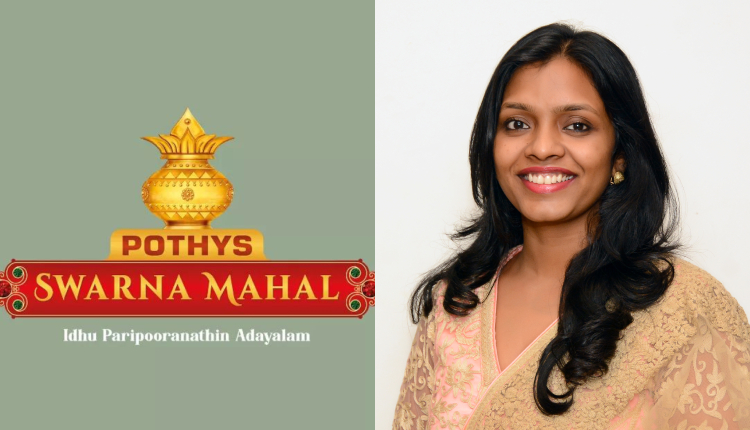 With a legacy of over 90 years, Pothys stands out as one of the premium retail brands of Tamil Nadu with many firsts to its credit. Besides the silk sarees and fashion it is synonymous with, Pothys made a spectacular splash as it made its foray into jewellery with the first showroom of Pothys Swarna Mahal at Tirunelveli in 2021 and a second in Chennai soon after.
Ahead of International Women's Day 2023, we caught up with Mrs. Dhivya Lakshmi Preshant, Executive Director of Pothys Swarna Mahal. The scion is a qualified fashion designer who has worked in the textiles business for over a decade.
She believes that when one is passionate about design, you can diversify into many fields.
Excerpts from an interaction with LifeAndTrendz.com:
Working your way into a legacy family business. Is it more challenging?
I was born and raised in this retail space. When I was a child, I always knew what I wanted to do, to be part of our family business. So, I would say it was not challenging for myself because I was really inspired by what my father, Mr. Ramesh Pothy, and my uncles were doing. In fact, I enjoy working in this whole retail space. It is an honour for me to serve thousands of happy customers.
Tell us about your education and early initiation into Pothys. What is the role you play today in the diversified group?
Basically, I'm a NIFT graduate and done my B. Des (Bachelor of Design) course in Chennai. I was working for Pothys textiles for about 2 years. I was always very fond of design. Design is something that is not only clothes. When you are passionate about design, you can diversify into many fields. So, that's how I got into jewellery even though I don't have any jewellery background. I'm very passionate about jewellery designs and latest trends and technology.
Do you consider yourself as a successful woman? If yes, when do you think you crossed that milestone?
I don't think I'm a successful woman yet. I have a long way to go, to achieve greater things in life. I think the path to success is a slow and enriching process.
What are the success habits that women need to imbibe?
I think women, in general, are very self-driven, very motivated, hard working, and very good in multitasking. I think what women need is just the freedom to choose their own line of field. And I'm sure that they will definitely excel in whatever they do.
Have you ever felt that as a woman, you had to overcome a lot more struggle than a man, to run the show?
In my case, I did not have that struggle as my family treats all the women as equals. We are open to share ideas, plan and execute in all aspects of our family business. But in general, yes, women in many fields have to overcome the struggle when compared to men. But the times are fast changing for the modern women of India.
How do you manage your personal and professional life when work is calling?
Luckily, I have a great support system, my mom, my siblings, in-laws who help around with raising my children under their care and support. Being super organised, helps me to micro manage work and home. I get to spend quality time with my family in the evenings and sundays with them.
Whose career inspires you and why so?
I would say, my father's (Mr. Ramesh Pothy), and all my uncles and even my grandfather, Shri Sadayandi Moopanar, who is still working at this age. My entire family is a big inspiration for me.
The person you go to or say, a support system when you feel low?
I would say, my kids are my support system. They are the biggest cheerleaders. My son Veera, age 9 keeps pushing me and says, 'you have to work even more harder' to achieve big success.
Is there a professional worry that keeps you awake at night?
Yes, it does. Worry is never going to go in any line of business or work. To overcome this is to face our day-to-day challenges, stay focused and motivated, and improving ourselves by learning every day.
If you weren't into the business, what career would you have explored?
Architecture and Interior Design.
What are your hobbies? Is there a passion you pursue outside of work? / What was the last book that wowed you?
I love to read lot of books and travel. The last book I read was about Indra Nooyi, the former CEO of Pepsi Co.
What books would you recommend?
I really like Indian fictions. Especially, Chitra Banerjee Divakaruni's and Amish Tripathi's books are fantastic. I love both their books and the whole Indian mythology, I really enjoy reading it.
What advice would you offer women who are starting out in career or business?
Women who are starting out their career should aspire big dreams. Enjoy and cherish small success. Be independent, enjoy your space and freedom and do what you love!
We will be delighted to have your thoughts and feedback. Please write to us at [email protected]
Follow Life and Trendz on Instagram:https://www.instagram.com/lifeandtrendz/
Facebook: https://www.facebook.com/lifeandtrendz
Twitter: https://twitter.com/LifeandTrendz