CHICKEN AND QUAIL EGGS ROULADE WITH CHEESE ON VEGGIES BED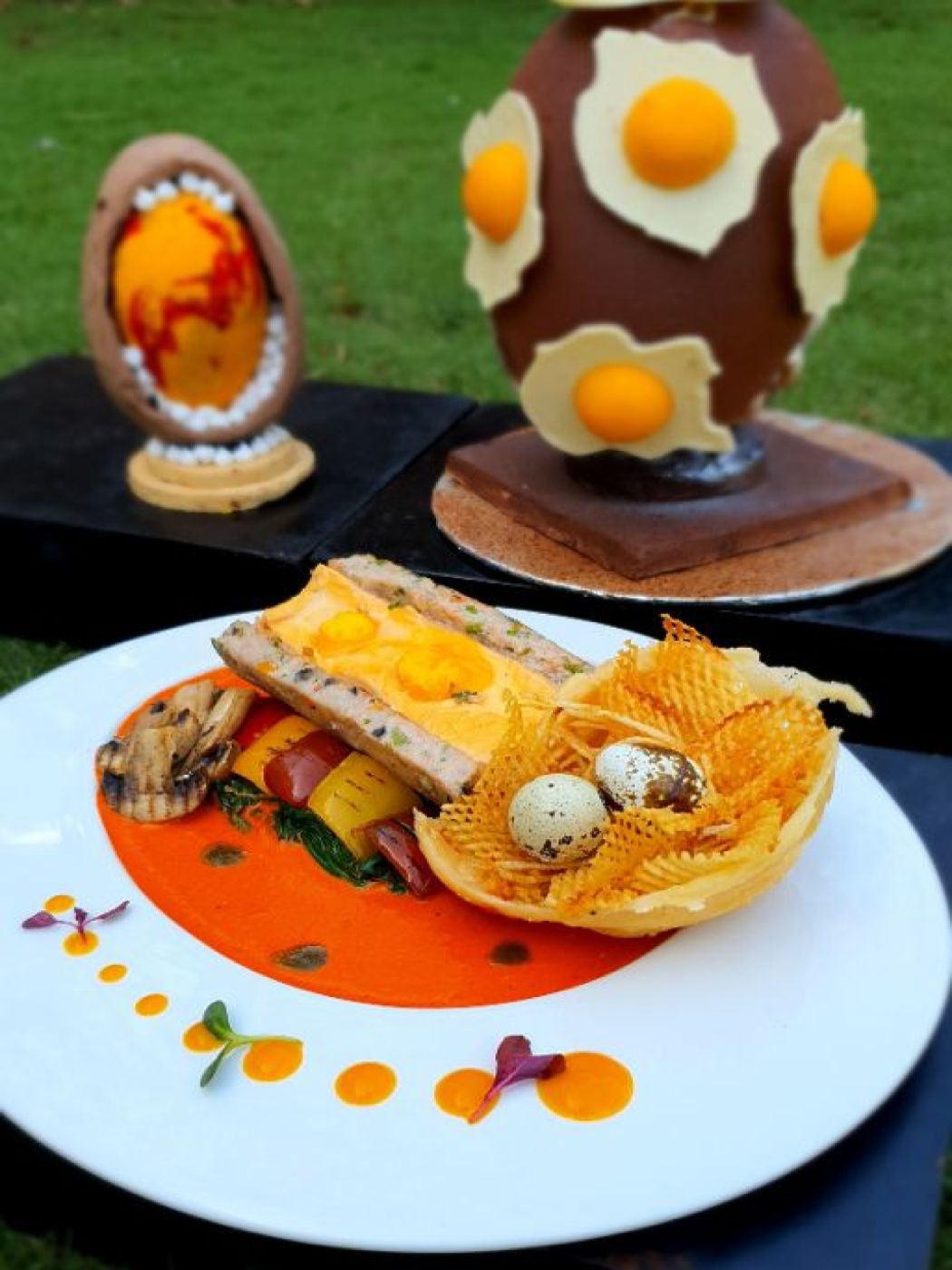 Recipe by: Chef Hemchandra More – Junior Sous Chef, The Brasserie – Hilton Mumbai International Airport
INGREDIENTS
Chicken mince – 500 gms
Cream – 20 ml
Quail eggs – 10 to 12 pcs
Salt – as per taste
Fresh herbs – as per taste
Black pepper – as per taste
Spinach – 250 gms
Onion- 1 pc
Mushroom – 30 gms
Bell peppers – 25 gms
Oil – 100 ml
Poultry eggs – 3 pcs
Red cheddar –40 gms
Cherry tomatoes – 10 gms
 PROCEDURE
Take chicken mince and add it into food processer with cream, 3 poultry eggs, 5-6 ml oil, salt and pepper and blend it smooth.
Take one heavy base pan, heat oil add garlic, diced onions and freshly chopped herbs in it. Cook until it gets translucent.
Add this cooked herbs and onions in the chicken mixture and mix it well.
Boil 5-6 quail eggs, peel it and keep it aside.
Take a terrain mold, grease it and put a layer of chicken mixture in it and stuff some boiled quail eggs and cheddar cheese. Repeat by putting another layer of mixture, put it into a food pan of water and cook it in oven on 180 degree Celsius for 35 minutes.
Remove from the oven and keep it aside tao bring it on room temperature.
Take a pan, sauté spinach, mushrooms and bell peppers separately.
Cut the roulade into slices for plating.
Take a platter, make a bed of spinach and vegies put roulade slices on it and garnish it before serving.
Serve it hot with pepper coulis.