Nagesh, aka the Nagaichuvai Mannan, was regarded as one of the greatest comedians and character actors in the annals of Indian cinema. His ability allowed him to move the audience to tears of laughter or amusement. He was also known to be India's Chaplin. From the early 1960s to the middle of the 1970s, Nagesh reigned supreme as the comedic king of Tamil cinema. After a brief hiatus, the powerful and flexible actor returned to Tamil cinema in a new "avatar," playing both characters as well as villain roles. Nagesh played a number of lead roles even while he was working as a comedian.
Almost no one is aware of his history, He was brought into the world in the Tiruppur district to kannada brahmin parents. His parents and he had a brief argument, and he left Dharapuram for Chennai. He swore that once he achieved success in the film industry, he would come back to Dharapuram. After arriving in Madras, he worked numerous menial jobs. He served as a server at a restaurant and sold pickles. Following a protracted search, he was hired as a minor clerk in the railways division. Because of this position with the railways, he actually landed his first acting role.
He was able to get a small part as a man with stomach pain in the railway authority's drama, thanks to the secretary. Unexpectedly, MGR served as the drama's main guest. MGR was blown away by Nagesh's performance. Later, he was cast in his first movie, "thamaraikullam." But because it was a small part, he didn't have another opportunity to appear in movies for a long time. He received financial assistance from actor Balaji, who also introduced him to director Sridhar. Sridhar was thrilled with the comedian's natural ability and gave him a "Rs 500" advance. PS: There's a similar dynamic in Server Sundaram where Muthuraman presents him to the directors. Nevertheless, Nagesh's breakthrough came with Sridhar's "Nenjil Oru Aalayam" film.
You may also like: Vani Jayaram: Remembering India's Legendary Voice 
Server Sundaram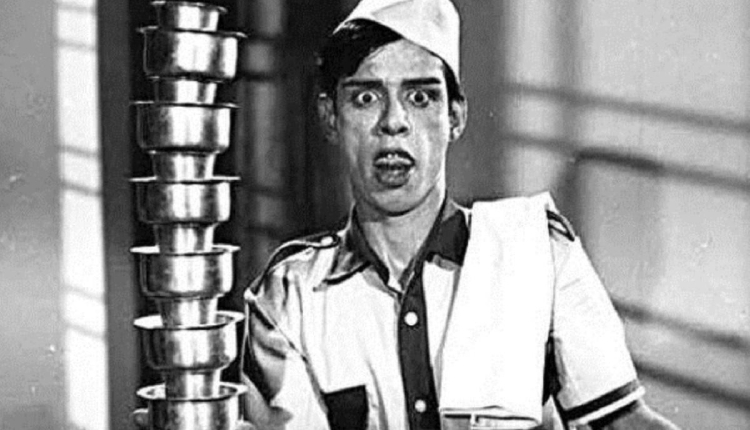 According to reports, Nagesh and Manramma's partnership was well-known at the time and immediately successful. The concept of nagesh-manorama was first presented by Sridhar. As the NSK-Madhuram pair, they were successful. The comedian's life was given a boost by Server Sundaram. Nagesh's own existence was also regarded as a biography in Server Sundaram. It was basically a play that KB Sir wrote, and AVM purchased the rights to it before asking KB to adapt it into a movie. Today, this movie is the first thing that people mention when discussing Nagesh.
Troublesome Decline in the Career
Beginning in the middle of the 1970s, Nagesh's career began to deteriorate. He had a lot of issues in his personal life. His connection to his mother and other family members was strained after he married Regina, a Christian. He suffered irreparable grief after his mother passed away in 1973. He fell out with Tamil actor and political figure M. G. R. around the same time, and Nagesh was left out of most of his films as a result. In order to avoid having his Chennai-based Nagesh Theatre seized for unpaid debts, Nagesh had to settle his variations with M. G. R., who then provided financial support. Nagesh had to transition to acting in character roles full-time in order to keep up with evolving trends.
The Resurrection
From the 1980s onward, Nagesh's acting career experienced a slight upswing as a result of his appearances in a number of films, often playing elderly characters and occasionally the bad guy. In the popular 1989 film Apoorva Sagodharargal, he played the villain with the most lasting impact. Later, the film was released as Appu Raja in Hindi. He additionally portrayed the antagonist in the Rajinikanth movies Mounam Sammadham as well as Athisaya Piravi. He played scheming sadists than hulking giants in his bad roles. Nagesh portrayed the deceitful secretary Avinashi in the comedy film Michael Madana Kama Rajan. Avinashi hired lookalike Kameswaran to pose as Madan, his boss, as well as lend Avinashi cash from Madan's account.
In the 1994 movie Magalir Mattum, he even played a dead body. He received a National Award for Best Supporting Actor in 1994 for his role in Nammavar.
Later Years
Nagesh continued to perform in Tamil movies up until a few months before his passing in 2009. In the 2008 film Dasavatharam, he played the father of Kalifullah Mukthar, Sheikh, in his final role. While being treated at Balaji Hospital for diabetes and a heart condition, he passed away on January 31, 2009, at the age of 75. He suffered from numerous personal issues that tore his family apart, in addition to numerous financial issues. He never decided to show it to the audience, yet he was always there just to make them happy.
We will be delighted to have your thoughts and feedback. Please write to us at [email protected]
Follow Life and Trendz on Instagram: https://instagram.com/lifeandtrendz?igshid=Yzg5MTU1MDY=
Facebook: https://www.facebook.com/lifeandtrendz
Twitter: https://twitter.com/LifeandTrendz