Rahul Dev to be seen as Inspector Hooda, a good cop turned bad in Amazon miniTV's upcoming action thriller drama – Hunter – Tootega Nahi Todega along with Suniel Shetty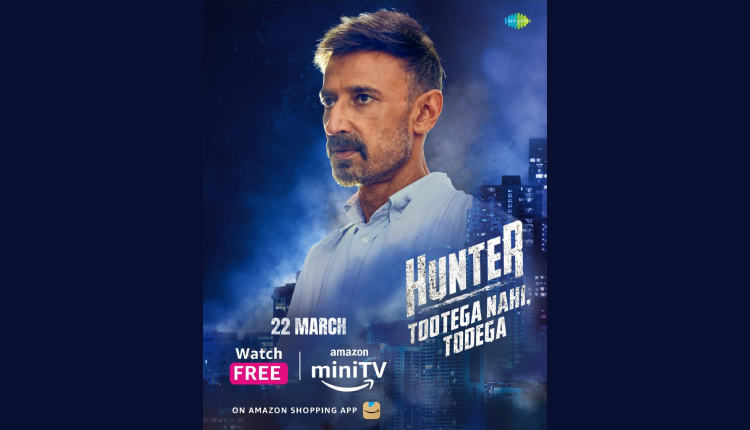 Amazon miniTV recently dropped the trailer of the action-thriller Hunter – Tootega Nahi Todega starring Suniel Shetty. With its sleek action-packed sequences, simple yet hard-hitting dialogues, and a contemporary adaptation of enduring Bollywood songs by Saregama, the trailer is packed with action, drama, thrill, and is certain to leave a mark on the viewers. The streaming service recently unveiled the character promo of Inspector Hooda, essayed by Rahul Dev.
Rahul Dev will be seen playing the character of a Haryanvi cop, Hooda, a quick-witted man with his own set of rules that he likes to adhere to firmly. On the Hunt for Power, Inspector Hooda turns from an efficient officer to a bent copper. He is hell bent on reaching at top and this makes him daggers drawn with ACP Vikram, "Jiske haath mein hathiyaar, vahi chowdhary". The character shift surely makes it interesting to watch how his character unfolds different layers, bringing in major turns in Vikram Sinha's life.
Talking about his experience of working with Suniel Shetty and his character, Rahul Dev said, "It's been a pleasure to share screen space with Anna in Hunter, alongside Esha, Barkha, Karanvir, and the rest of the cast members. I found Anna very involved in all aspects, especially the design for action and committed towards the betterment of the project in every way possible. The energy he brought to the set was infectious."
He further added, "The role essayed by me is that of a Police SHO named Hooda (Haryanvi). It was an enriching experience to be a part of Hooda's development along with the writer to suit the storyline of Hunter Tootega Nahi Todega.He is nimble-witted, who lives by his own rules, very brash & direct in his approach and ensures that everybody knows it. He doesn't sugar-coat anything, for him money & self-pride matter. From being a good cop, he turns out to be a businessman soon. In fact, while shooting, I would have a hard time keeping a straight face with the things my character sees and does. The show has a gripping storyline with twists and well-crafted characters. I am sure viewers will feel the thrill that we felt while filming the scenes. They would want to be a part of the thrilling journey starting this 22nd March only on Amazon miniTV."
Get ready for an adrenaline rush as A.C.P. Vikram Sinha takes on the fearless and eccentric path alongside Inspector Hooda. Alongside Suniel Shetty, witness Esha Deol, Rahul Dev, Barkha Bisht, Karanvir Sharma, Mihir Ahuja, Teena Singh, Chahat Tejwani, Siddharth Kher, Gargi Sawant, Smita Jayakar and Pawan Chopra in engaging and pivotal roles. The action-drama series, 'Hunter Tootega Nahi, Todega,' will premiere on 22 March 2023, on Amazon miniTV exclusively for free, accessible with the click-of-a-button on Amazon's shopping app, Fire TV, desktop.