The Cholas, The blood-seeking revenge and The Royal Romance are back: Ponniyin Selvan 2 Trailer is out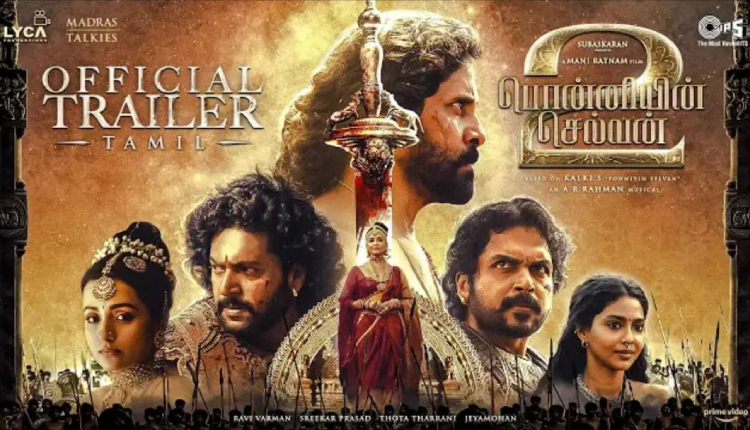 The most anticipated Ponniyin Selvan 2 trailer is out now. The trailer has been released during the audio launch event of the movie, held at Nehru Stadium in Chennai. The first part of Mani Ratnam's Magnum Opus, Ponniyin Selvan got a massive applaud from the audience while the trailer sequel dictates the same. The grandeur and royal trailer inculde enough detailing to have a huge win at the box-office collection worldwide already. The Cholas fight for the throne, the blood-seeking revenge and royal romance of Ponniyin Selvan 2 trailer accord hair-raising experience while watching it.
The Trailer Sequel:
Moving into the World of Cholas – The trailer opens with both Vanthiyadevan and Arunmozhi Varman falling into the hungry tides which is actually the conclusion scene of Ponniyin Selvan 1. Announcing the next rightful King as Madhuranthakan Devar, the higher authorities of the reign decide to segregate the Kingdom equally for Madhuranthakan and Aditha Karikalan.
Aishwarya Rai as Nandhini dominates throughout the trailer with her fierce acting. The blood thirsty Nandhini's dialogues ''We will destroy the Cholas" and "Karikalan will die at my hands in Kadambur" depict the revenge she waits for. The trailer sequel does not miss to amaze the audience with its goosebump background score. Thanks to ARR! We cannot help ourselves from appreciating the aesthetic visuals of the trailer as well.
Last but not the least, the much-awaited face-off of the entire movie is manifested towards the end of the trailer. Nandhini and Aditha Karikalan's face-off is nothing less than a spine-tingling one. While we fell for Nandhini and Kundavai's face-off in Ponniyin Selvan 1, this face-off earns a colossal fanbase already.
The Audio Launch & Trailer Launch event was attended by the whole team of Ponniyin Selvan. Aishwarya Rai, Trisha, Shobita, Aishwariya Lakshmi, Jayam Ravi, Karthi, Vikram, Sarathkumar, Vikram Prabhu, Lal, Parthiban, and others graced the event with their presence. The red-carpet videos and photos of the star-stud event have started surfacing the internet already.
So, are you excited to watch the movie? But before that if you haven't watched the trailer sequel yet, then you head to the link given above. Hail Cholas!
We will be delighted to have your thoughts and feedback. Please write to us at [email protected]
Follow Life and Trendz on Instagram:https://www.instagram.com/lifeandtrendz/
Facebook: https://www.facebook.com/lifeandtrendz
Twitter: https://twitter.com/LifeandTrendz