Kids keep long faces when they see dishes prepared with banana flower. So, here is a crispy snack with a banana flower which would attract children. Healthy and toothsome snacks.
How to prepare banana flower vada or vazhai poo vada?
It will take a long time to clean the banana flower and so you could do it before some hours before you prepare vada or a day before you prepare it.
Now, take chana dal and rinse it well with the water
Soak it well and drain the water at the end
Now add cinnamon, fennel, and black pepper as required
Grind the mixture until it becomes semi fine paste
Do not add water while grinding the mixture
If needed add some amount of water as required
Now take the channa dal paste and add it to the bowl with chopped banana flower
Then, add chopped onion, ginger, green chilies, coriander leaves, and salt as required amount
Mix it well and shape it.
And now fry on the medium flame until it becomes crispy.
Serve it with coconut chutney or mint chutney or tomato ketchup.
So, the crispy vazhai poo vada or banana flower vada will attract the children. It would be so healthy and nutrients rich. It is used in dishes in South Asia and is highly healthy to all. Every part of the banana tree is useful and health-giving.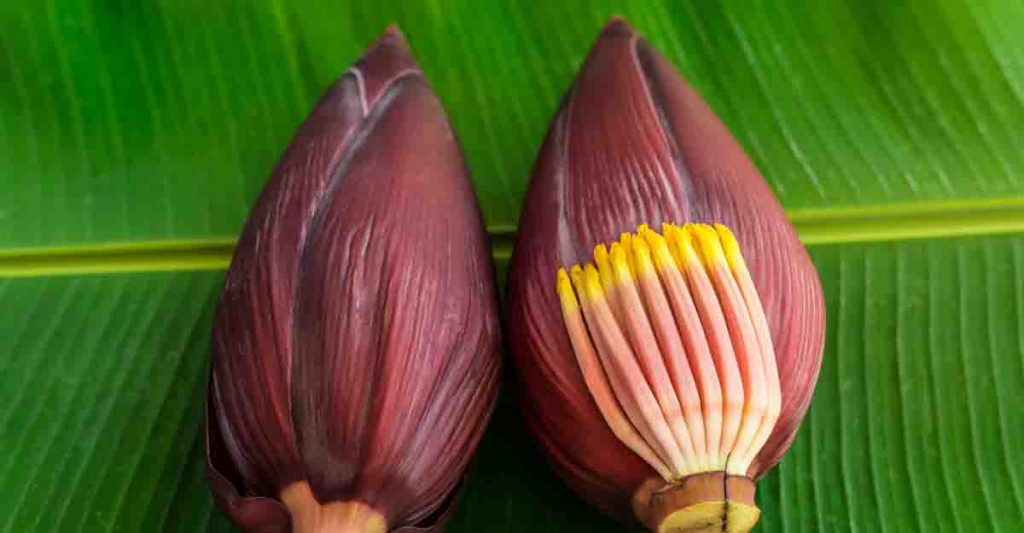 Benefits of Banana flower:
It helps to prevent cancer and heart disease and also rich in calories. Banana flower is known for Vitamin C, A, and E and iron and protein rich. It is used as a vegetable in many parts of South Asia. It could reduce any sort of pains and helps in the regular menstrual cycle and in weight loss too. Fights infection and cures neural disorders. Also improves lactation and reduce diabetes and anemia risks. It is highly beneficial for the healthy uterus and reduces uterus problems in women. To mention, India ranks in PCOS (Polycystic Ovarian Syndrome) and Indian women undergo this problem. So, the intake of the Banana flower would reduce this syndrome and prevents menstrual problems. Eat healthily and live a happy and prosperous life.
Vazhai poo vada is commonly prepared in South India. It is as salubrious as it looks. So, it is not just surviving in life but to live life to the fullest with good health.