Columbia Pacific Communities hosts a virtual session with psychiatrist & Head, Mpower – The Centre, Dr. Vinod Kumar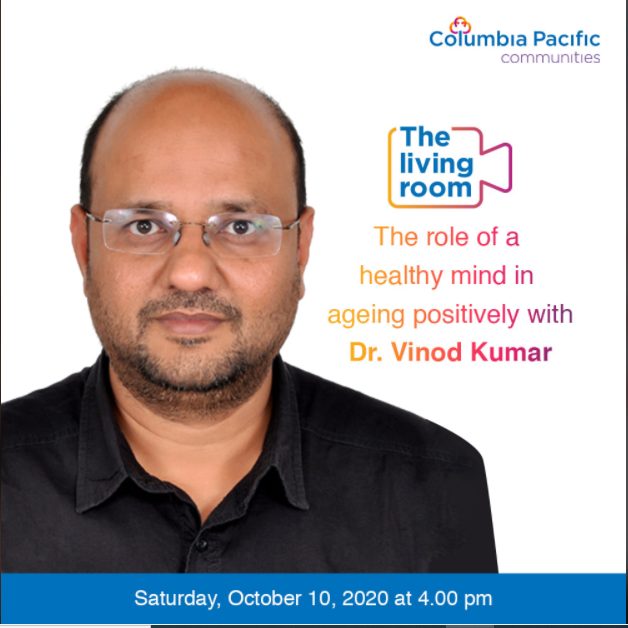 On the occasion of World Mental Health Day, Columbia Pacific Communities hosts a virtual session with psychiatrist & Head, Mpower – The Centre, Dr. Vinod Kumar
#TheLivingRoom session will focus on Mental Health for the Elderly
Chennai, October 8: On the occasion of World Mental Health Day, Columbia Pacific Communities, India's largest senior living community operator, will host an FB Live session with Dr. Vinod Kumar to raise awareness about mental health issues among senior citizens. Dr. Kumar is a psychiatrist & Head of the Centre, Mpower, Bangalore.
According to a 2018 report, 20.5% of the elderly population in India suffer from at least or more kind of mental illness. Mental illness among the elderly is a lot beyond Alzheimer's and dementia. In fact, depression and anxiety are among the most common mental illness among senior citizens. However, not much is said or done about mental health issues among senior citizens. Moreover, owing to deep-rooted stigma and shame attached to mental illness in general, a large number of seniors do not reach out for help and suffer in silence. Through this virtual session, Columbia Pacific Communities aims to dispel myths around mental illness among the elderly and encourage them to seek help when needed.
Dr. Kumar has qualifications and skills in various psychotherapeutic modalities. He holds an M.B.B.S, MRCPsych, DPM from Nottingham University, CCST (UK), Certified Psychodynamic, Cognitive Behavioral and Interpersonal Psychotherapist. He is trained and worked in the National Health Service (UK), from 1997 to 2011 on a substantive basis. Since 2011, Dr. Vinod has worked in various settings in Bangalore and has been the Head of the Centre, Mpower, Bangalore, since January 2019.
Columbia Pacific Communities has championed the cause of positive aging with many of its previous campaigns. The brand believes that it is particularly important to keep seniors positively engaged during these uncertain times.
Join us on our mission to create awareness around Mental Health for the Elderly on #TheLivingRoom session live-streaming on Saturday, October 10 at 4.00 PM.
Free Registration: www.facebook.com/columbia.pacific.communities