Mountainously encircled Café Shop run by Prisoners – Shimla!
How about sipping a café and reading an awe-inspiring book?
What would you feel when you reach a café shop run by prisoners?
Being located in the hilly area of the traditional country, Shimla is a dream destination for many people even in India. Blissful windy air along with steaming coffee makes the place an unbelievable one. The shop is named as the BOOK CAFÉ, which is a newly unfastened cafe that welcomes a number of people and serves the coffee.
How about you entering into a place that is run by prisoners and also being served by prisoners? Well, it is happening here in Shimla, where you could experience a completely new ambiance. A variety of toothsome snacks and beverages has been provided in the café which is surrounded by enchanting mountains of Shimla.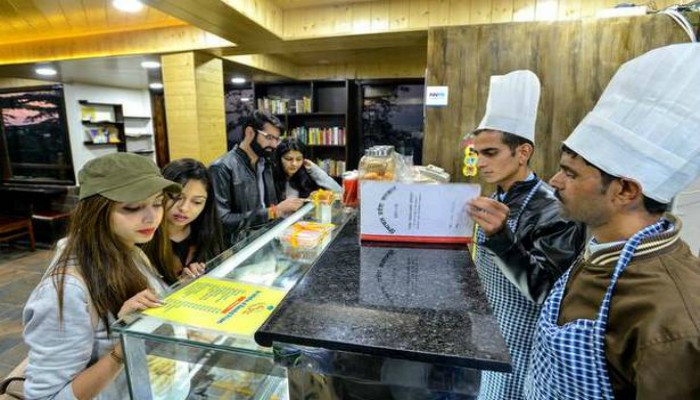 This amazing café shop is run by four convicted criminals who have been serving life term ay the Kaithu jail near Shimla. The inmates named Jai Chand, Yog Raj, Ram Lal, and Raj Kumar were all proffered with formal training by a renowned hotel and so they could serve the customers professionally to a certain extent. All four are much happier than before by giving a chance to prove their goodness to the entire world. Even the visitors and locals would not show any uneasiness by interacting with us and they are clearly observing the good transformation of us.
True to its name, the café is inhabited by the mini-library where you can pick a book of your interest and have a good serene read over the pages by sipping the steaming coffee. It is said to be a kind of therapy that gives rebirth to the prisoners. This amazing café shop has been funded by the Himachal Pradesh Tourism Development Corporation (HPTDC). It can occupy almost 40 people at a time and starts serving at 10 in the morning and closes at 9 in the night. This would be a great place for you to relax and it would be a kind of paradise for book lovers, especially. Do visit the café if you are planning to visit Shimla!