Prasoon Joshi pens an emotional poem for Femina's initiative#ActAgainstAbuse urging readers to not turn a blind eye against domestic violence at home
~The poem, that will address the fundamental prerequisite to behaviour change "The Barrier Of Societal Apathy" will feature a host of eminent women such asTaapseePannu, Shabana Azmi, Sonakshi Sinha, Radhika Apte and Aditi Rao Hydarilending their support to the cause~
Link to the video:https://www.instagram.com/tv/CFJGVl9oeUw/?igshid=i45jn6ynefre
National, 15thSeptember, 2020–While it may translate into one spending time at home either alone or with their loved ones, the word lockdown took a different meaning for those women and children quarantining with their abusers. Staying true to its promise of being the ultimate guide for Indian women, Femina, takes a stand against domestic violence by launching a campaign called #ActAgainstAbuse. Taking this thought forward and help spread the message to put an end to this menace, Femina has roped in eminent song-writer and two time National Award winnerPrasoon Joshi to pen down a poem.Taking this appeal to the leading starlets & veterans of Bollywood, the poem will feature TaapseePannu, Shabana Azmi, Sonakshi Sinha, Radhika Apteand Aditi Rao Hydariwill lend their support to the cause.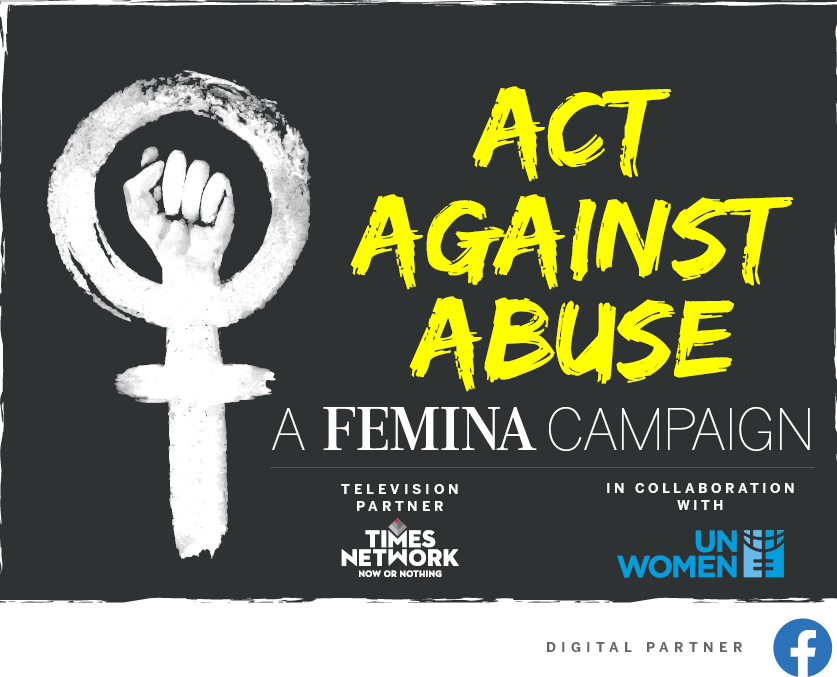 The poem penned by Prasoon Joshi that will address the fundamental prerequisite to behavior change – "The Barrier Of Societal Apathy". The video is inspired by the three wise monkeys that embody the proverb of "see no evil, hear no evil, speak no evil" that will see the leading ladies of Bollywood with either their eyes, ears, or mouth covered, perfectly in sync with the lines of the poembeing spoken. The poem's hard hitting lyrics make us aware of the countless times we've seen and heard cases of domestic violence, yet chose to keep silent. With emotions of hurt and turmoil put across in a relatable manner, the poem asks one the pressing question – when will we stop reacting to this menace in a passive manner and do something about it.
For creating a strong awareness drive in addition to the poem, the brand also partners with UN Women for adding another dimension of global awareness to their campaign. Both the brands worked closely to curate the sensitive communication of creating awareness and inspiring positive change while being mindful about the projected outcomes.In addition to creating awareness around the wide prevalence of this heinous act, the brand also empowers its audience and anyone who witnesses such a wrongdoing by providing them with detailed information, guidance, and support to battle it. For this, Femina created a special microsite (Act Against Abuse) to equipping them with all the relevant information and advising them with ways to deal with it from perspective of both, a victim and someone who witnessed the abuse.
Amplifying and shedding light on the issues with its extensive reach across digital mediums and engaging touch-points, Feminatakes the campaign on-ground by acting as a bridge between NGOs and victims of domestic violence by providing them relevant information. NGO's that are a part of the campaign are Sneha Foundation, International Foundation for Crime Prevention and Victim Care, Urja Foundation and Hothur Foundation.
Nishtha Satyam, Deputy Country Representative and Officer in Charge, UN Women: "In a world, where every third woman has experienced physical or sexual violence, mostly by an intimate partner, normalising abuse must stop. A life free from violence and the fear of violence is a pre-condition to well bieng. World over, including in India,  the Shadow Pandemic of domestic violence continues to deeply impact all women and girls. This pandemic must end. The change must begin from our homes and we all have a role to play. Its upon us to break this cycle of violence and prevent the generational transfer that often perpetuates abuse at home. UN Women stands together with Femina in the campaign #Actagainstabuse."
Prasoon Joshi commented"The pandemic changed a lot of things for us. As a nation and a society,  as we dealt with the adversity, but in a larger sense we also saw so many positives in human spirit, in the environment, in collective action. Unfortunately, the  evil of domestic violence saw an upward spike through the pandemic with families confined at home. And what was our response as a society? It's heart breaking to say, but in most cases apathy. Apathy that leads us to ignore it, pretend it does not exist, condone it, and sometimes even justify it. And makes us, society at large, as much a party to the crime as the perpetrator. It's important for communication around this issue to go beyond information dissemination. It is important to jolt society out of its collective apathy. To mobilize society to Ignore No More. "
Actress TaapseePannucommented,"It was almost like an extension of what I wanted to convey through 'Thappad' I feel there is no space for disrespect in a relationship of equals. I'm glad Femina reached out to me for this. I feel this particular topic is a taboo not because anyone feels it's wrong to stop domestic violence, but because everyone feels embarrassed to confess it or accept that it has happened with them when the truth is a majority of our households have seen such violence in different degrees regardless of the social strata of the family. It's high time we talk about it openly, spread awareness that it's ok to call it out."
Actress Sonakshi Sinha commented,"There has been a spike worldwide in the increase in domestic violence against women and especially during the pandemic, and this is something that cannot be turned a blind eye on. We collectively need to encourage women to find the courage to speak up and report any kind of abuse that they are facing. This needs more attention to bring out the much-needed change in society which can only happen when we don't normalize abuse. I am glad to be part of Femina's initiative and we must all play a role in breaking this silence."
Actress Radhika Aptecommened "Being a brand which is synonymous with women empowerment, evolution and change, Femina through #ActAgainstAbuse continues to showcase a sense of responsibility through its thought-led campaigns. With the Indian women at the heart of the initiative, Femina aims to change perceptions for the better leading to a better society that respects women."
Veteran actress Shabana Azmi commented "Violence against women has the tacit approval of society the world over . For far too long we have done not enough, for far too long we have tried to escape responsibility by saying its a private matter, for far too long we have blamed the victim and said she must have done something to deserve it  . Its time to say NO MORE."
Actress Aditi Rao Hydari commented,"It was important for me to be a part of Femina's #ActAgainstAbuse campaign. In in the lockdown it has become very evident that social distancing is a luxury. Lockdown has been very difficult for several women and children in our country. In these trying times, we hope to come together to support and help women and children dealing with domestic violence in their homes. As a society, it's time we take a stand against it and put an end to it."