THE BODY SHOP ARRANGES EXPERT TALK ON ANTI-POLLUTION SKINCARE
The globally acclaimed beauty brand from UK introduces wonky carrot skincare range
Chennai, August 2019: Being an 'urbanista' is exciting, however, there are number of environmental and lifestyle factors associated with city living that can be very harmful to our skin. UVA/UVB rays, air pollution, air conditioning, radiation, temperature and humidity, hard water and artificial blue light – these ingredients form the harmful blend of environmental external aggressors known as the 'dirty cocktail'. These factors don't just add up, they actually amplify each other's impact making it a recipe for skin disaster! When our skin is exposed to this blend of aggressors, it can become dehydrated, sensitive, prone to breakouts and over time show accelerated signs of aging!
Emphasizing this issue on the harmful impact of pollution and city living on skin, The Body Shop, the iconic global beauty brand introduced the all New Carrot Skincare Range at a riveting session on anti-pollution skincare in Chennai Phoenix Marketcity on 17th August 2019 in the presence of Ms Antara Kundu, Head of Marketing, The Body Shop, Asia South. Co-hosted by Dr. Selvi Rajendran, Dermatologist and Cosmetologist from Pristine Skin & Hair Clinic, the insightful session shed light on the merits of antioxidant-rich carrot in a skincare regime for a healthy-looking glow.
In this event, The Body Shop has also introduced its latest campaign 'Wonky is Wonderful'. This is the brand's earnest attempt at addressing food wastage to offer the best natural beauty products to its patrons. To tackle food waste, The Body Shop is intentionally sourcing wonky organic carrots, misshaped banana and stubby ginger that are rejected by the food industry owing to peculiar appearance to launch their new ranges-Carrot Skincare Range, Banana, and Ginger Bath & Body Range. Putting relinquished carrots, ginger and bananas to best use; The Body Shop promotes sustainability and nature conservation to offer the best in beauty to its discerning customers. The campaign also speaks to the larger brand purpose of inclusivity in beauty and celebrating the natural beauty of every person and ingredient, irrespective of societal beauty standards.
DETAILS OF NEW LAUNCHES:
The Body Shop Carrot Range For Healthy-Looking Glow Routine
One of The Body Shop iconic skincare Favourites, the Carrot range is back and better than ever before! Enriched with anti-oxidant rich organic carrots in 100% recyclable packaging, the new Carrot range is more sustainable than ever before. This is a simple, daily skin regimen that helps skin recover its natural glow against city pollution and environmental aggressors.
The Body Shop Carrot Cream Nature Rich Daily Moisturiser and Cleanser  –Made with the goodness of organic carrots that are too beautifully crooked to sell to the food industry. Discover the range and reveal your healthy-looking glow with the Carrot Cream Nature-Rich Daily Moisturiserand cleanser Enriched with organic carrots that are too beautifully crooked to sell to the food industry, the 100% vegan cleanser leaves skin feeling clean, smoother, energized and purified from daily urban grime. Complemented perfectly by the 100% vegan daily moisturizer that provides 72hr hydration and leaves skin feeling recharged with moisture and protected against daily aggressors.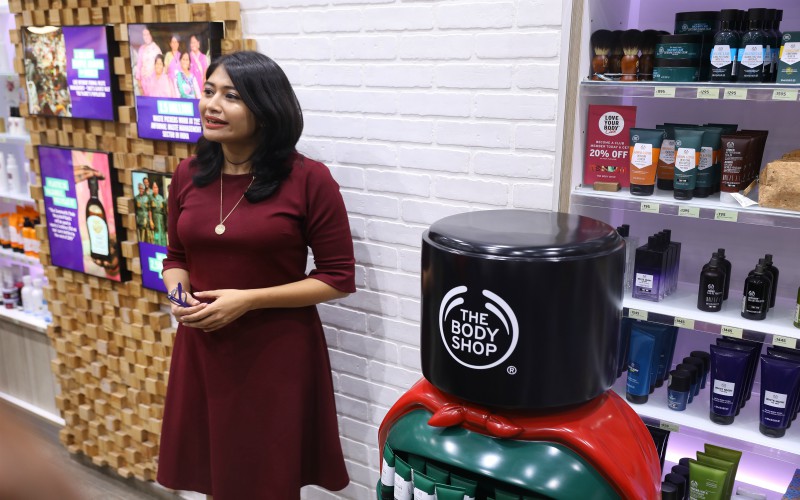 The Body Shop Wonderfully Wonky Banana Bath & Body Special Edition
The Body Shop Banana Bath & Body Special Edition has 4 fun formats, i.e Banana body butter, body yogurt, shower cream and body polish which can be used individually or as part of a regime to build the fragrance level on the skin. The fruity and exotic notes in the range complement each other, and the products leave skin feeling moisturized and layered with a vibrant scent. Each of the formulas is enriched with Community Trade organic banana puree from Ecuador, made from misshaped bananas that the food industry would otherwise throw away.
The Body Shop Refreshingly Zingy Ginger Body Care Special Edition
Experience the power of ginger from head to toe with the fragrantly fizzy and zingy Special Edition Ginger Body Yogurt, Body Butter, Shower Gel, Body Scrub, and Hand Wash. Complete with playful and punchy limited edition packaging, this refreshing, summer range is enriched with ginger root extract from India and Community Trade Ingredients from across the globe.
Available At: All stores and thebodyshop.in
About The Body Shop
Founded in 1976 in Brighton, England, by Anita Roddick, The Body Shop is the original, ethical, global beauty brand. The Body Shop seeks to make a positive difference in the world by offering high-quality, naturally-inspired skincare, hair care and makeup produced ethically and sustainably. The Body Shop pioneered the philosophy that business can be a force for good and this ethos is still the brand's driving force. The Body Shop has more than 3,200 stores in more than 70 countries.