Let's Prod into the only Chinese temple – Kwan Kung Temple!
Seek the Ruby Red Door in Mumbai!
Being one of the top-most countries in the cities, Mumbai offers you with variety of entertainments. It has been incorporated with varied cultures, people and traditions. But are you aware of the Yup Koon community? Most of us would not have known this particular community but it is surprising fact that Mazagaon was home to Mumbai's See Yup Koon community earlier in the 1900s. But we all must have known about the East India Company which was established in India back in 1600 as it was part of our history subject in school days. However, this particular community is originally from Canton in Southern China and these people moved to India while they were working under the East India Company. Later, they settled in Mumbai as merchants, traders, and sailors.
Years later, in 1962, When there was a war broken between India and China which was known as the Sino-Indian War, many of the Chinese residents migrated back to their MotherLand, China. Meanwhile, few other families took up a decision to stay back on their homes and thus, China Town was born in the northern part of India. As of now, this place is famously known as Dockyard Road, Mazagaon. So, When you travel to Mumbai next time, just do not miss to check out the ruby red door which definitely drags you back to early China.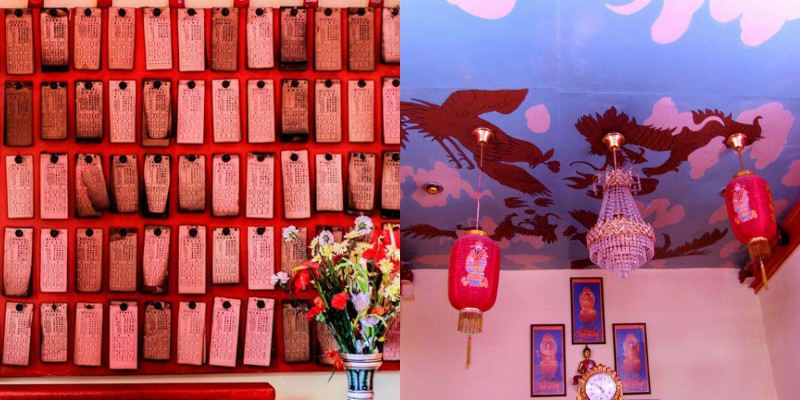 The sprightly beautiful Kwan Kung Temple is the only Chinese temple in Mumbai which is now the popular landmark in Mumbai and it does remains of the thriving community. The temple is built over 90 years ago, which nuzzled in a quaint lane in a two-story house in Mazagaon. The ruby-red colored wooden is the one which leads you inside the shrine or the place of worship inside. While entering the picturesque door, you will be climbing the small wooden staircase which leads you to the inner shrine and here is where you witness an eye-catchy mural of Fuk, Luk, and Sau who are the three Chinese gods of blessing, longevity, and prosperity, on the wall.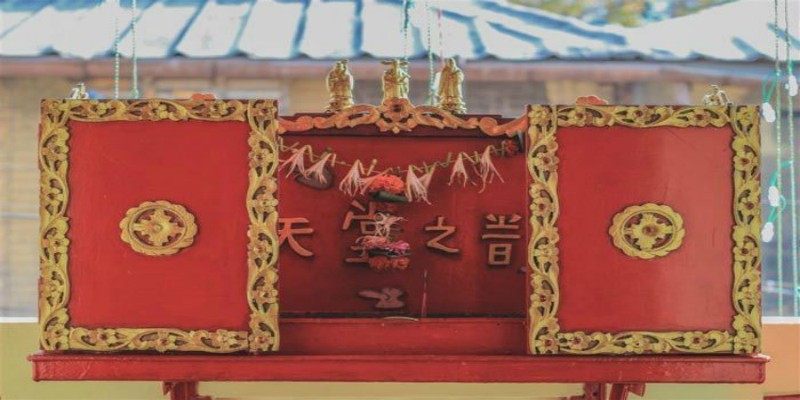 While entering the shrine, you will admire the wind chimes, mesmerizing paper lanterns, and awesome Chinese calligraphy. You will also be invited with the different shades of scarlet and also the walls, cupboards, the altar, doors, and even chairs look so vibrant as it is painted in red which brings life to everything as red is an auspicious color in Chinese culture. The traditional accouterments hang high on the altar and neatly carved figurines are placed in front as if paying homage to the Chinese God of justice and courage, Guan Gong.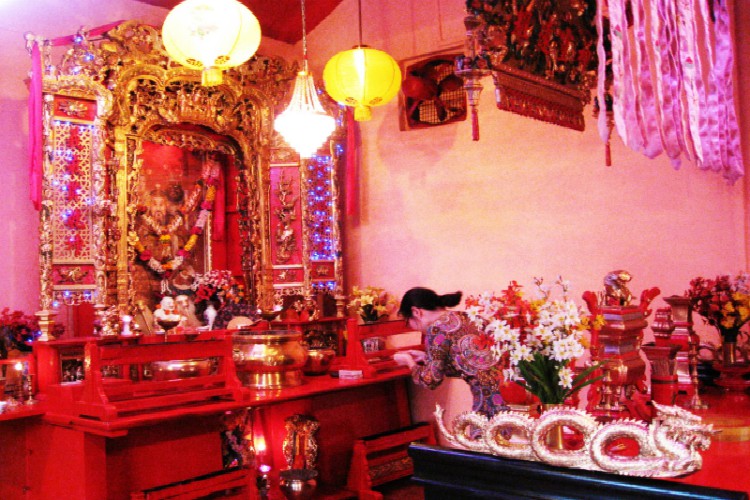 The sparkling temple is built in 1919 and is started breathing during the Chinese New Year and Moon Festival, where over 500 Chinese gathers to seek blessings. The Temple caretaker, Albert Tham and his mother spend long hours to prepare the temple for the occasion by lighting lamps and arranging fruits and delicious cakes as offerings to God. There is also yet another temple that is dedicated to Guan Yin, a female deity revered for mercy, peace, and wisdom on the ground floor of the building. The temple caretaker, Tham who was born and brought up in Mumbai explained that he has never ever felt like going back to China. You could see many Chinese boards outside the temple where most of them hold the word See Yup Koon that is literally translated in English as "inns for sea merchants."
Probably, most of us living in India, might not be known of this China Town in Mumbai. It is definitely a treasure in India with spirals of aromatic joss rising from the sticks which we all might visualize suddenly of China, serene meditative chants and welcoming the visitors with ruby red colors which offer an ease glow, this embellished temple in the crowded city is a must-visit place of India.
Get lost with tranquility in China Town amidst the crowded city!