Fruits are commonly consumed as a snack by the majority of people. But if you're wary of biting into an Apple and a Banana all the time, you've come to the perfect location. There are numerous ways to make fruit more delightful by preparing it as food (no, we're not talking about a fruit salad bowl). Continue reading if you're unsure how to do so. We'll look at some great and tasty fruit-based foods you can make at home. There is no prior cooking experience required, so simply sit back and read the entire blog.
Fruit dishes you can prepare at home:
Summer Fruit Spring Rolls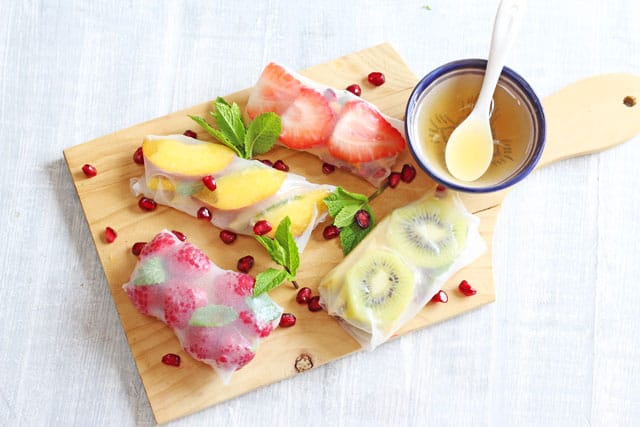 This could be the simplest portable snack you can create at home using fruits throughout the summer.
Begin by peeling the melon and mango and cutting it all into slices, followed by matchstick-shaped pieces. Strawberries should be hulled and thinly sliced. The apple should next be quartered and the seeds removed. Cut into matchsticks and also some slices. Soak the rice paper rolls in room temperature water for almost 20 seconds in a big bowl. Remove that from the water when it begins to soften. If the wrappers are too gummy to use, they have been in the water too long.
Then, Lay the rice paper on a cutting board, soft side down. Put the fruits in the centre of the wrapping. Begin rolling the spring roll much like a burrito. Fold the paper over the filling, then fold in the two edges and roll to seal. When rolling, be careful not to rip the wrapper.
To make a side sauce, combine ¼ cup honey, the juice and zest of one lime, and 2 tbsp water. Serve it with the delicious rolls and enjoy.
You may also like: Wonderful Benefits of Delectable Fruitcakes
Frozen Yoghourt Granola Bites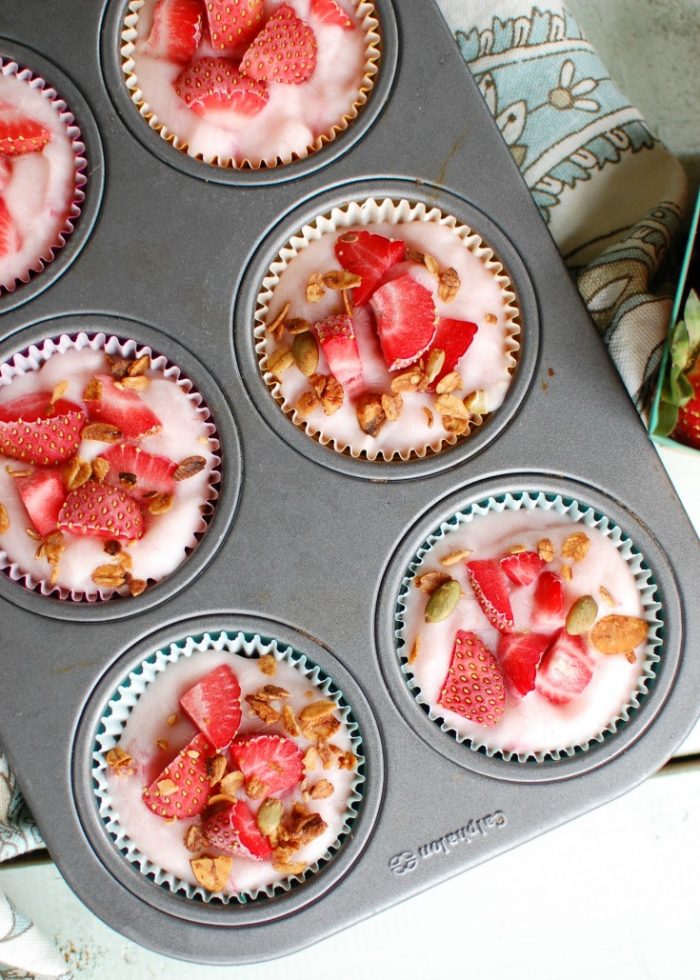 After a hard day at work, who doesn't appreciate a tasty frozen treat? You can prepare these frozen fruit treats if you agree.
Use paper or silicon wrappers to line a muffin pan. Combine the Greek yoghurt and coconut oil in a mixing bowl. Fill the bottom of each cup with 1 1/2 teaspoons of Greek yoghurt. Put 1 tablespoon of wild blueberries in. Top with another tablespoon of Greek yoghurt. Then top with granola. To ensure that it sticks, spread it out thinly or push it all into the Greek yoghurt. You should be able to fill 8-10 muffin cups with this recipe. Place it in the freezer for three hours, or until it is solid. Leave them in an airtight container if you're gonna eat them later.
Fruit Sushi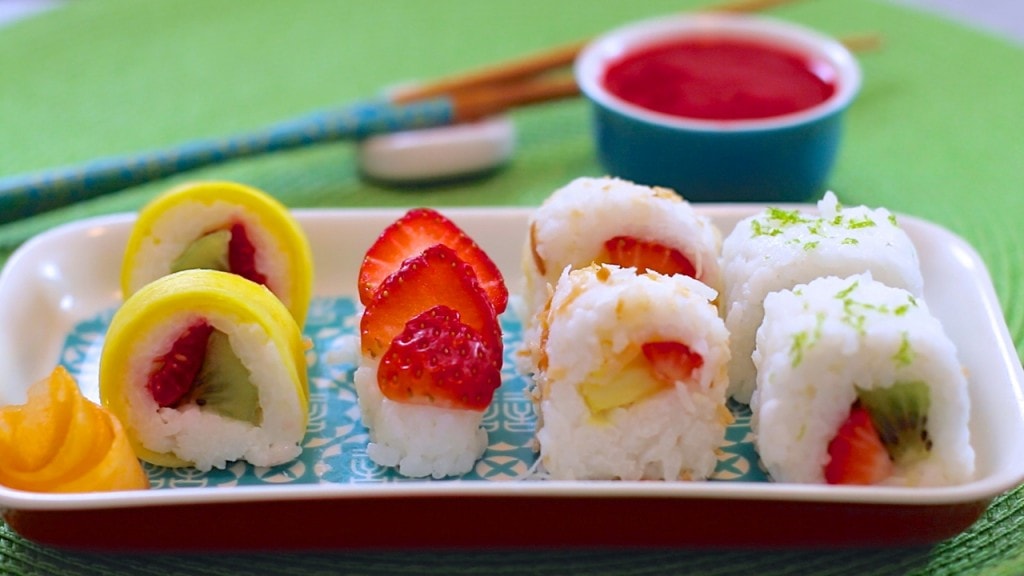 Love sushi? Perhaps all that you need right now is this fruit sushi recipe.
Fill a big bowl with rice. Gently whisk in the salt, sugar, and then coconut milk until everything is incorporated. Then cover the bowl and set it aside for around 20 minutes. Continue by lightly spraying cooking oil on your hands. Make 12 equal amounts of the rice combination and roll each one into a ball (about 2 tablespoons of rice). Place the formed rice shapes on a baking dish covered with parchment paper after gently pressing each rice ball into an ellipse between your hands.
Add a slice of kiwi, a slice of mandarin orange, and a slice of the berry of your choice to the top of each rice oval. You can first coat the tops of the rice shapes with honey if the fruits do not adhere to the rice easily. Frushi must be covered and chilled for at least an hour. If you don't want to eat it immediately, you can keep it in the fridge for up to 8 hours.
What are some of your favourite fruit dishes that you like to prepare often? Let us know!
We will be delighted to have your thoughts and feedback. Please write to us at [email protected]
Follow Life and Trendz on Instagram: https://www.instagram.com/lifeandtrendz_com/
Facebook: https://www.facebook.com/lifeandtrendz
Twitter: https://twitter.com/LifeandTrendz