A vegetarian can now have a better satiating feeling as same as a non-vegetarian with 'EAT WITH BETTER'.
WONDERING WHAT'S 'EAT WITH BETTER'?
A plant-based brand that presents vegan meat alternatives for Vegan lovers. Founded by Mr. Karan Bajaj and Keertida Phadke, 'Eat With Better' brings a bowl of mock meat to your table. When it comes to mock meat or vegan meat, the ingredients matter the most. Meats are often a most-loved culinary for Non-vegan lovers. But why do non-vegans have all fun? And the brand is here to bring the relish-relief to vegans out there. To bestow the delish vegan-meat alternates, the brand picks a wonderful ingredient – Jackfruit.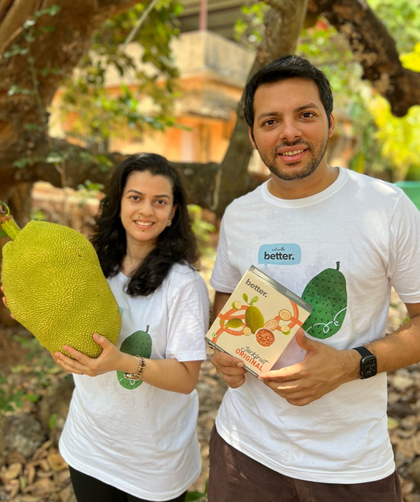 "THE BRAND THAT IS REIMAGINING THE MIGHTY FRUIT – 'Eat With Better'":
Can you imagine jackfruit being a staple ingredient for superfood snacks and mock meats? Window shopping may enable you to encounter certain vegan meat alternatives at the supermarket, but the distinct royal jackfruit is beyond a selection. It grows abundantly and naturally without the requirement of fertilizers or pesticides. Not to mention, 70% of jackfruit is squandered each year in India without making use of it. So, the brand chooses the best ingredient of all time – JACKFRUIT, thereby making it a homage to the mightiest fruit in the world.
Perhaps, you tasted the ever-delicious jackfruit ice cream, but how about a superfood? From ice cream to tacos, the mighty fruit has found its way into the vegan diet menu. It thus turns out to be the perfect vegan ingredient that is "truly a jack of all trades". The brand does not only choose the raw fruit, it has the perfect reason too – PLANT-BASED and GLUTEN-FREE. Moreover, the royal fruit is low in calories and carbs which makes it an ideal vegan-friendly ingredient to be placed in the household.
A BETTER EXPERIENCE WITH BETTER JACKFRUIT ORIGINAL:
Sourced from the local farmers, EAT WITH BETTER produces Better Jackfruit Original to have a better culinary experience. You may find your perfect recipe partner with Better Jackfruit Original as it proffers a minced form of raw jackfruit. With raw jackfruit as a base ingredient, the brand presents yummilicious restaurant-quality dishes in your kitchen. To all those who seek vegan-friendly meat alternates, try Better's top flavours including Chettinad, Tawa Fry, and Vindaloo. The mentioned top three flavours spread the traditional cooking aroma through faux meat. The healthy ingredient comes along with a spice paste in each pack to impart a satiating meal or snack for the day. The ready-to-eat pack gives the delectable plant-based superfood meal every time of the day. Although there may be several vegan-meat alternates, 'EAT WITH BETTER' offers the best to your taste buds. Even so, it is a vegan you can feel its meaty texture and distinct flavour that lasts longer in your heart. We can feel you – Can't wait to taste it? Well, pick one for a better dining experience with EAT WITH BETTER. Stock up your pantry with BETTER JACKFRUIT ORIGINAL!
SOME HEALTH BENEFITS OF PLANT-BASED MEAT:
As plant-based meats are a perfect substitute for animal products, they do have certain health benefits. Jackfruit, here, offers an ideal plant-based gluten-free superfood option. So, let's check out some of the health benefits of plant-based meat.
1. Lowers the risk of cardiovascular disease ae plant-based foods are great in lowering the bad cholesterol level.
2. Enhances blood sugar control with its no sugar involvement.
3. Assists in weight loss as the t-based meats are low in calories and carbs.
4. Choosing to go for plant-based meats helps people balance their blood pressure level.
5. Helps in healthy digestion and regular bowel movement as well.
To get tempted moreish and stock up your pantry with boxes of EAT WITH BETTER, click here: https://eatwithbetter.com/?utm_source=HVS_better.&utm_medium=google_search&utm_campaign=HVS_Google_Brand_Search_10Feb&gclid=Cj0KCQjwidSWBhDdARIsAIoTVb0WlHA44xWiyc2YFa47sRPQDya6ETA3Q3Bqaq516JlZWdnWPKNJudAaApV6EALw_wcB
We will be delighted to have your thoughts and feedback. Please write to us at [email protected]
Follow Life and Trendz on Instagram: https://www.instagram.com/lifeandtrendz_com/
Facebook: https://www.facebook.com/lifeandtrendz
Twitter: https://twitter.com/LifeandTrendz