Whether it's a relaxed get-together with pals or sporadic family get-togethers, a platter of delectable and enticing pepper BBQ Chicken never lets you down. Although making barbeque food may seem difficult, it is actually pretty simple. Additionally, you can prepare your own BBQ sauce at home, so there's no need to search the marketplaces for that. So take a seat back, unwind, and follow the tasty instructions! Ready for some entertaining cooking? Well, we are too!
But first, let's look at some basic information on the pepper BBQ Chicken before we get started with the recipe. Pepper BBQ Chicken, often known as pepper barbecue chicken, is chicken that would be grilled. Typically, when barbecuing, pieces of meat like thighs, drumsticks, and whole chickens are often used. Are you curious about the utilisation of these precise cuts? Bone-in chunks are ideal for the temperature of a barbeque because they are often bone-in. They take a little bit longer to prepare than chicken breasts, which, since they cook so quickly, are more likely to dry out from the barbeque.
Depending on the type of pieces you are grilling, the cooking time for this dish will vary. It takes roughly 30 to 40 minutes to prepare cuts of chicken like breasts, thighs, and legs over moderate heat on a low burner. A full chicken, on the other hand, will require up to 25 minutes to cook over indirect heat on a low simmer.
You may also like: 5 Tasty Chicken Dinners that are Easy to Make 
Now let's take a look at the pepper BBQ chicken recipe, shall we?
How to make this delicious Pepper BBQ Chicken: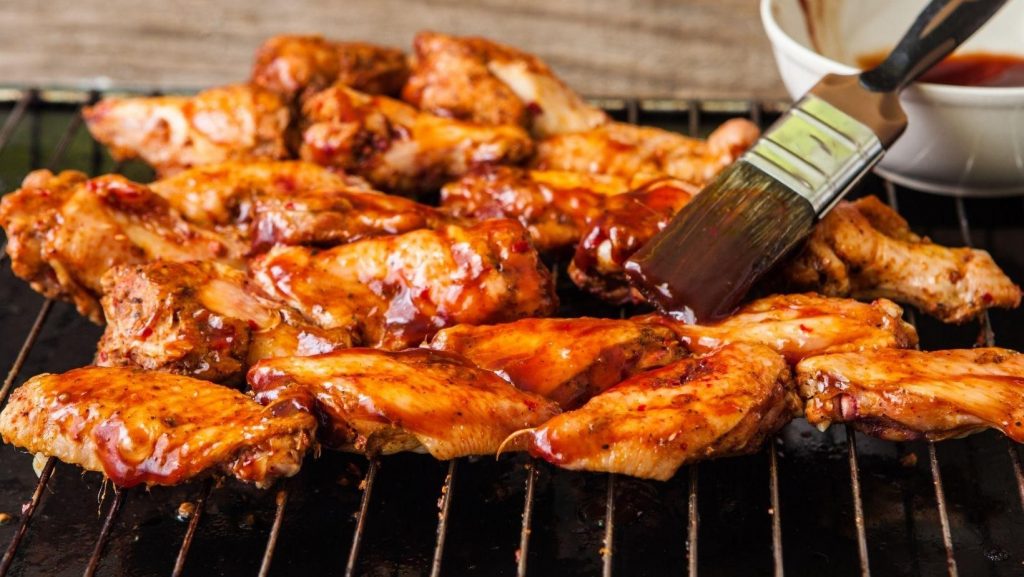 Heat the oil in a saucepan over medium heat then add the sliced onions. Once the onions are soft, add Brown sugar, ketchup, crushed mustard, pepper, pepper sauce, garlic powder, lemon juice, salt, and water sauté. Bring to a boil after thoroughly mixing. Reduce the heat to low and leave the mixture to cook for 10 minutes and do not cover the pan.
Sprinkle the chicken breasts with finely ground black pepper and kosher salt after rubbing them using oil. Put the chicken on the hot grill with the seasonings, and then close the lid. Cook for approximately 4-5 minutes per side. Lift the cover then brush the prepped sauce over the chicken breasts. Turn the chicken over and brush the other side with the barbeque sauce. Cook for 6-8 minutes more on all sides, or until the chicken is brown and crisp. Cover the chicken using aluminium foil and place it out on a dish. Allow it to settle for 5-6 minutes. This step will make the chicken more juicy.
And that's it, your delicious BBQ Chicken is all done and ready to serve. There are a lot of ways you can eat a Pepper BBQ Chicken or just BBQ Chicken. Let's take a look at some of the most popular ways people around the world like to eat BBQ Chicken.
Serve with Grilled Vegetables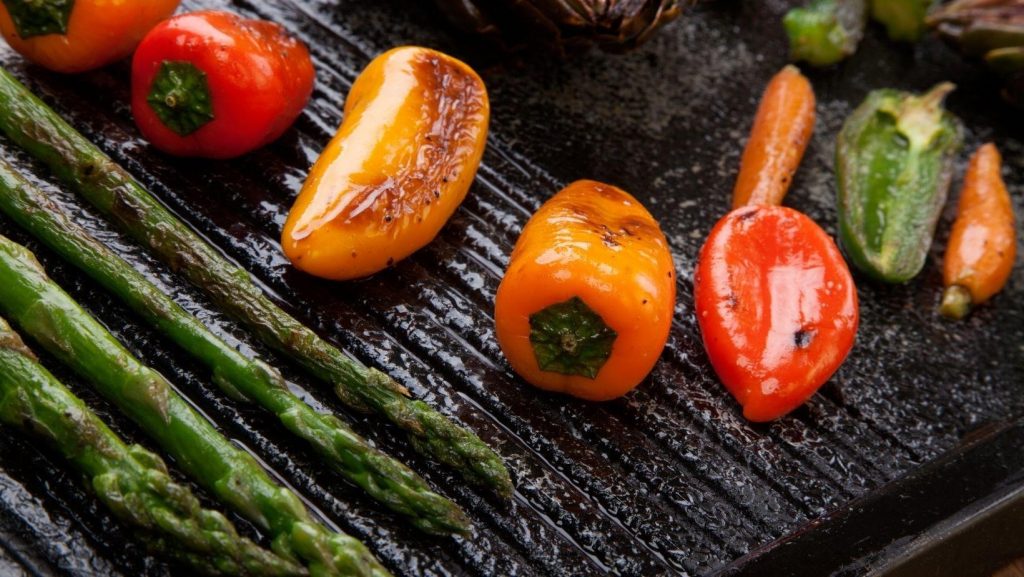 Toss various veggies on the barbecue with your barbecue chicken to give them a smokey taste. Green beans, sweet potatoes, zucchini, and red peppers are all excellent choices.
Wedge Fries
Wedge fries taste soooo tempting that you might mistake them for deep-fried, but they don't have to be; they can also be baked! The secret is to cook potatoes for 3 minutes prior to actually baking them. This procedure breaks apart the starch on the top of the potatoes, leaving them incredibly crispy without using too much oil. You may leave the skin on or peel it all off; either way, they taste fantastic, particularly when eaten with grilled chicken.
Mashed Potatoes
Mashed potatoes are a popular BBQ dish that is simple to prepare for a large party. Just boil and mash your pick of potatoes, and add milk, ghee, and salt to make them smooth and flavorful. Make pomme purée, an amazingly creamy French twist on the popular side dish, and improve your ordinary mashed potatoes too!
Do you love eating Pepper BBQ Chicken? If yes, what do you eat them with and why? Let us know!
We will be delighted to have your thoughts and feedback. Please write to us at [email protected]
Follow Life and Trendz on Instagram: https://www.instagram.com/lifeandtrendz_com/
Facebook: https://www.facebook.com/lifeandtrendz
Twitter: https://twitter.com/LifeandTrendz