Hosting a house-party? a new-year brunch? A dinner party? If you're unsure which beer brands will make your party a banger, then don't worry. Here is a list of top 10 beer brands that will be the perfect addition to your liquor line-up. Beers are light drinks that are great to have a conversation over, the essential kickstart to party sing-alongs and become the perfect side-dish to nostalgic stories. Make your parties memorable with these beers, now.
Top Beer Brands in India
1. Kingfisher
Beer in India is synonymous with Kingfisher, among the urban youth at least. With more than 36% of the market share, Kingfisher is the average Indian's preferred beer. Regardless of the occasion, it is suitable for all, be it house parties, birthday parties, beach parties, dinner parties or any occasion. Kingfisher is an Indian-origin brand that has found popularity in 52 other countries. This speaks for how good the beer is!
Kingfisher has a range of beers: lighter beers like Kingfisher Lager & Kingfisher Premium are good for family parties; strong beers such as Kingfisher Ultra and Ultra Max have higher alcohol by volume (ABV) and are the first choice as house parties.
Kingfisher Strong, ABV – 8% Kingfisher Premium, ABV – 4.8%
You may also like: 5 Must-have Breezer Flavours for a House Party
2. Budweiser
Budweiser is another well-known beer brand popular amongst both urban youth as well as rural drinkers. It is a classic American brand that has become one of the largest beer companies in the US as well as across the globe. It is extremely popular in India as well. With a 5% alcohol content, Budweiser is popular in all its variants: Budweiser Premium the classic pale lager is the preferred variant for casual drinking; the Budweiser Magnum is the stranger variant for lovers of strong beer.
Budweiser Premium, ABV – 5% Budweiser Magnum, ABV – 6.5%
3. Bira 91
A craft beer brewed in India, Bira 91 is a new brand that has gained a popular status in India, it has brought a refreshing change to India's beer culture. Fresh, exotic and young, its flavours match the youth of the brand. This craft beer was founded in India by Ankur Jain. Bira is known to be experimental, launching flavours like Mango Lassi, Kokum Sour, that provide the Indian youth with beloved Indian flavours. It is also reasonably priced and is known for its innovative and quirky packaging. Bira is mostly found at beach parties, local carnivals, brunches, concerts, etc.
4. Corona

Popularly meme-d, Corona became the butt of many jokes online due to the covid-19 pandemic, however, despite this similarity in name the beer has continued its popularity thanks to its singular taste and their loyal customers. Corona is low on bitterness and is known to be sweet, sometimes served with lime wedges to enhance its flavour. Its unique flavour profile is thanks to their distinct brewing recipe that adds to its texture. Corona comes is 2 variants:
Corona Extra ABV – 4.6% Corona Light ABV – 4.1%
5. Godfather
Godfather is known to be the one of the strongest beers in India, well-recognized and extremely popular. Launched over 25 years ago, it has been synonymous with strong beer and is one of the most best-selling strong beer brands in India, especially in North India. Godfather as the name suggests occupies a top position in sales as well as status. Brewed & distilled in Jammu, Godfather Original Strong beer has 7.5% ABV, making it one of the strongest beers in the market. It has a brewing cycle of 25-days adding to its distinctly solid flavour profile.
6. Hoegaarden
Hailing from Belgium, Hoegaarden is cause for much satisfaction amongst drinkers of white beer. It is popular as a flavorful craft beer in over 70 countries, starting the transition and popularity of craft beers. The original Belgian White Beer with its spicy sweetness, flavoured with citrus and lemon is the most preferred and beloved. Cause for good news is Hoegaarden is expanding its craft-beer line with Rosée and Nectarine (raspberry and peach flavours respectively) that are believed to make this best beer brand even more popular, increasing its revenue & market share. Hoegaarden is ideal for casual, easy drinking and becomes a great addition to your brunch tables and can be paired with fresh salads.
7. Haywards
Well-recognized as a strong beer, Haywards was founded by Eric Hayward who came to India in 1904. Over the years, Haywards 5000 is easily India's best selling strong ale beer. It has gone to occupy a large segment of the Indian market and become synonymous with strong beer in India. Haywards is loved by strong beer enthusiasts and found at house parties.
8. Simba
Simba is yet another young beer brand that has joined the craft-beer range in the Indian market in 2016. Finding the gaps in the Indian market, Simba is India's first bottled craft-beer and is made in small batches. This is done to allow more experimentation of flavours and comes in Wit, Stout and Light variants. It is also popular in beach parties, brunches and dinner parties as it can be a nice addition to beer cocktails.
9. Heineken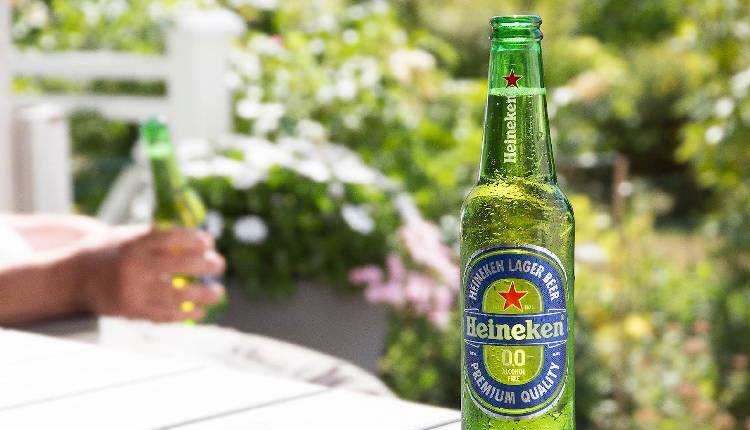 The iconic green bottle with a red star immediately comes to mind when one hears 'Heineken'. One of the most popular beer ranges, Heineken has been brewing premium quality beer for the last 140 years. It has a smooth texture, thanks to its custom yeast profile. Heineken is famous in 192 countries and is one of the best beer brands in India. It also has a non-alcoholic beer range and comes in cans as well as bottles.
10. Carlsberg
Another international brand that is considered one of the best beers in India is Carlsberg. Extremely popular in the Indian market, its origin country is Denmark. Appreciated and loved by liquor enthusiasts, Carlsberg's Indian flagship beer 'Elephant' is one of the best-selling strong beer brands in India. Sharing parentage with Tuborg, Carlsberg produces custom local beers across the countries it has presence in. These special brews as well as the regular Carlsberg variant are extremely well-recognised and consumed.
We will be delighted to have your thoughts and feedback. Please write to us at [email protected]
Follow Life and Trendz on Instagram: https://instagram.com/lifeandtrendz?igshid=Yzg5MTU1MDY=
Facebook: https://www.facebook.com/lifeandtrendz
Twitter: https://twitter.com/LifeandTrendz