Since smoothies are kind of milkshakes that are lip-smacking enough, you would never give up on them. The healthy choice of ingredients would make your smoothies worth tasting daily. Smoothies are solely prepared using fruits thereby making it a healthy kick of the day. If you are craving milkshakes or smoothies, you got this. This means that you could prepare it easily at your home. So, here are the simple choices of top-notch breakfast smoothies that make you full. Well, smoothies could be an easy good-to-go healthy breakfast as it would of your tummy rumbling. Let's check out the following top-notch breakfast smoothies that make you full.
Avocado Smoothie:
Let's just start with the luscious Avocado smoothie. The ingredients you require are yogurt, avocado, chia seeds, and honey. You know your required amount as per the number of persons. You just have to add all the ingredients to the blender and blend them well. Do it until you get the smooth consistency. When done, you could add ice cubes to serve it chill. The fresh and rich texture of avocado and chia seeds would keep you full for a longer time.
You may also like: 5 Smoothies for Healthy Long Hair
Tropical Smoothie: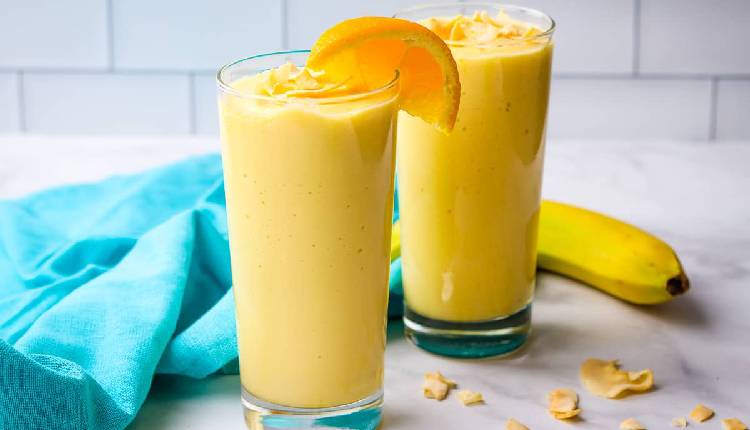 Want to try a tropical smoothie? Well, that's an easy-peasy thing to prepare since the ingredients are easily available. The ingredients include yogurt, pineapple, mango, and banana. Since fruits are indispensable ones in your daily menu, they would always be stocked up. Blend all the ingredients as per the requirements. When you get the smoothie texture, you could serve it with ice cubes and satiate your tummy. Moreover, the kids would never say no to this yummilicious tropical smoothie as breakfast.
Green Smoothie:
The green is all good and recent craze. Why not try it at home? The choice is all yours whether to pick spinach or kale or any other green veggie. However, here, it is going to be kale along with other ingredients such as lemon, pear, and macha powder if you need it. The same blending process is done until you get the smooth consistency. You could add ice cubes and honey for taste. The nutritious content of the above ingredients would fuse to provide the best breakfast for the day.
Banana Smoothie:
While banana milkshake could have your heart, banana smoothie does the same if you give it a try. This is just as simple as that. The ingredients include fresh or frozen bananas, yogurt, milk, and vanilla extract for sweetness. Now, add them to the blender and blend them well. You could stop when you get the delightful smoothie texture. Kids would love to taste it and it is the best and luscious breakfast choice of all. Just enjoy the smoothie and leave the rest to the dietary fibre of bananas!
We will be delighted to have your thoughts and feedback. Please write to us at [email protected]
Follow Life and Trendz on Instagram: https://instagram.com/lifeandtrendz?igshid=Yzg5MTU1MDY=
Facebook: https://www.facebook.com/lifeandtrendz
Twitter: https://twitter.com/LifeandTrendz