Top Restaurants with Buffet Service in Chennai
In a sea of buffet restaurants in Chennai, the real challenge is to choose the best one.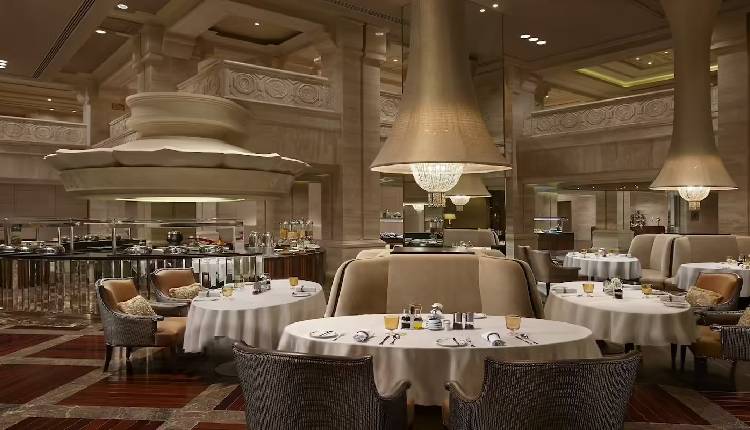 Searching for top restaurants with buffet service in Chennai? Buffet restaurants are a favourite of many people. A wide range of appetites is satisfied by the diverse selection of foods and cuisines! All-you-can-eat buffet restaurants feature vast stretches of tables piled high with mouthwatering food that is also beautifully presented. In a sea of buffet restaurants in Chennai, the real challenge is to choose one that not only has great appetisers and main courses but also provides a variety of desserts to satisfy the desire for a sweet ending. And you can do so by reading this blog all the way through.
Top restaurants with buffet service in Chennai:
Annalakshmi Restaurant
Address: 18/3 Rukmani Lakshmipathy Road Sigapi Achi Building,1st floor, Adjacent to Raja Muthaiya/Rani Meyammai Hall, Chennai, Tamil Nadu 600008
One of the top restaurants in Chennai that serves buffet meals is Annalakshmi Restaurant, which is situated on Rukmani Lakshmipathy Road in Egmore, Chennai. Authentic South Indian flavours are being spread by this culinary establishment, which employs skilled chefs and has locations in Singapore and Australia. Thalis, which are reasonably priced, are the restaurant's main claim to fame. On weekdays, the restaurant charges Rs. 420, and then on weekends, Rs. 470.
You may also like: How to Choose Hotels When You Stay Outside?
Madras Pavilion
Address: ITC Grand Chola, No., 63, Anna Salai, Guindy, Chennai, Tamil Nadu 600032
One of Chennai's most upscale dining establishments is the Madras Pavilion. It has grand tables, marble floors, lovely chandeliers, and softly coloured walls. The best South Indian delicacy can be found at ITC Grand Chola, Madras Pavilion. One of its signature dishes is Murgh Lal Mirch Tikka. On weekdays, a meal here will run you Rs. 2163, and then on Sundays, Rs. 2645.
Anise
Address: Taj Coromandel, 37, Mahatma Gandhi Rd, Tirumurthy Nagar, Nungambakkam, Chennai, Tamil Nadu 600034
The spice "star anise," which is essential to Chettinad cuisine, is where anise gets its name. Anise offers dishes that are the ideal fusion of Asian, Italian, and Mediterranean flavours. You can enjoy dining outside on the deck while admiring the pool and palm trees. Locals frequently go to the restaurant to satisfy their late-night or early-morning hunger pangs for biryani. However, in addition to a delicious a la carte menu, the restaurant also provides a buffet that leans slightly more toward seafood specialities. The restaurant's Gosht Grill Biryani is the best in town. Enjoy it while sitting on the exquisite sofas. On weekdays, the price of the food is roughly Rs. 1400; on weekends, it is Rs. 1475.
Chap Chay
Address: The Raintree Hotel 120, St Marys Road, Chennai, Tamil Nadu 600018
Since the Chinese word for "mixed vegetables" is "chap chay," it is not surprising that the menu of this Chinese restaurant features an abundance of both meat and vegetables. Buffets are not a good fit for Chinese food because the gravies quickly thicken and the noodles flatten out after being chilled. Therefore, Chap Chay introduced a novel system whereby customers can choose their preferred noodles, sauces, veggies, as well as meat, and the chef will take care of the rest, ingeniously modifying the buffet concept. The best dishes from Chap Chay, including a delicious sushi spread, are served at their lavish Sunday brunch. On weekdays, the buffet at the restaurant runs about Rs 1264.
The Park 601
Address: Anna Salai, The Park Hotel, No.601, Chennai, Tamil Nadu 600006
The 601 exhibits the ideal fusion of contemporary inventiveness and upscale sophistication. With a high ceiling, gorgeous wall art, and lots of natural light coming in through the windows, this all-day diner's decor is elegant, simple, and earthy. The restaurant's modern comfort and creativity are reflected in the food selection. Every dish served here exudes captivating creativity and beauty. The restaurant's signature pizzas and pasta dishes have successfully established themselves as mainstays on the menu, however, the Indian and other cuisines at the buffet are just as delectable. On weekdays, the cost of the food is Rs.1452, and on Sundays, it is Rs.2442.
Sigree
Address: 15, First Floor, Sardar Patel Road, Adyar, Chennai, Tamil Nadu 600020
For all of the North Indians residing in Chennai, Sigree is a blessing because they frequently miss their homes back in the North and are in desperate need of some rich Mughlai as well as Punjabi curries with naan. Sigree is renowned for its tasty North Indian food and reasonable prices. There are many seating options in the restaurant, which has a simple and well-lit interior. You should not pass up their tender and delectable kebabs. Sigree serves buffet meals every day of the week. On weekdays, the restaurant charges Rs 585 for vegetarians and Rs 635 for non-vegetarians; on weekends, the prices are Rs 635 for vegetarians and Rs 685 for non-vegetarians.
Decide on a lavish buffet meal the next time your appetite exceeds your means of support and the variety of foods available confuses you. Visit these buffet restaurants in Chennai to satisfy your hunger at a reasonable price.
We will be delighted to have your thoughts and feedback. Please write to us at [email protected]
Follow Life and Trendz on Instagram:https://www.instagram.com/lifeandtrendz/
Facebook: https://www.facebook.com/lifeandtrendz
Twitter: https://twitter.com/LifeandTrendz